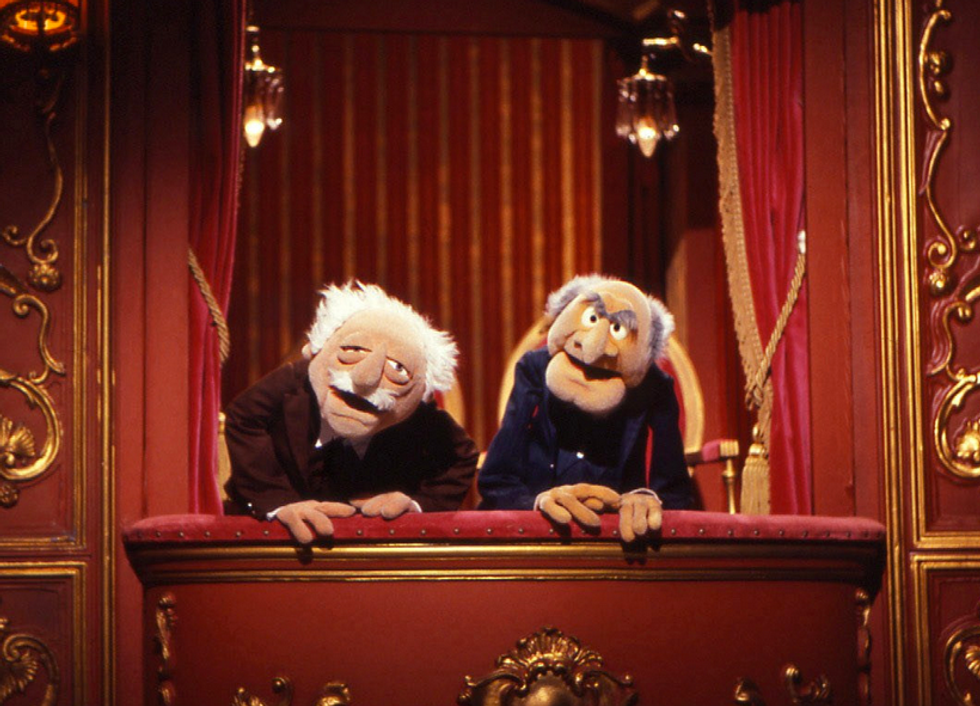 Whenever I read a witty pan of a movie or play, my feelings are wildly mixed. On the one hand, I'm absolutely thrilled by the vitriol, but on the other hand, I'm deeply jealous that someone other than myself came up with such delicious bile. But mostly, I'm plain thrilled. Putting all jealousies aside, let me serve you a bunch of my favorite horrible reviews of all time:
"A Sale of Two Titties" -- Review of Raquel Welch's 1980s stage show in Las Vegas
"I will one day be thin, but Vincent Gallo will always be the director of
The Brown Bunny
." -- Roger Ebert
"
Deuce Bigalo: European Gigolo
makes a living cleaning fish tanks and occasionally prostituting himself. How much he charges I'm not sure, but the price is worth it if it keeps him off the streets and out of another movie." -- Roger Ebert
"Johnny be worthless." --
TV Guide
's Movie Guide review of
Johnny Be Good
"This is the kind of movie that will make you want to go back in time -- to the moment before you made the decision to start watching it." --
The Independent
review of
Hot Tub Time Machine 2
"A few striking moments at the beginning remain; the rest should be silence." -- Halliwell's Film Guide re. Orson Welles' film of
Macbeth
"The hype disaster of the '80s, a grisly rehash of the let's-start-a-group-of-our-own plot, peopled with butch gay stereotypes of both sexes pretending to be straight. The pervasive tackiness is unrelieved." --
Time Out London
on the Village People movie
Can't Stop the Music
"
Camille
with bullshit." -- Alexander Walker, describing
Love Story

"Robert Wagner is a brilliant scientist, George Kennedy and Bibi Andersson make love by the fire, John Davidson's hair stays in place when the plane turns upside down, and Mercedes McCambridge is a Russian gymnastics coach. Thank God Charo is around for credibility." -- Leonard Maltin re.
The Concorde...Airport '79
"You have to admire a movie which takes a gold-star cast (Julianne Moore, Jeff Bridges, Alicia Vikander) and creates such an unpolishable turd." --
The Observer
[UK] re.
Seventh Son
"Shallow, dimwitted, and inept. Makes
The Hangover
look like
Glengarry Glen Ross
." --
Newsday
on the Vince Vaughn comedy
Unfinished Business
"You'll just be rooting for the credits to roll." --
TV Guide'
s Movie Guide re.
Unfinished Business
"If hell, as the movie says, is the worst memory of your life on an infinite loop, I'd better clean up my act or I'll be watching
The Lazarus Effect
for all eternity." --
Houston Press
"A sinking ship that makes it to port because everyone on board is too giddy to panic." --
New Yorker
review of
The Loved One
"The tragedy is that Ms. Barrymore, who has brought out the best in Mr. Sandler in their previous collaborations, is here sacrificed on the altar of his showboating narcissism." --
New York Times
review of
Blended
"Much as one loves watching unpleasant American teenagers ripped to death, the slasher formula has worn thin of late." --
Time Out
on
Nightmare on Elm Street Part Two: Freddy's Revenge
"The producers should take the advice of one of the characters in the film, 'Enough of this Michael Myers bullshit!'" -- critic about
Halloween: The Curse of Michael Myers
"The only thing fantastic about it is the miscalculation." -- Playboy Online re.
Fantastic Four
"The best that can be said is that director Anne Fletcher keeps the tempo very brisk, leaving as little time as possible for us to work out why we are not laughing." --
Independent
on
Hot Pursuit
"Let's all just carry on with our lives now." -- Little White Lies on
Hot Pursuit
"As a movie experience,
Pixels
is a little like fishing the marshmallows out of your Lucky Charms. Take out a couple of good jokes and some computer-generated imagery action and you're stuck with a lot of bland, soggy filler." --
Deseret News
"Stupefyingly unwatchable; Dan Aykroyd's directorial debut. And yes, his nose is supposed to look like a penis." -- Leonard Maltin on
Nothing But Trouble
"As one of the film's many forgettable characters eloquently puts it, 'This stinks worse than an oyster's fart'." -- David Erlich,
Time Out
on
The Lovers
, with Josh Hartnett
"In my nearly 50 years of theatergoing,
Ari,
which featured Holocaust survivors dancing over barbed wire, was the absolute worst....And special mention should be made of Joan of Arc in Julian Barry's musical
Jean Seberg
...singing as she burns at the stake. You had to be there!" --
The New Yorker
's John Lahr
"
In My Life
concerned a man with Tourette's syndrome and a brain tumor, who is watched over by the scooter-riding ghost of his little sister and a foppish, cross-dressing angel...The angel sang the first-act finale -- about how we all have skeletons in our closets -- with a chorus line of dancing skeletons. Sample lyrics: 'Here's a little rumor/Someone's got a tumor.' The finale featured a giant lemon. In his pan, Ben Brantley lamented the show's 'jaw-dropping moments of whimsy run amok,' which [author] Joe Brooks used as a pull quote!" -- Michael Schulman,
New Yorker
You May Also Like