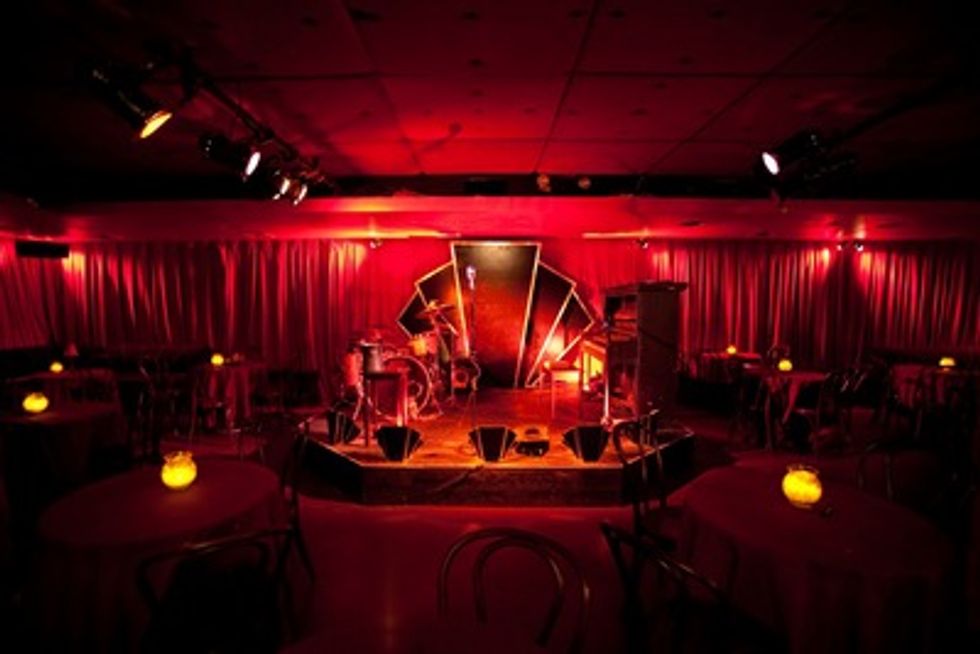 On a mostly deserted block of westernmost Chelsea, there is a bar within a hotel within an alternative universe.
The Manderley
is the beginning and end rendezvous point at
Sleep No More
, the stunning and quixotic production housed within
the McKittrick Hotel
.
Once only a liminal space where audience members could rest for a moment amidst wanderings, the Manderley is now semi-open to the public for post-show tippling and late night DJ sets. Upon arrival, one is whisked upstairs to emerge through a darkened parlor room into a velvet curtained bar where Death in the Afternoons sit alongside white masks and playing cards (the show's entrance ticket stub). Some evenings a 1930s lounge singer might be belting to the tune of a stand up bass and a drummer. Other nights a DJ may play sultry French remixes or knock out beats on a vintage record player. If one arrives early, audience members can be observed stumbling back into the bar exclaiming about the show or being led gently back into reality by actors who just as quickly disappear back into the wings in a cloud of old fashioned cloaked mystery. At that point, glasses of absinthe are ordered and hushed conversations about the profundity of the experience commence. Barflies who might not have wandered the premises all evening can still take part in the experience, dancing a Charleston with one of the tuxedo'ed actors or sharing a dirty joke with one of the salty flapper-clad bartenders.
But keep your wits about you, not everything at the Manderley is as it seems. The entrance or exit may change locations at any moment...
The Manderley at the McKittrick Hotel
530 W. 27th St.