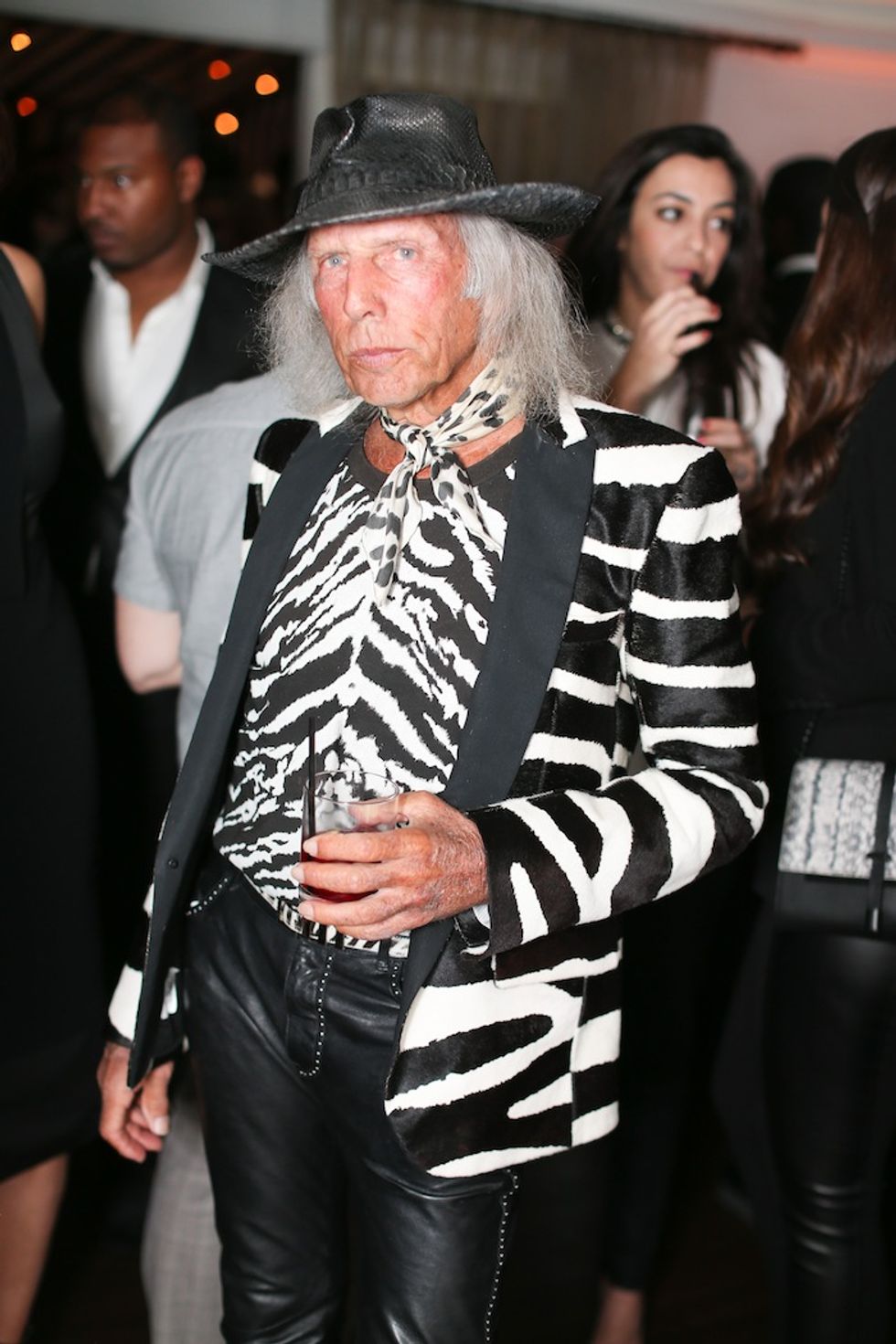 (Photo by David X Prutting/
BFA.com
)
It's 9:30am on a recent Sunday and James Goldstein -- or Jim, as he prefers to be called -- is about to give us a tour of his glass mansion, known as the Sheats Goldstein Residence, nestled in the Hollywood Hills. Goldstein is a man about town and hard to miss with his unique fashion sense (think: snakeskin or zebra print suits accessorized with cowboy hats and boots). While the source of his income is murky, he's often described as a 'billionaire NBA superfan' -- he attends over one hundred NBA games per season, mostly sitting court side and even traveling to catch a game. It's a commitment only matched by his love of fashion; he's frequently spotted front row at fashion weeks in New York, London, Milan and Paris.
As we make our way down the extended palm tree-lined drive and eventually to the front door, we catch a glimpse of Jim in his natural habitat, lounging on the couch in tennis gear reading the morning paper. He greets us with a handshake and takes us on a tour that starts off at the pool area, which we recognize immediately from a photo shoot starring Kendall Jenner (the home is a sought-after location for fashion shoots and has also been featured in movies like
Charlie's Angels
).
Jim then leads us along a marble walled pathway toward his bedroom where we see pictures of him with Kate Moss, John Galliano, and many others, stacked on a chest of drawers next to a 'JG' initialed Goyard hat box. We walk together to his prized closet, which is organized by season, and he shows us some of his favorite pieces, including an extravagant Saint Laurent snakeskin jacket and a beautiful Lanvin leather number. When we ask him if he's found anything special for this coming season, a look of worry appears on his face and he responds with "No, I haven't seen anything I like. I'm concerned about this season." As we walk out onto the balcony, which offers the best view of Los Angeles, we discover that the wooden terrace lifts up to unveil a bubbling hot tub. Paradise. We finish the tour at Club James, a new addition to the Sheats Goldstein Residence. Jim tells us that Rihanna celebrated her birthday here earlier this year and he has plans to turn this entertainment complex into one of the hottest spots in LA. After the tour, we sit down to chat where we learn more about Jim's upbringing, his inspiration and his own fashion line, James Goldstein Couture.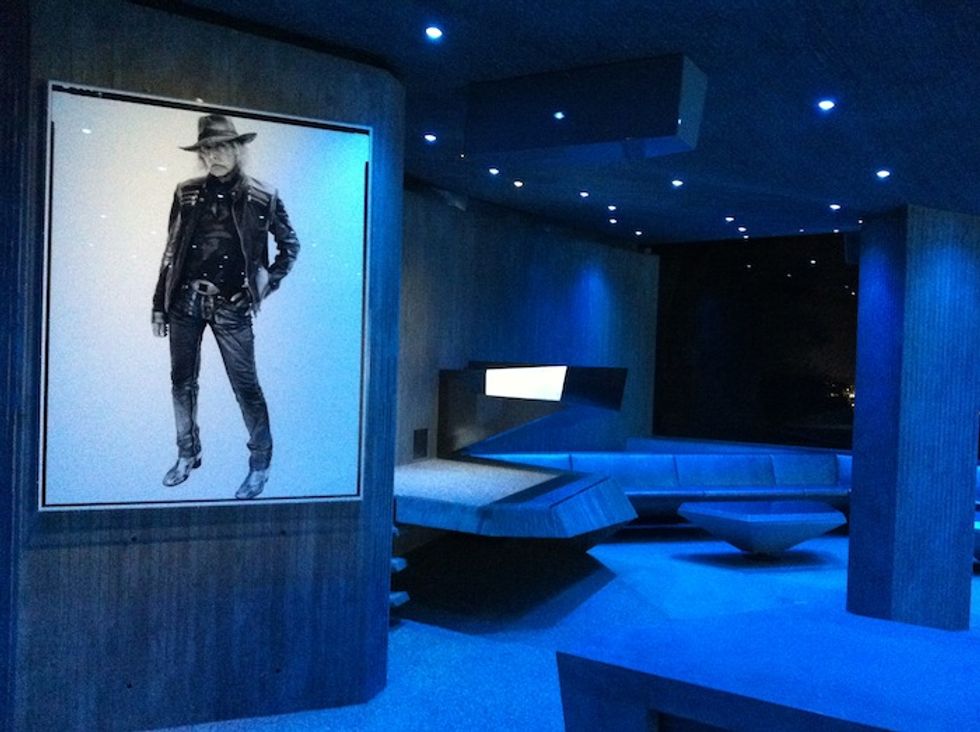 Club James. (Photo by Kristin Fliehler)
Tell me about your upbringing. What brought you to Los Angeles?
I went to college at Stanford, which was my first exposure to California having grown up in Milwaukee. While I was at Stanford one of my former roommates invited me to Los Angeles and I liked it a lot so I decided to do my post grad work at UCLA to give the city a test and then I decided to stay.
What persuaded you to stay after your post-grad?
I decided to stay despite my father having a business in Wisconsin that he would have liked me to take over but I didn't want to stay there.
What's a typical day like in the life of Jim Goldstein?
Well I travel about 7 months of the year but a typical day when I'm here at home is to go through my emails and Instagram while I'm still in bed. Then I get up and check on my construction work, which goes on daily and has been for many, many years. I then read the newspapers and play some tennis on my new court.
Tell me about the construction, what's going on?
Club James has been added. You could call it an entertainment complex that I have been working on for many years now. It consists of a tennis court on the top level then Club James and my offices on the second level and on the third level, which is still a long way from being finished, a huge entertainment terrace including a lap pool, dining facilities, kitchen and bar.
Who inspires you most?
At this point architecturally, I would give Zaha Hadid my number one spot along with Santiago Calatrava. That's architecture. My other strong interests include watching a lot of basketball and going to many games here in Los Angeles. Basketball is a big part of my life. I can't point to one person in basketball who inspires me but there are many.
Where fashion is concerned, who continues to inspire you?
Well, my favorite designers have always been John Galliano and Jean Paul Gaultier. Right now my two main sources for my own clothing choices are Balmain and Saint Laurent.
Tell me about your signature look.
I would say that my clothing tastes for myself have evolved. I try to stay as current as possible and I change my wardrobe completely every fashion season. I look around at what all the designers have to offer even though I have my favorites. As far as my signature image, that's something that I like because it's the opposite of the average suit and tie dresser and it shows a little bit of rebellion toward the typical way of dressing. It's also very comfortable and I think I look great in it. Having said that, I still try to keep an open mind to everything new that comes along, I try to wear something that's unique and has never been done before. I'm always looking for new ideas.
What advice would you give to the young people of today?
My advice is to find something in life that you can be really passionate about and then taking it all the way and I think I have done that with my architectural projects, basketball and with fashion.
With so many accomplishments and successes under your belt, what are you most proud of?
I think I'm most proud of the creation of this property. The total rebuilding of this house, the tremendous landscaping project that I've been working on for years. The creation of the James Turrell Skyspace and the creation of the entertainment complex. All in all this has been like a life's work project for me and I'm very proud of the way it has turned out.
As someone who travels a lot, what's your favorite city and why?
Paris is my favorite city. Even though I've been there hundreds of times I still get goosebumps when I'm walking around.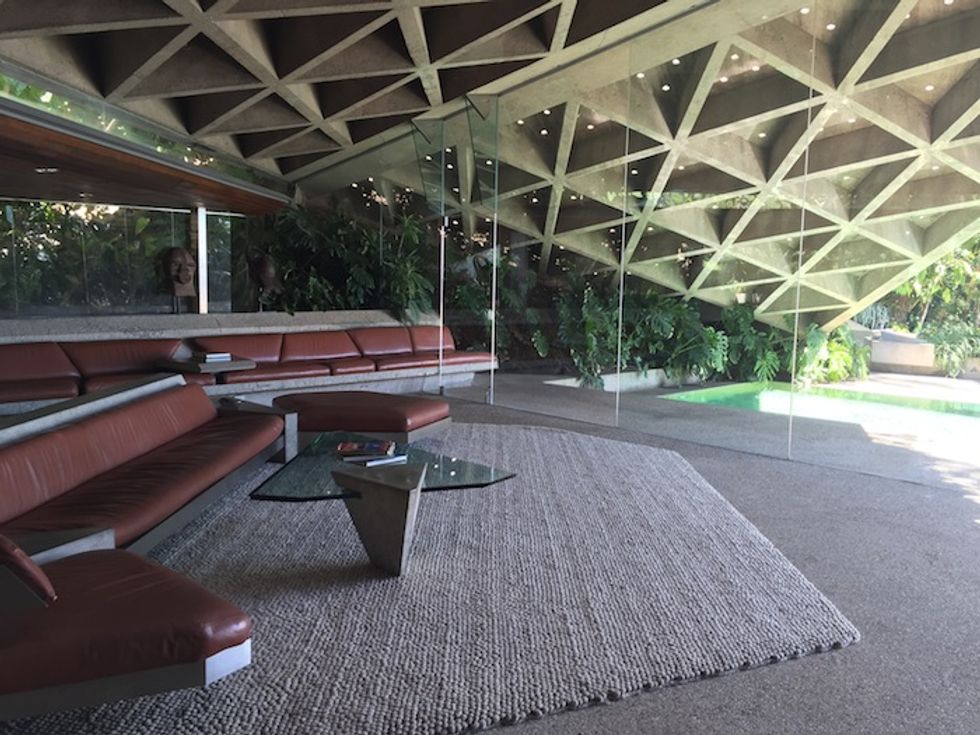 Goldstein's living room.(Photo by Kristin Fliehler)
Where in Paris?
I've been staying in Saint Germain all my life and I feel like that's my second home, I feel very comfortable there.
Favorite spot in Los Angeles aside from your home?
Aside from here, my second favorite spot is the beach on a beautiful day.
What are some of your pleasures in life?
Well certainly tennis and basketball are a big part of my life.
You recently launched your own fashion brand, James Goldstein Couture, tell me more about it.
Two of my closest friends from Milan called me one day and much to my surprise they told me that they had decided to start a line and wanted me to be the Head Designer and to have it named after me. That started a little less than two years ago and started primarily with womenswear and it is aimed at the young, hip dresser and inspired by the kind of clothing that I like to wear myself.