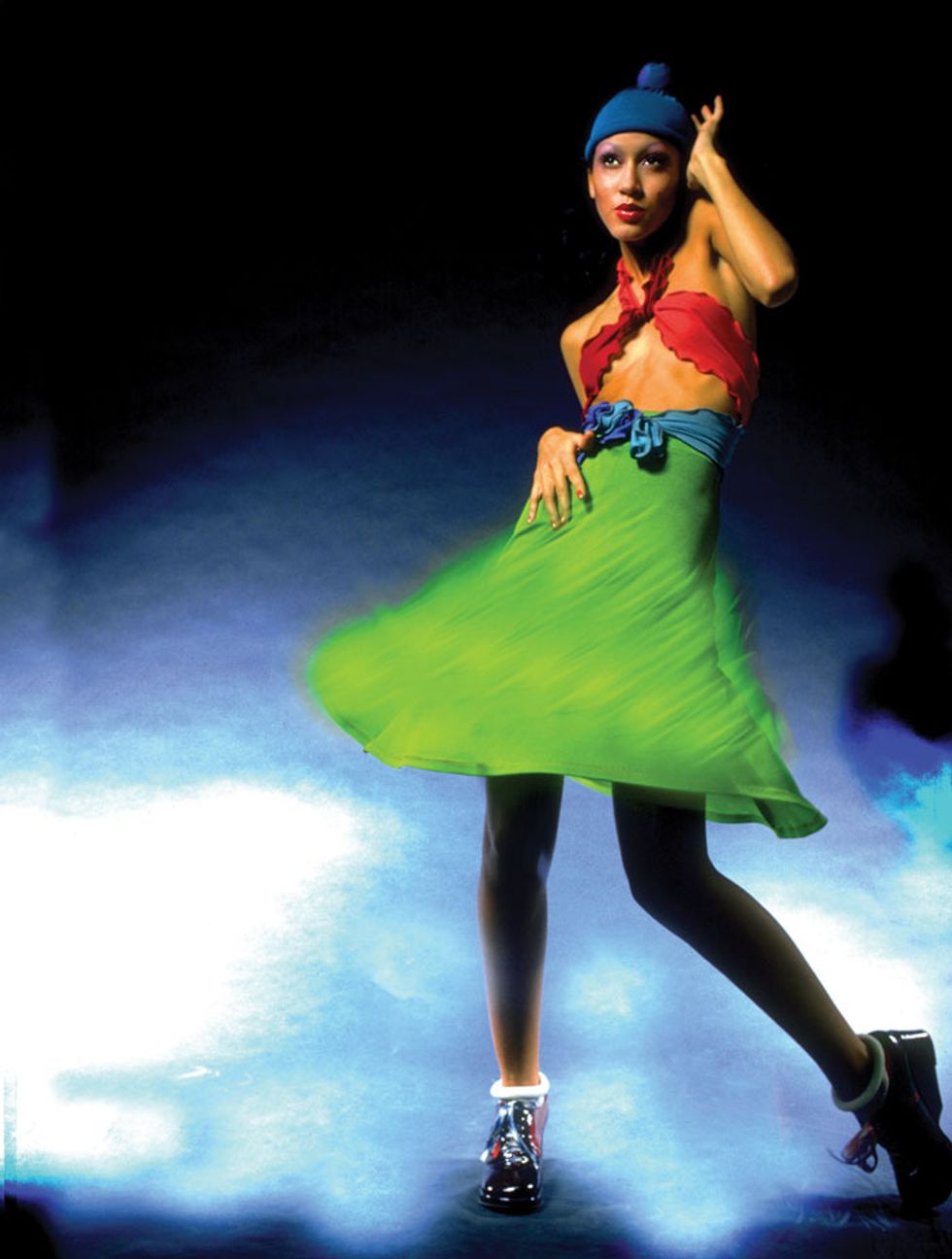 Pat Cleveland wearing a dress by Stephen Burrows in 1972. From
Stephen Burrows: When Fashion Danced.
Photograph by Charles Tracy.
I first met Stephen Burrows in a limousine in New York City at the beginning of the '70s. We were at the most fabulous party in the most beautiful apartment. After the party we all wanted to go dancing, so Stephen invited me to ride in the limo with his group of friends. Stephen was the best dancer. He always had all of these young kids around him that he dressed who were also good dancers and lots of fun. Everybody was so lovely and light, happy and adorable. I fell in love with him because his personality was so kind, alive and easygoing. And I fell in love with his clothes because they were absolutely the most innovative I had seen. When I first came to New York, I realized that New York was about freedom--it was much freer than the traditional bourgeois scene that I came from in Europe. And Stephen's clothes absolutely expressed freedom.
Because Stephen and I have been friends for decades and he knew I could help bring his work to life in the true way that we experienced it, I was invited to co-curate (with the museum's costume curator Phyllis Magidson) his retrospective, which opens at the Museum of the City of New York on March 22, and help put together the wonderful book,
Stephen Burrows: When Fashion Danced
, being published by Rizzoli in April. Stephen and I recently got together to talk about the state of fashion today and what it's like for him to see decades of his designs on display. 
Daniela Morera: Stephen, who is the girl you are designing for these days?

Stephen Burrows:
She is a busy woman, who is confident and likes colorful, sexy, feminine clothes. It's not about an age, just an attitude.
DM: Why do you feel today's fashion world has such a lack of diversity?

SB:
Trending. With a lack of confidence, people follow. And that's trending. And that makes everything the same.
"The girls who starred on the dance floors of those clubs were the girls who wore Stephen Burrows. A Burrows dress wasn't made to lean up against a wall in or sit in -- it was made to twirl, leap, and undulate in, made to move. His dresses bloomed in motion, like a hothouse garden of orchids, like a Fillmore East light show. Some of the girls you would see lighting up the dance floors of the best clubs were the same girls who walked -- or really danced -- down the runway for Stephen. Beautiful girls like Pat Cleveland, Ramona Saunders, Alva Chinn, Elsa Peretti, Gloria Burgess, Jennifer Brice, Norma Jean Darden, Bethann Hardison, Billie Blair, and Mounia. A Burrows fashion show was not like the shows you see today, where mostly white teenagers walk stiffly looking straight ahead, and appearing like they might fall over backwards. Stephen had a mixed cast of girls -- white, brown, and black. They were all slim and pretty, and they glided and twirled down the runway to the music like it was the most enchanted party of all time." -- Glenn O'Brien from the book Stephen Burrows: When Fashion Danced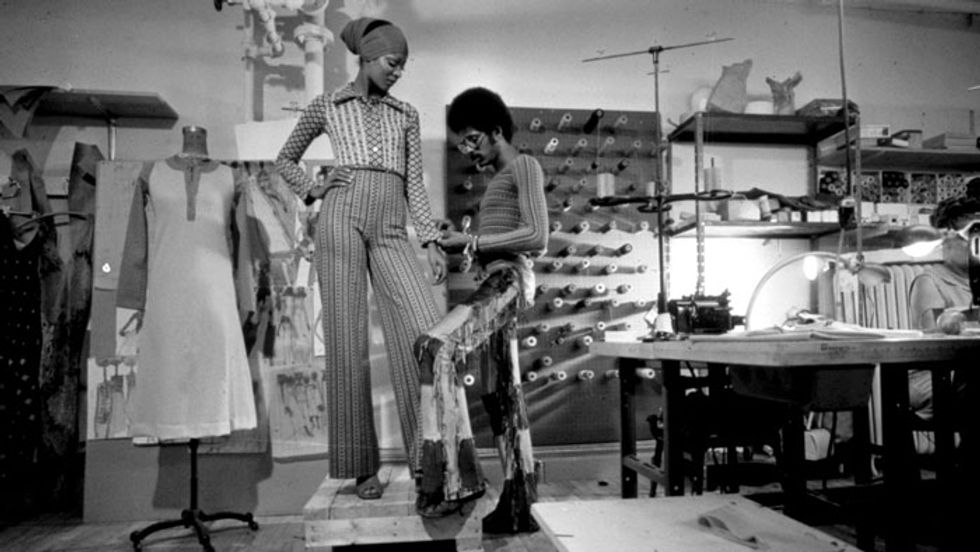 Stills of Stephen Burrows and his clothes from Versailles '73: American Runway Revolution.

DM: What inspires you?

SB:
My inspiration is still the human body. The way it moves, the way it could move. And the way it could look. That's today.


DM: Do you think there is a big difference in fashion today from when you started?

SB:
[When I started] it was a more creative and experimental period. It was also less trendy and more individual. It was not about looking the same.
DM: Why do you think that this changed?

SB:
The buyers and retailers don't have the same freedom of expression that they used to because of the financial side of it.
DM: So is this very disappointing?

SB:
Yes. It is difficult and I think it is damaging to the industry. Everything is made to look the same. It dampens the creative process. It restricts you. It's not free.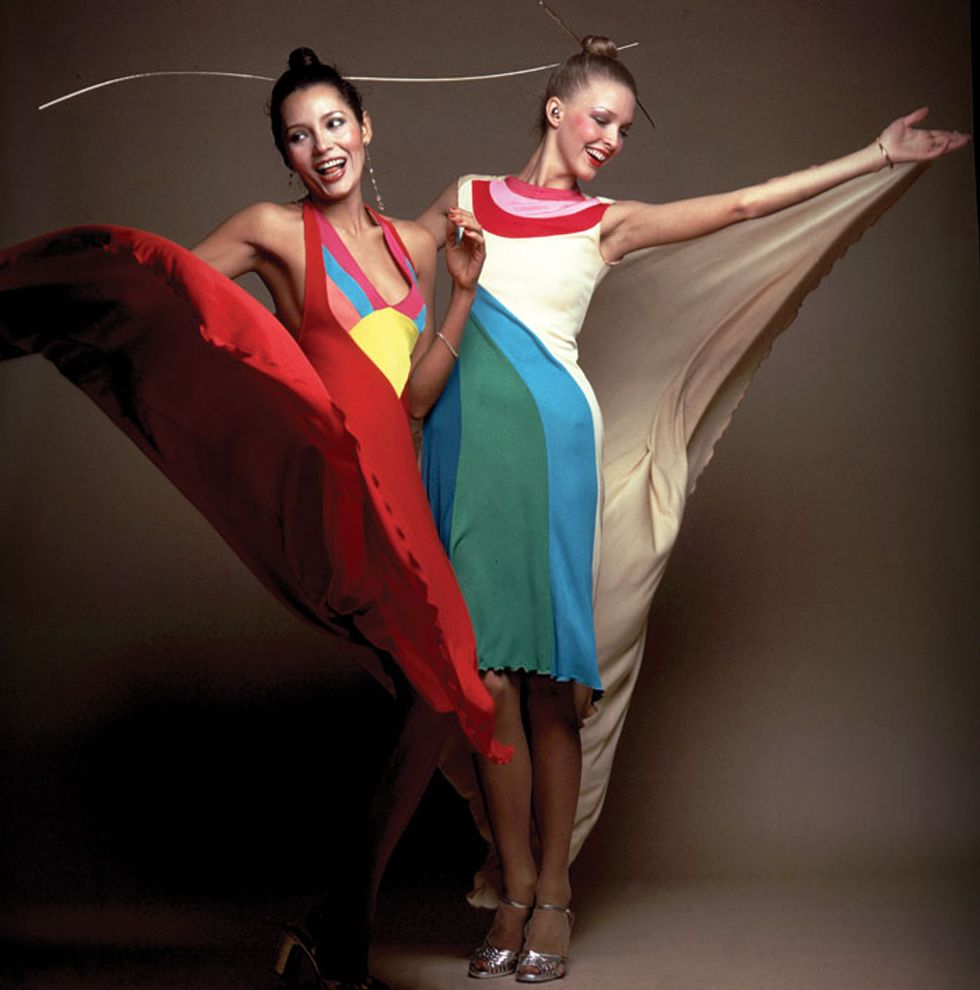 Models wearing dresses by Stephen Burrows in 1973. From Stephen Burrows: When Fashion
Danced. Photograph by Charles Tracy.
"Burrows' bias and round cuts allowed bodies to move with the grace and the quickness of reptiles. The lightness of his fabrics, the simplicity and fluidity of his clothes like a weightless veil over the body, with a magic touch and minimal details, represented the embodiment of a new femininity, a contemporary incarnation of the supreme beauty of Botticelli's Primavera. The city emanated a sense of vitality, of electricity, that was pervasive. Stephen Burrows and his clothes were the embodiment of that special lightness of being that surrounded me. They were exactly like the music itself, that enveloping, cocooning sound: sexy, sensuous, visceral vibrations.

He was an innovator, making active, athletic looks before anyone else, wrap dresses before Diane von Furstenberg, metal mesh dresses before Gianni Versace, and deconstructed clothes before Giorgio Armani." -- Daniela Morera, from the book Stephen Burrows: When Fashion Danced

DM: What is your philosophy about design?

SB:
I want to make clothes that are colorful, alive, fresh, sexy, feminine and most of all, fun to wear. They must move as the body moves, be danceable and have a great fit. They should give the feeling of an engineered sensuality.
DM: When you look at your own retrospective, what do you see?

SB:
Colorful, exciting, fun clothes.
DM: How does it feel to inspire a generation of designers?

SB:
Humbling. Sometimes you don't really see the same things about yourself that other people see.