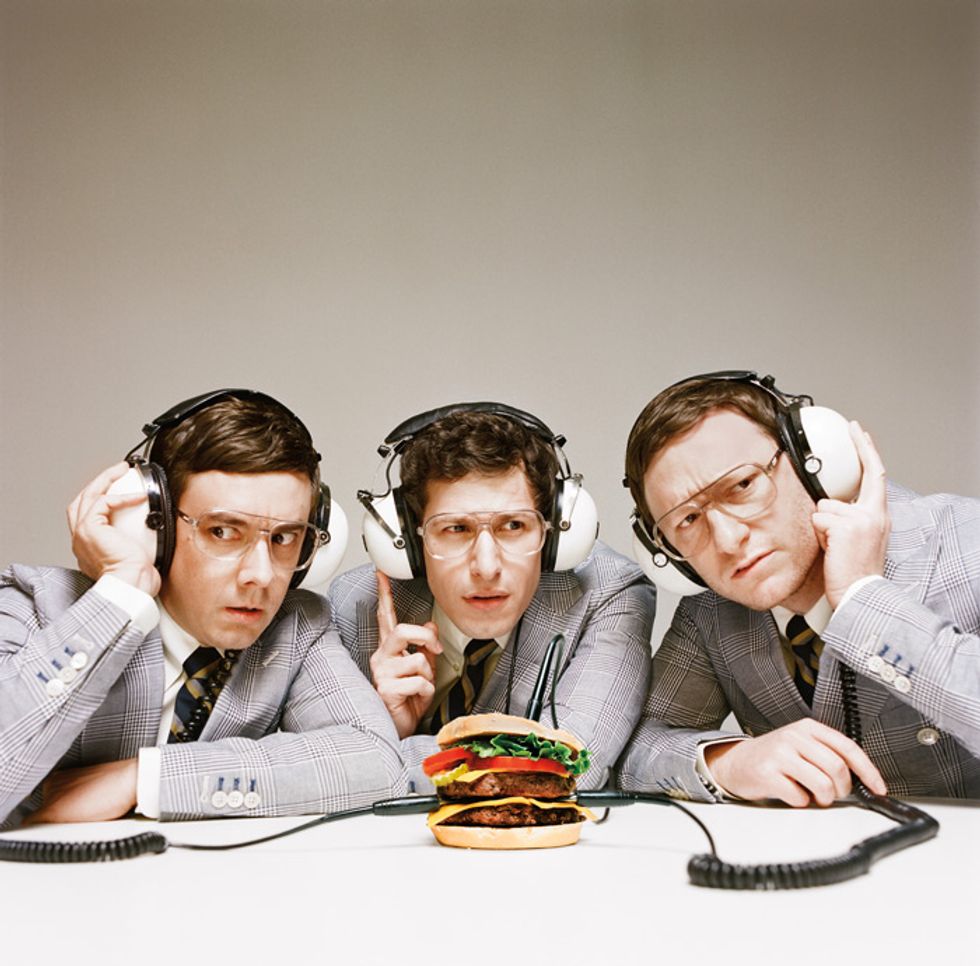 (l-r) Jorma Taccone, Andy Samberg and Akiva Schaffer wear Suits by Gant, shirts by Brooks Brothers, ties by Band of Outsiders and glasses from Giant Vintage.
It's a little after 10 a.m. on a Friday, and Andy Samberg isn't ready to make any big decisions. "I'm not going to order anything because I just woke up 30 seconds ago," he tells the retro-coiffed server poolside at West Hollywood's Sunset Tower Hotel. His face is still showing pillow creases behind his Warby Parker shades and his mop top is stuffed under an Oakland A's cap. "I think our waiter is that guy from fun.," he says, turning to Akiva Schaffer and Jorma Taccone, his partners in the Lonely Island, the kings of YouTube comedy, whose videos, beginning with their 2005 gangster-rap flip "Lazy Sunday," have amassed a staggering one billion YouTube views.
Samberg eventually settles on coffee and orange juice, but is immediately repulsed by the pulp. "I feel like I can't send it back," he says, scooping the pulp out into his coffee cup.
"I feel like you're grossed out like it's lumpy milk," Taccone interjects.
"It's a texture problem," Samberg responds. "It makes me kind of gag."
The three are assembled in Los Angeles to finish their third album,
The Wack Album
, a follow up to 2011's
Turtleneck and Chain
and 2009's
Incredibad
. Samberg and Taccone are in from New York while Schaffer, the only L.A.-based member, has been up since five a.m. helping his wife with their newborn and their selectively potty-trained two-year-old. "She'll say she wants to use the toilet to get out of something, like bedtime."
"I did that," adds Samberg. "All the way through high school."
It's been more than a decade since the three friends from the Bay Area moved to Hollywood after college to share a bachelor apartment. (Schaffer dubbed it "The Lonely Island.") Back then, they worked as production assistants by day and made videos on borrowed cameras at night. The difference between TLI and every other pack of young guns looking to break into the business was that they had a website that could stream their videos, thanks to Schaffer's tech-savant brother Micah and a friend with available server space. A collection of their earliest sketches -- anchored by a mock advertisement for a tooth-bleaching agent called "White Power" and a joke rap called "Ka-Blamo! -- landed them agents. Not that the rest of Hollywood had connection speeds fast enough to see them. "We'd tell our agents we posted new videos and they'd be like, 'That's cool, but, hey, can you get us a VHS tape of it so we can take it around?'" recalls Taccone.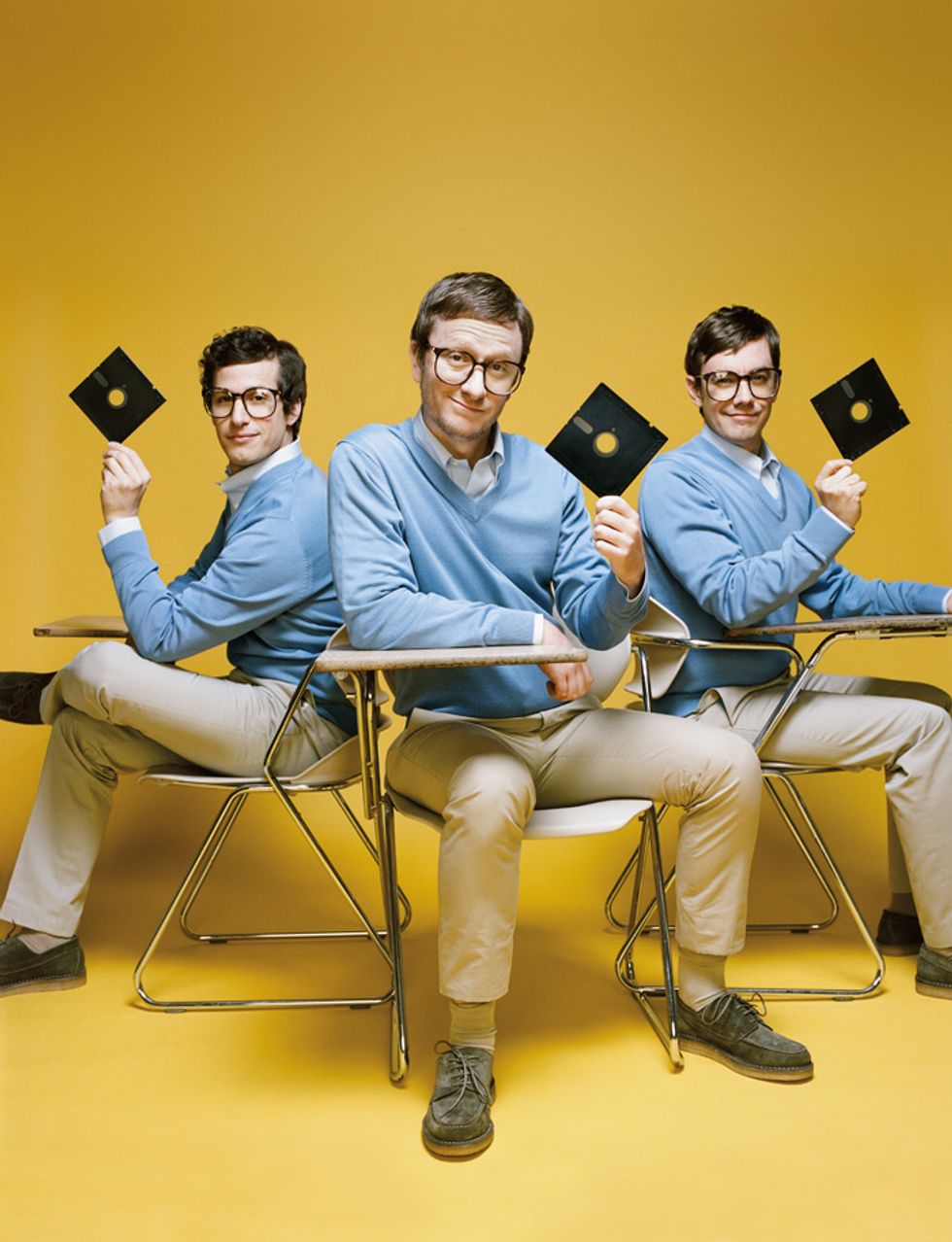 All clothes by Brooks Brothers, (Akiva wears pants by Band of Outsiders), Glasses from Giant Vintage and shoes by The Generic Man.
Job offers were few and far between, so the trio took things into their own hands on their website, creating a parody of
The O.C.
called
The 'Bu
, and putting up whatever else they felt like. "Mostly, it was a way for us to keep motivated," Taccone says. Though they would eventually pitch to MTV2 and Comedy Central and even make a pilot for Fox (
Awesometown
), the trio's problem was, to borrow a phrase from comedian Steven Wright, they were so far ahead of their time that no one was there yet. "This was 10 years ago, remember," Taccone says, "but back then, sketch shows were taken from stand-up acts and converted to the show form. We were film majors, so our whole thing was to make a show built for TV. "
In 2005, they finally landed a gig writing for the MTV Video Music Awards ("a thousand dollars a week split three ways," Schaffer remembers), hosted by Jimmy Fallon, and staffed by
Saturday Night Live
producers and writers. That led to an invitation to audition for Lorne Michaels, and the three joined
SNL
that September -- Schaffer and Taccone as writers and Samberg as a performer.
Though they acclimated well enough to New York and to
SNL
's sketch-writing format, Taccone says that "by Thanksgiving we were getting a little ansty." On their first week off from the show, he and Schaffer parodied "The Whisper Song" by the Ying Yang Twins as "The Bing Bong Brothers -- a little more than two minutes of them whispering "You will like our penises" through caterpillar mustaches. It was immediately picked up by G4's
Attack of the Show
(and has since racked up more than 15 million views).
"We realized the thing we were best at was making these videos," Schaffer says. Encouraged by
SNL
producers, the three borrowed a video camera. Their first official
SNL
"Digital Short" was "Lettuce," in which castmember Will Forte tries to cheer up a melancholic Samberg while the two incongruously munch iceberg lettuce on a stoop. More than writing and performing, it showed the trio as producer/directors who could serve up fully-formed content.
Then came "Lazy Sunday," the dorky bromance-meets-Onyx (t)hug rap video, featuring Samberg and castmember Chris Parnell eating Magnolia cupcakes on the way to see
The
Chronicles of Narnia
. The trio wrote and recorded the song in their office with Parnell, then shot the video in a day. "I think it cost us about $22 total," says Schaffer. They edited it on their office computers and submitted it to
SNL
producers without any expectations. "We had no idea it was even going to air," says Taccone. It premiered that December and became, if not the first, then certainly the most definitive viral joke-song video in YouTube history. The Lonely Island's origin story would be forever linked to the video-sharing platform's, even if they insist that it was just being in the right place at the right time.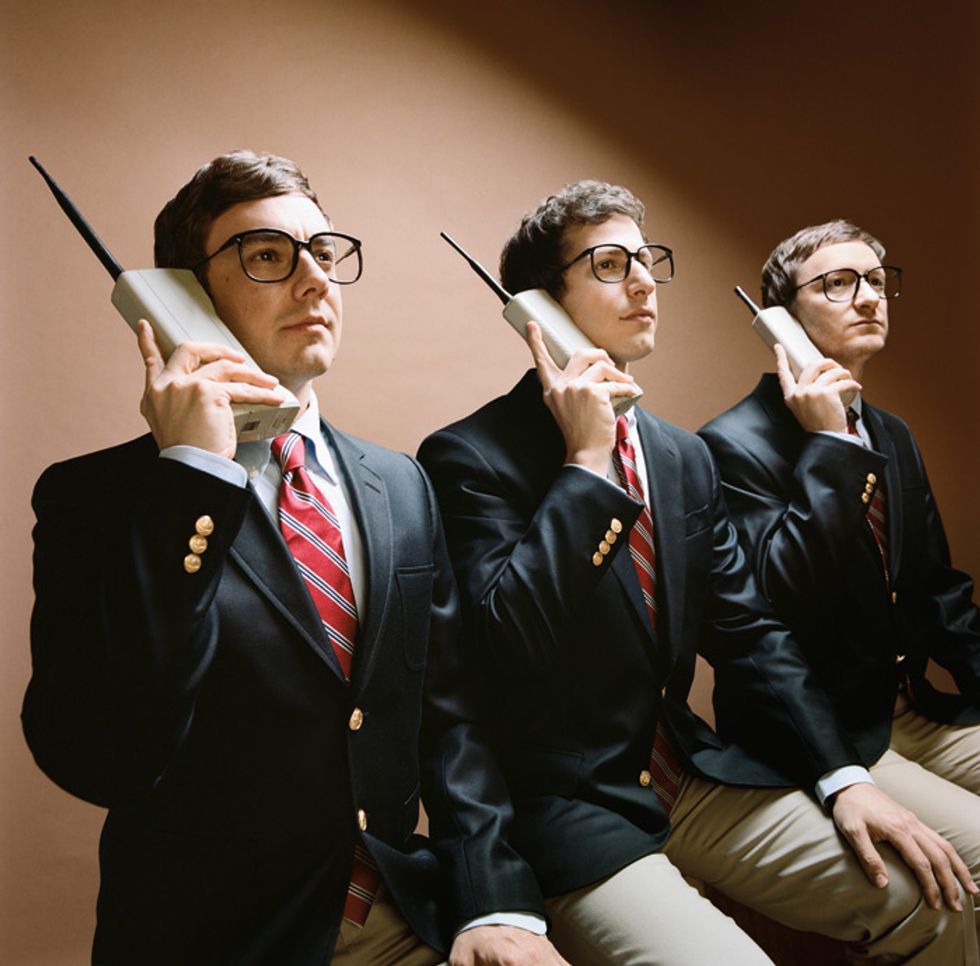 All clothes by Brooks Brothers (Akiva wears pants by Band of Outsiders) and glasses from Giant Vintage.
"Our timing was such that YouTube had just launched earlier that year," Schaffer explains. Samberg adds, "I would argue that if YouTube had been around when 'More Cowbell' happened, that would have been the
SNL
clip that blew up." But it wasn't. "The day after the show," Taccone says, "a friend of mine called me and was like, 'Hey I just watched "Lazy Sunday" online, I'll send you the link.' So we discovered YouTube the same way a lot of people did -- by watching 'Lazy Sunday.'"
By the time NBC took the video off of YouTube to host it on their own website, it had more than 5 million views. The next most-watched video at the time had only around 50,000. The Lonely Island had helped define YouTube as much as it has defined them. In fact, Schaffer's brother Micah wound up going to work for YouTube -- back when there were only 12 people there," says Taccone.
At the same time, Schaffer says, the success of "Lazy Sunday" showed the perfect synergy between old and new media: "We had two things happening at once. First, we had a national TV show broadcasting our video, but we also had that moment in technology when anyone could stream it, so it could have that second life online. It wasn't just for early adopters or college kids with fast connections. Now it was for, like, my mom."
Even after they had proven themselves, the trio's video-making MO remained punk rock despite their privileges: It was almost all DIY on the DL -- huge celebrities like Justin Timberlake and Natalie Portman recording on a cheap mic in the trio's ad hoc studio set-up in their office, with minimal oversight from the show's producers. Everybody ran around shooting and editing right up to the last minute. (Betty White's Digital Short was famously broadcast while the video was still feeding into the system.)
From the Emmy-winning "Dick in a Box" with Timberlake to "I'm on a Boat" with T-Pain, their comic rap genius never failed to surprise. Most recently, they released a cautionary spoof of Drake's "The Motto" with Adam Levine and Kendrick Lamar, redefining the millenial catchphrase "YOLO" from "You Only Live Once" to "You Oughta Look Out."
Tech chops may have had a lot to do with their success, but the Lonely Island's ability to channel everything great and terrible about rap into songs as funny as they are catchy is the reason they stay relevant to a generation raised on '90s rap videos.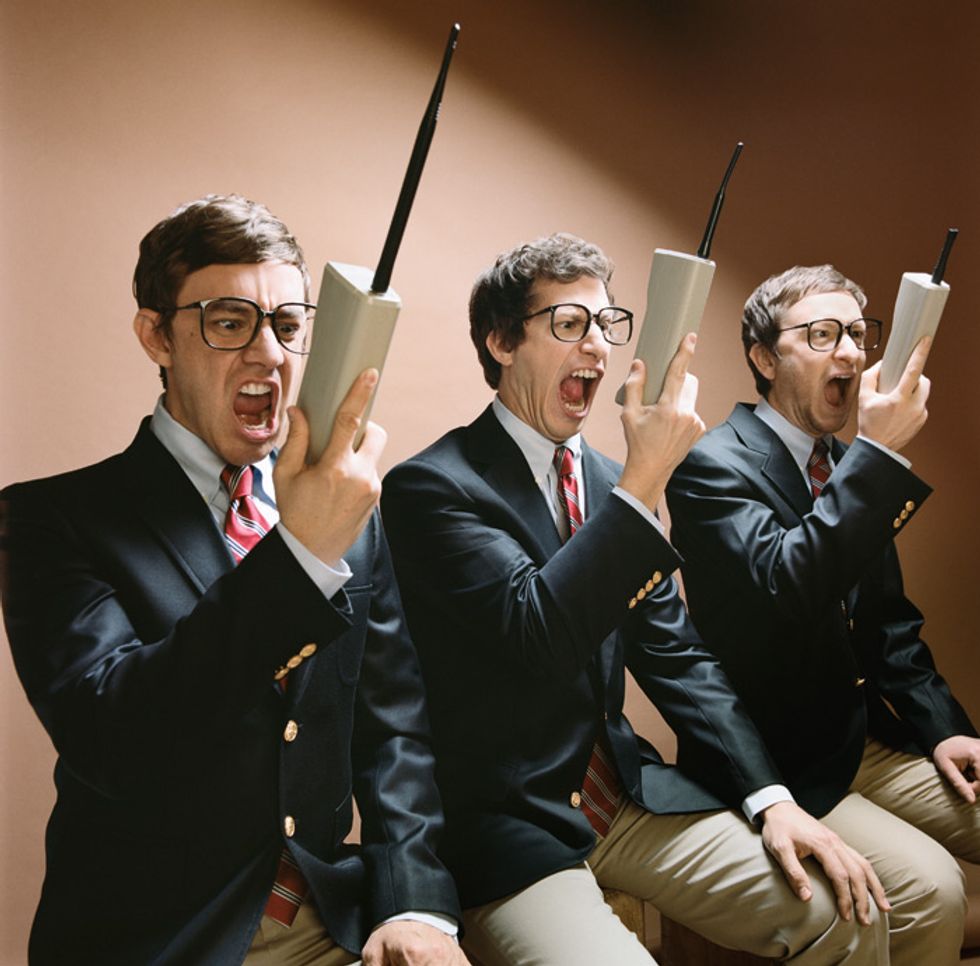 All clothes by Brooks Brothers (Akiva wears pants by Band of Outsiders) and glasses from Giant Vintage.
To their credit, Samberg, Taccone and Schaffer are massive hip-hop heads. "I think it's a Bay Area thing," Samberg offers. "I mean, we love rock," Taccone says, "but we have an encyclopedic knowledge of hip-hop." And as Schaffer points out, "we can't sing." Asked to name their all-time favorite albums, they immediately answer:
De La Soul is Dead
(Taccone),
Bizzarre Ride II the Pharcyde
(Samberg) and
Enter the Wu-Tang: 36 Chambers
(Schaffer). Right now, they're all listening to Kendrick Lamar, but admit to not keeping up with every last club trend. "I still don't get what 'trap' is," Samberg sighs.
There are other comedians making music -- Tenacious D, Flight of the Conchords. There are parody video icons like Weird Al. But where the Lonely Island guys distinguish themselves is in blurring the line between humor and pop music -- pointing out just how irrelevant the line is in the first place. "'Thrift Shop' and 'Gangnam Style' are both basically joke songs," Samberg notes. Says Taccone, "Actually I had to look up Macklemore and Ryan Lewis' work to figure out if it was supposed to be a joke or not."
The point, says Samberg, is that it doesn't matter anymore. "I've had friends tell me they were at a club in Thailand and 'I Just Had Sex' was on, and it's not a joke at all. Because to them, it's an Akon song."
"The difference is we will compromise a song for the good of a joke," says Samberg.
Besides "YOLO," recorded for a January
SNL
episode (the three still occassionally contribute to the show though they are no longer working there), the only information they can share about
The Wack Album
is that it will include a G-funk-inspired song, and another titled "Spell It Out."
What's most remarkable about the Grammy-nominated trio is that none of them are musicians. "It's staggering, the difference between a real rapper like E-40 nailing a verse in one take and us. I mean, we're comedians," Schaffer says. "We know just enough to know how to make an artist sound like themselves. So if Rihanna says to bring a song up a half-step, we can do that."
"We're getting pretty good with ProTools," says Taccone, who has produced his own beats for the group, though they have mostly worked with guest producers including Beck and Nu-Mark from Jurassic 5. Taccone admits that working with serious producers can present crises of conscience. "There are moments when I've been listening to a track and I feel really bad for the producer who made it, because we're just shitting all over it." To which Samberg adds, "If it's making me laugh, I don't feel bad."
The biggest challenges now are logistical. "It's like casting a show, figuring out who's right for what," says Schaffer of corralling guests for the record. "On
SNL
we had the musical guest and host trapped all week so we could work with them," Samberg says. "Now this is what it's like: 'Hey Akiva, ask me for a favor.'"
"Andy, can you do me a favor?"
"YES. Okay, what?"
"Will you walk my dog?"
"YES."
"And then it never happens," Taccone chimes in. "He comes home and gets a call, 'Yeah, this is Andy's manager, and, I know you were talking about walking your dog, but he and I are just not looking at the same calendar here.'"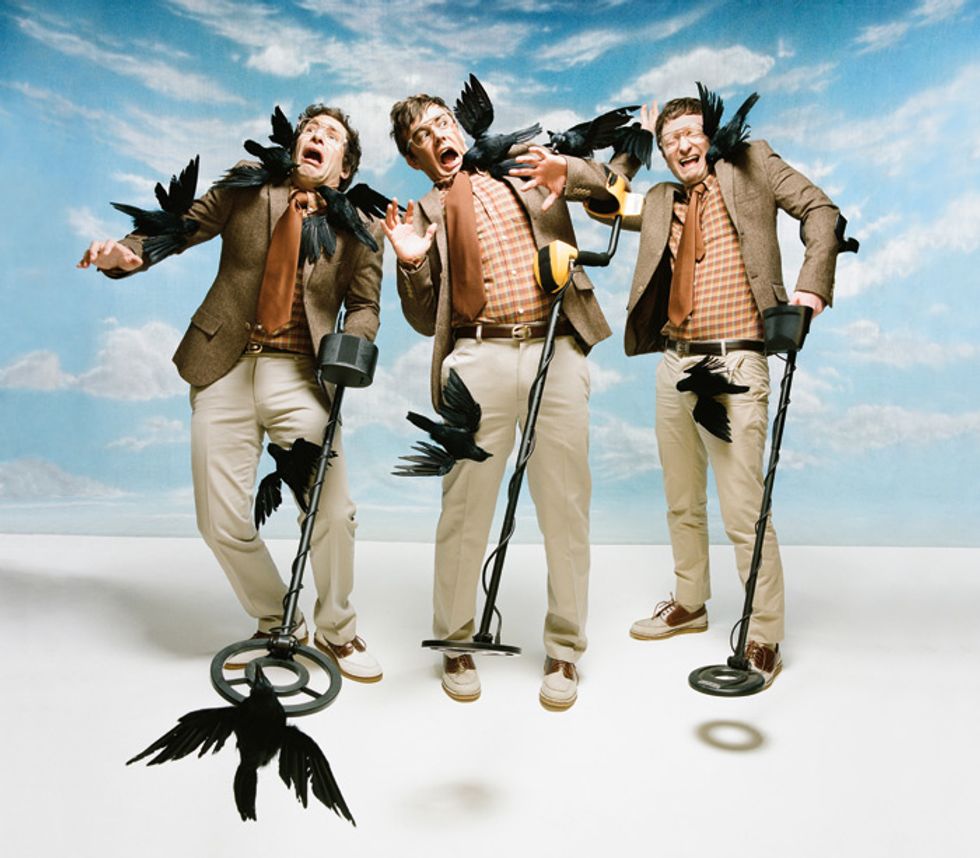 Blazers by Topman, shirts by Band of Outsiders, Andy and Jorma wear pants by Brooks Brothers and Akiva wears pants by Band of Outsiders, Shoes by The Generic Man, ties from Universal Costumes and glasses from Giant Vintage.
These days, it's not even that easy to get the three of them in the same room. All are now in their mid-30s and settling down. Schaffer's married with two kids; Taccone and his wife live in Queens, and Samberg is engaged to his longtime girlfriend, musician Joanna Newsom. Samberg just hosted the Independent Spirit Awards and produced and shot a pilot for Fox, a cop show he developed with
Parks and Recreation
's Mike Schur and Dan Goor and in which he also stars. Since the trio made their collective big screen debut with 2007's
Hot Rod
, Schaffer directed last year's
The Watch
, while Taccone directed
MacGruber
and is currently working on
MacGruber 2
. While you've perhaps seen him most recently as a skeevy self-absorbed artist on HBO's
Girls
("If you've seen it, you've seen his butt," Samberg says of Taccone's numerous nude scenes with co-star Allison Williams), Taccone also made those fantastic AT&T commercials where the guy in the suit hashes out the benefits of saving time and money with 6-year-olds.
"It used to be that the biggest challenge was it was 4:30 in the morning on Tuesday and we've got this show in a few days. Now, it's that we've scattered ourselves across the universe," Samberg sighs. "There are a lot of maybes in our world. Like, 'Will we make our album deadline?'"
The constant is their chemistry, even if the island isn't so lonely anymore. "It still feels really pure. There's no one giving us notes. It's informed how we are in other aspects of our careers," Taccone says. "To the point where we've had scenarios where we've been like, 'Can we lower the budget so we don't have to answer to anyone?'" adds Samberg.
YouTube is still a big part of that autonomy. The trio licenses their content to
SNL
for free, but retain all the rights so they can post it to their YouTube channel. "Everybody wants their content to go viral but they tend to quarantine it. And
SNL
is a very American show that doesn't travel well," Schaffer says. "We know our fan base is on YouTube -- there's a whole generation of people that are like, 'If it's not on YouTube, it doesn't exist.' So I know for a fact the reason we have two gold records in Australia is because of YouTube."
Their biggest legacy, perhaps even bigger than the one billion views, is that the three are still best friends just like they were in junior high. "We had a conference call to talk about what we'd be doing for the photos for this article," recalls Samberg, "and we wound up on the phone for 45 minutes, turning it into this party chat line, making each other laugh."
Shot at Milk Studios in Los Angeles / Grooming by Molly Stern at The Wall Group / Produced by Jett Steiger of Ways & Means Set design by Daniel Salin / Photographer's assistant: J. Mims / Stylist's assistants: Hillary Janvrin and Daisy Geoffrey / Film developing and scanning: Richard Photo Lab / Retouching: Dibou / Photographer's Studio manager: Jamie Patterson

Autumn de Wilde is at WeissArtists / Shirley Kurata is at Magnet Agency