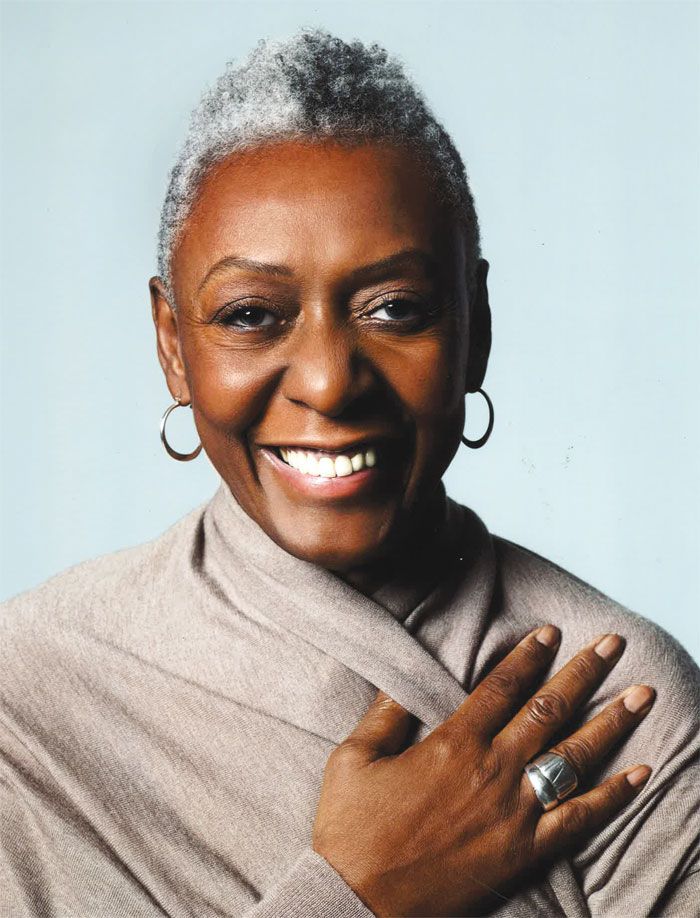 Bethann Hardison photographed by Brigitte Lacombe.
In honor of Black History Month and in light of the recent interest in African Americans in fashion -- from the Stephen Burrows retrospective in New York to the Ebony Fashion Fair exhibit in Chicago and the new documentary
Versailles '73: American Runway Revolution
-- we talked to industry legends and insiders about their pioneering careers and the role of race in fashion today.
The late, great designer Willi Smith first introduced me to Bethann Hardison in 1984 when we were just starting Paper. Since she was launching her own downtown indie modeling agency, Bethann, at the same time we were launching our downtown indie magazine, we had a lot in common and became fast friends. Bethann had a keen eye for spotting new beauty and Paper began exclusively using her models for our fashion shoots. Her girls, like Josie Borain, Veronica Webb and Roshumba, were much cooler, more interesting and most important more diverse than they were at the other agencies. She also started the Black Girls Coalition with some of the most successful black models in the industry. The group helped bring awareness to wide-ranging issues -- from homelessness in New York to diversity in advertising. When she closed her agency in 1996, the modeling business began to slowly lose its diversity again. Recently, I caught up with her and had a great talk about the current state of the modeling industry.
Kim Hastreiter: When and why did you start the Black Girls Coalition?

Bethann Hardison:
We began it in 1989, five years after I opened my agency, to celebrate the black models who were working in such abundance at that time. It had never happened before in the history of fashion that so many black girls were working on the runways and editorially -- being shot for Vogue and Elle and doing catalogues. Many people thought it was started just to be about the race thing, but that's not the case. I thought it would be great to use this moment of strength to raise the consciousness of the industry and to give back, which was not common at the time. New York City was hit hard with homelessness in the mid-'80s, so I thought we could help people, especially children. Originally, it was about all of us throwing a gala to raise money. When I told Iman this idea she was all over it, "Oh Bethann we have to do it." It also included Veronica Webb, Naomi [Campbell], and others like Karen Alexander, Roshumba, Cynthia Bailey, Gail O'Neill and Kerstie Bowser, who was always on the cover of
Elle
. Everybody had a little job to do. Veronica would write the letters. Iman and I would lick the stamps. It was funny. You could imagine Iman sitting there stuffing envelopes. She would say, "How did we get ourselves into this?"

Tyra Banks speaking at a panel with the Black Girls Coalition, photographed by Haim Ariav.
KH: What I always loved most about your agency is that your girls were so modern. You never ghettoized people and felt strongly that beauty and fashion were (and still are) about all different colors. You represented girls of all ethnicities, including many white girls.
BH:
That's right.
KH:How did things change? How did we get where we are today with the runways, the magazines, the modeling agencies and advertising having so little diversity?
BH:
It really started in 1996, when I left the industry. The girl of color disappeared for a whole decade until we began trying to get her back.
KH:Why did she disappear? What happened?
BH:
I remember after I left the business it was you who said to me, "The reason why these things are changing is because there's no advocacy out there, Bethann. You never realized how important you were. And now you're not here." Those were your words.
KH: I remember. I thought that the closing of your amazing agency was the first domino to fall. The runways became more monochromatic. Then the late '90s brought this whole millennial aesthetic to fashion that had to do with futurism. Miuccia Prada did a show where all the models looked like clones marching into the 21st century. It almost felt fascistic to me. Prada became "It" and all the lemmings of fashion followed. Suddenly the runways were whitewashed. There was no more diversity. No more individuality. Everyone jumped on the bandwagon showing girls who all looked alike.
BH:
Yes, eventually it was [Miuccia] Prada who got rid of the fashion model. It wasn't that she got rid of the black girl. The black girl just started disappearing. She did something that was very editorial. She flipped it. She didn't use models who had famous faces. She whitened it up because she wanted everybody to look alike. So you would not notice the girl, but instead notice the clothes. It caught on and ultimately the fashion model was no longer someone with personality like Linda Evangelista or Naomi. The model became somebody you didn't know who just walked down straight to the end of the runway and back. Once you don't want anyone to stand out, then you have to take out the people who stand out. Then the casting directors came along, which is the worst thing that's ever happened to this industry. They never existed before. This pushed the fashion model further away from the designer.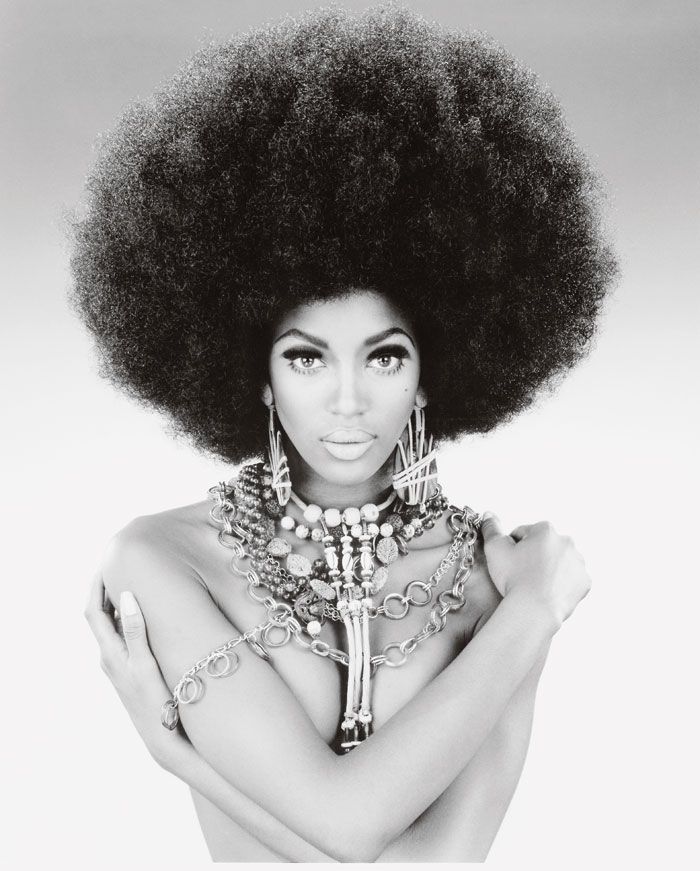 Supermodel and big personality Naomi Campbell, photographed by Edward Maxey for Paper, November 1990.
KH: If you were miraculously the boss of casting a wide variety of shows this season, would your casting for some designers be more diverse than others? Would the Chanel casting look different from the Prada casting? Would your casting for the Diane Von Furstenberg show be super different from the Ralph Lauren show?
BH:
The casting would have to be of the feeling of the designer. But I would always insist upon including models of color.
KH: Do you think designers use race as an aesthetic choice?
BH:
I think they definitely do. That's when I say the word "aesthetic" becomes borderline racist.
KH: Tell me about Invisible Beauty, the new film you are co-directing and co-producing.
BH:
Invisible Beauty
reflects the modeling industry and tells a little about how and why we got to this place where diversity becomes an issue. And why it is that even though we can talk and push and shove and raise consciousness, it'll work for a few minutes and all of a sudden it'll slide right back. What is it? I'm still trying to understand.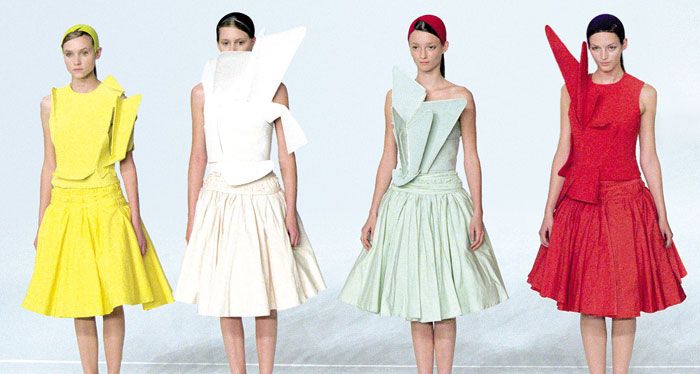 Sameness reigns at the Hussein Chalayan show in 1999, photographed by Randy Brooke
KH: But you're still asking.
BH:
I would love for any designer to tell me why he or she is comfortable having 35 girls in a show and having them all be white girls.
KH:Is this why the modeling industry needs the Black Girls Coalition to continue?
BH:
Years ago we had so many girls who worked. They were equal to a white girl like Daria Werbowy, editorially. That kind of power was interesting. Girls still need the BGC to have someone to talk to. Fashion models, all of them, white, black, Asian, Latin, are all soldiers out there every day. It's a hard game and it's a war in a very interesting way. Sometimes if you have a community of people who are, like yourself, talking about things, it just makes it better. I think the Coalition made people feel very proud. It gave them a lot of strength in numbers, although the fact of it is, there's never going to be the power of those girls again -- ever.
KH: You don't know that for sure. I think you're cynical.
BH:
I'll put money on it. Not in this industry. I'm watching things. I'm so disillusioned, but the Coalition, although it's not something that's necessarily needed, it's something that could still be a wonderful tool for those who are out there everyday. People like to see their own self-reflection and I don't mean color necessarily. They want to know what they're up against. Even if what they're up against is a hell of a lot different from what they were up against almost three decades ago.