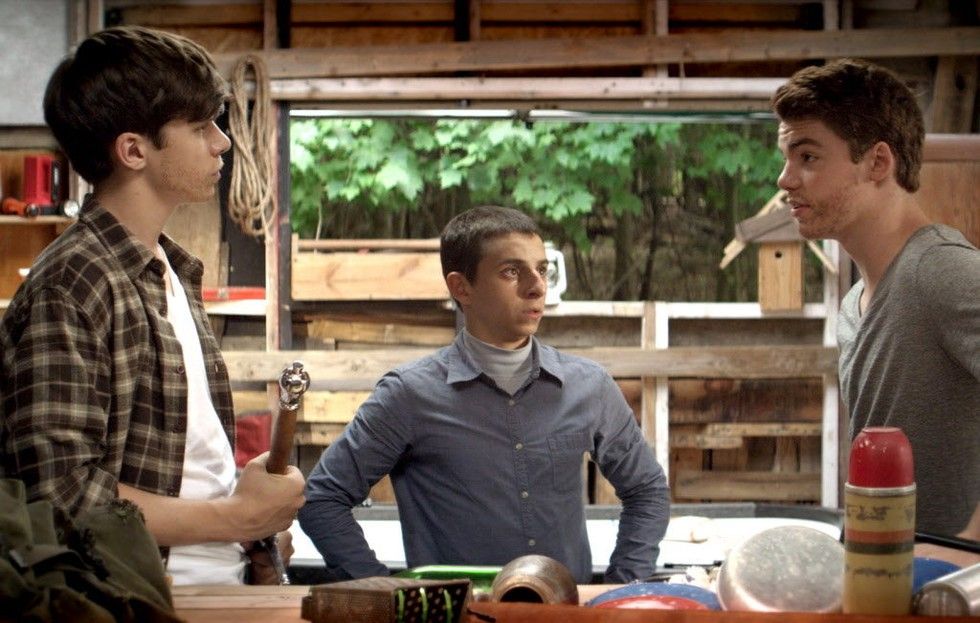 Above (L-R): Nick Robinson, Moises Arias and Gabriel Basso in
Kings of Summer
. Photo courtesy of CBS.
One of this year's Sundance darlings was Jordan Vogt-Roberts'
The Kings of Summer
-- a coming-of-age story about a teenage boy named Joe (Nick Robinson), who, wounded by the death of his mother and fighting with his father (played by the gloriously deadpan Nick Offerman), runs away from home. He spends the summer living in the forest with his best friend Patrick (Gabriel Basso), whose parents (played by Megan Mullally and Marc Evan Jackson) could teach a master class in How to Absolutely Mortify Your Child and Other Well-Meaning Torture. And then there's the mysterious Biaggio, a deeply weird, no-less charming hanger-on who inserts himself into Joe and Patrick's plans and, through an excellent, wide-eyed performance by Moisés Arias, steals nearly every scene he's in via increasingly bizarre and enigmatic one-liners. He's like if McLovin was dropping into a David Lynch movie. With the movie now in theaters across the country, we spoke to Arias, whom you may recognize from his role as Rico on
Hannah Montana
, about his character, staying in a retirement home during filming and trying to come up with the dumbest name on Instagram.
Your character Biaggio got the biggest laughs at the Kings of Summer screening I went to. He has so many amazing, very strange one-liners...
You could tell how funny he was when you read the script -- Chris Galletta did a fantastic job. The script was the reason I got attached -- I was just laughing out loud. And once we got on-set and started working with our director, it just got better.

What was your favorite Biaggio line?
Probably when he confuses being gay with having cystic fibrosis.
I think you character's clothing also adds a lot to his fabulous strangeness -- turtlenecks with shorts and all of that.
 
I just wanted to take it a step further with the stuff they put me in. Like, originally there's a scene when we're diving off the cliff and I was going to be in a full-on Speedo. I guess it was too much or whatever because they went with a full wet-suit for me. Because why would someone take a full wet-suit into the woods? And then, yeah, the turtlenecks and the ladies cut-off shorts..

I didn't realize those were women's shorts.
Yeah! They were women's jeans that they cut into shorts. They were like, high-rise and they would squeeze my male parts, tightly.
There's a very natural rapport between you and your co-stars in this movie -- was there a lot of improvising?
We had a great base with the script that Chris wrote but Jordan also encouraged improvising. The improvised scene we talk about most is the pipe scene. Jordan, our director, found the location [a big pipeline in the middle of the forest] in pre-production and couldn't make use of it, so, on our first-day off, he took the
director of photography, the writer and us three guys into the woods -- I know that sounds creepy -- and really it was magic. I just got onto the pipe and started doing some dance moves and then the guys made a beat that ultimately became the score of the movie.

How was it filming in the woods?
I was definitely outside of my comfort zone. We were in the woods for about a month-and-a-half and staying at a retirement home -- I don't know, maybe there were no cheap apartments or hotels. It was very interesting, but there wasn't much to do. I would honestly sharpen sticks. I bought a knife at a big sporting goods store and would go into the woods and sharpen sticks with Gabe. We would hang out in parking lots. I also had a lot of time to read. Being away from my brother and my best friend just gave me time to reflect on myself and my character. Biaggio was like a lifestyle. I would go to Starbucks as him and see how someone would react to someone like that. 

How does Biaggio act at Starbucks?
I mean, I'd just go in wide-eyed as if something had just happened. And I'd order coffee in the most mythological way possible. Like, "Gimme a major chai, devil strength." You'd get a little chuckle out of the person behind the counter sometimes or other times they'd just ignore it. Honestly, Biaggio has something. It might be Asperger's --  we don't know. Its very, very vague.
Did you say earlier you were all living in a retirement home while you were filming? 
Yeah.
What was that like?
Honestly, the parties were too much. No, it was very interesting. We just had to keep quiet and not play our TVs too loud at night.
Your name on Instagram is "@iputtheeconomyonmyback." What does that mean?
My brother, my best friend and I just come up with the stupidest names on Instagram. We keep changing them whenever we feel like it. We always say whatever comes to our minds. My brother kept saying he put the city on his back. I was like, 'What do I put on my back? The economy!' It's all of these different dumb things.
You're in Ender's Game coming up with Harrison Ford. How was it going from a little indie movie to a big Sci-Fi movie?
 
It was honestly one of the most amazing experiences I've ever had. It was inspiring to see the professionalism. The cinematography! The special effects look amazing. I'm excited. I've gotten to work with the most amazing actors and the most amazing child actors right now.
You were on Hannah Montana and got your start really young. Was being able to transition out of being 'a child actor' something that was important to you?
I feel like there's an evolution to everything.
Hannah Montana
for me was like college. I learned timing, I learned professionalism, I learned improvisation, everything I needed to know for the future. It's not like, 'making it out' of that, but more of an evolution, a graduation. And a lot of people have a hard time understanding that. A lot of people also take every role that comes up but I've been very selective almost to the point that I've sacrificed not working and waiting for something. And I think that Biaggio is exactly that. It's a character that shows that evolution that everybody waits for. And I think that it's important to wait for it.