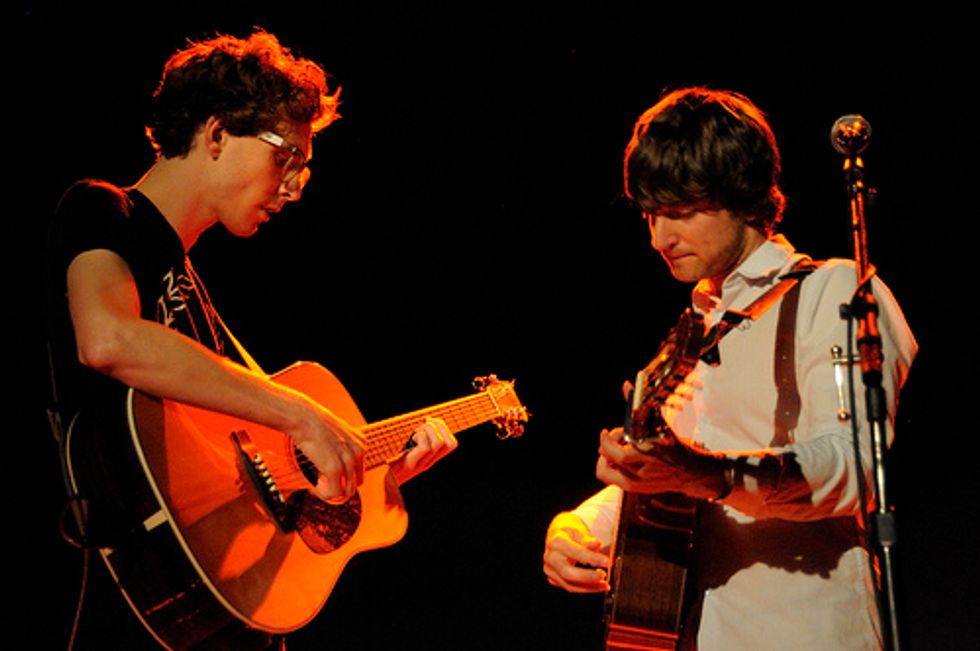 The Bowery Ballroom isn't a quiet place. But with royalty in the house last night, even drunken conversations at the back of the room went soft or just stopped altogether. The Kings of Convenience are just two handsome, floppy haired men with guitars, singing and strumming in lulling, honey-sweet harmony -- nothing gimmicky except perhaps an unpracticed twee-ness. Aside from the pensive, delicate music, there was cute banter, and a moment in the middle of their set when they posed for photos. It's the kind of thing that seems dangerously out of place at a rock club, where someone could at any moment shout something uncouth, or throw something, if only to shake up the vibe a bit, get their money's worth. But being just two dudes with guitars is reason enough to stop and stare. And although the audience may not have known most of the songs (they chose to focus on wordy material from their upcoming album Declaration of Dependence), Erlend and Eirik had the audience wrapped around their long fingers. Even the security guard, the beefy long-haired guy swathed in tattoos, was peeking through the curtain, taking photos with his phone.
Still it felt right when one person shouted "play old stuff!" The guys' smiles and the audiences' sympathy moans registered a mixture of pleasure and regret, a mixture that is underneath most of their music anyway. And when, right then, they did play old stuff; it wasn't clear if the philosopher kings were being pushovers or if it was just a coincidence, if that's what the set list called for. But there was no set list of course, there was nothing but the two guys with guitars, making things as convenient as possible.
And then, during the encore, there weren't even microphones. They edged up to the very lip of the stage, their ankles at the audiences' eye-level, and started strumming "The Build Up." It was so soft and so right that we all might have forgotten that Leslie Feist sings the second half of the song until just before that fast steady build of strings when suddenly her voice rose up from the balcony, and a spot light lit her up, and the audience cheered before realizing it was being too loud. And I saw one person cry.
They closed, all three of them, with the old Lesley Gore song "It's My Party (and I'll Cry If I Want To)," and everyone cheered and went home, and not long after the ballroom was very, very quiet.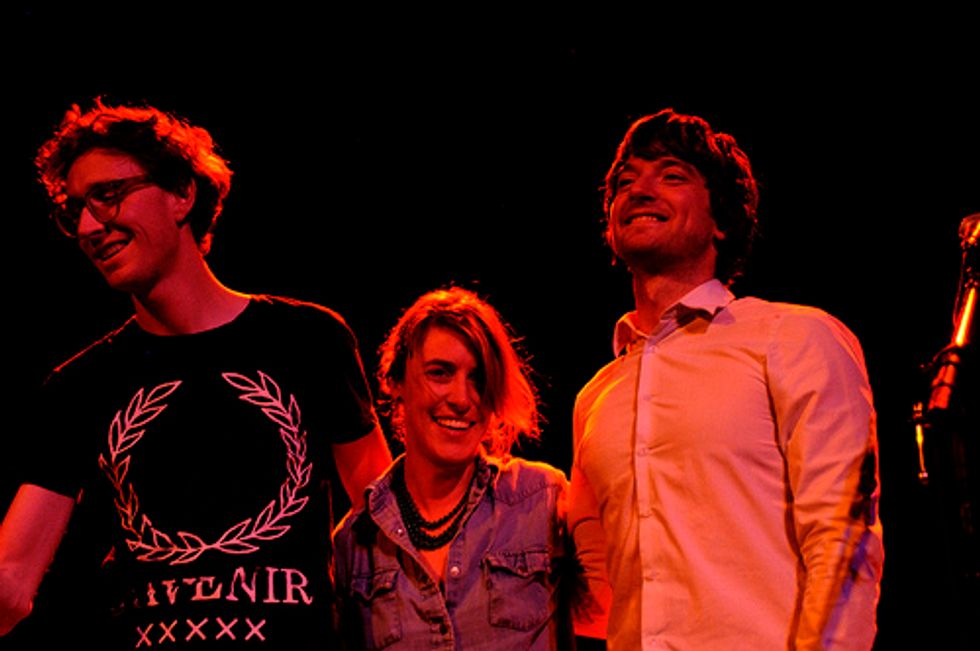 Photos via www.hippiesaredead.com