Shannyn Sossamon had considered leaving the party, but when Tuesday night turns into Wednesday morning, the actress is housing her body on the dancefloor. She runs into a crowd of thick-necked guys and cries, "This song cannot be wasted," dancing to an absurd hip-hop remix of Lynyrd Skynyrd's "Sweet Home Alabama." Wearing chunky black boots, a gray skirt and white tank top, Sossamon's suddenly hard to spot, submerged in a sea of shiny shirts. She dodges a two-stepping blonde in a turquoise tube dress, bypasses an unkempt Michael Madsen, evades a Hilton sister who sports a belt-sized skirt and is macking on MTV VJ Brian McFayden. The music is very loud, and the club swarms with press.
The bed-headed starlet from A Knight's Tale, 40 Days and 40 Nights and The Rules of Attraction -- a new film about drugs, sex and their importance to a college dorm -- thought about turning her evening down a few notches on the industry dial. She wanted to drink at a dive, maybe, or shoot some pool or see One Hour Photo. Not a half hour earlier, she'd written the following message in my notebook: Remind me never to go anywhere again. But that was downstairs, and now the 24-year-old is on the second level of Trust, a club in Manhattan's Meat Packing District.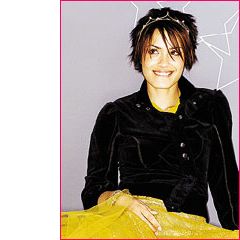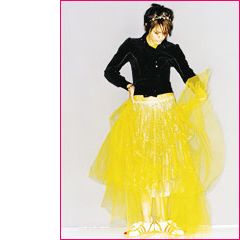 It just wasn't fun on the main floor, where she was flanked by journalists, waitresses and Ice-T, who was clad from head to toe in white Roc-A-Wear. But it wasn't a total wash, either. "That DJ is so fucking adorable," Sossamon said, watching Jane magazine editor Jauretsi Saizarbitoria drop a pop-heavy set. "Her little smile makes me twinkle." When Jauretsi played Nelly's "Hot in Herre," she grinned and said, "This song really works. It makes me want to take off my clothes."
Sossamon's middle name is Kahoolani. Until her Hawaiian grandmother recently set her straight, she thought it meant "wild one," and she isn't unhappy that it actually translates to something more like "angel from heaven." Her idea of a good time is hanging out at home with her friends in Los Angeles, and she says she only goes to clubs when she's the DJ; she used to have a Tuesday night residency at Guy's, a lounge in L.A.'s Silver Lake neighborhood. Industry parties don't impress her, although she was discovered at one -- DJing Gwyneth Paltrow's 27th birthday. That's one way to assure a meteoric rise in public attention.
"A friend of mine was supposed to be the DJ, and he wanted me to come with him so he could take breaks and hang out," Sossamon explains, chain-smoking her American Spirits. "I didn't know anybody and was there for probably an hour before I left. I was so bored."
That was long enough for her to be spotted by a casting director, who called six months later and asked Sossamon to read for A Knight's Tale. After five callbacks -- and besting Kate Hudson for the role -- she appeared in the medieval teen comedy, which co-starred Australian heartthrob Heath Ledger and featured a jousting match in which the audience sang along to Queen's "We Will Rock You." Then she co-starred with football-shouldered American pin-up Josh Hartnett in 40 Days and 40 Nights, a contemporary teen comedy about a boy who gives up sex for Lent. Neither movie was meaty stuff, and shortly after 40 Days, she decided that she didn't like acting all that much. So she took time off and worked at a record store in L.A. "I still wasn't comfortable with myself as an artist and wondered why I even got the parts in the first place," she says. "After both of those movies, I realized I felt empty. Everyone expected me to feel like Cinderella. Like I'm supposed to be asking, 'Why me?' to the gods every night?"
Her disillusionment with Hollywood ended when she was cast as Lauren Hynde in The Rules of Attraction. Based on the Bret Easton Ellis novel of the same name, the film stars lantern-jawed Dawson's Creek teen idol James Van Der Beek as Sean Bateman, a student at a New England liberal arts college and the younger brother of Patrick (Christian Bale's character in American Psycho). Along with Paul Denton (Ian Somerhalder), the three form a bleak love triangle in a story that takes a long, hard look at college relationships and finds them lacking -- but funny. Highlights include Lauren's coked-up roommate Lara, played by a tweezed and tweaked Jessica Biel (who's putting as many miles between herself and 7th Heaven as she possibly can); Eric Stoltz as a sleazy professor who trades grades for fellatio; and Fred Savage as an agoraphobic addict who can hold a lit cigarette in his bellybutton. Fred's not quite as lithe as he used to be.
The film was adapted for the screen and directed by Quentin Tarantino cohort Roger Avary, co-writer of Reservoir Dogs, True Romance and Pulp Fiction. The movie's nod to montage is a four-minute sequence of drinking, drugging and screwing through Western Europe. The ad campaign depicts stuffed animals in sexual positions. For Sossamon, shooting the film was a horizon-expanding affair. "That was the experience -- the right place, the right director, the right time -- that made me understand why people do this," she says. "That fucking sealed the deal for me. Acting's all I want to do for the rest of my life, but that proved to me that I can do it."
Ellis agrees. "I've always had an idea of who Lauren was, and Shannyn completely redefined the character for me," the author says. "She hasn't had much of a chance to shine before, but she's a star. She seems freer in this movie than she was before and is totally empathetic, which is a quality that doesn't come easily to most actors."
As for the state of New York nightlife and where young Hollywood likes to party, Ellis won't comment. His last book, Glamorama, includes a sequence where real-life club kid Kenny Kenny has a speaking part, but Ellis hasn't been to a club in 10 years. "Going out when you're younger is an almost involuntary desire -- what else are you going to do?" he asks dryly. "For the first five years that I lived in New York it was fun, I guess. Now I couldn't even tell you what the impulse is."
Back at the party, Sossamon's feeling it. Though the bash at Trust is in honor of the 10th anniversary of Reservoir Dogs, it's a coincidence that she knows people there. DJ A.M., her friend from L.A., is spinning the ironic songs upstairs, and she runs into Clifton Collins Jr., the actor who plays a red-eyed, runny-nosed drug dealer in Rules. "How sexy is she? I mean really, how sexy is she?" Collins asks, as Sossamon lets loose, momentarily unimpeded by the photographers. He knows he's right and flashes a grin before joining her on the dancefloor.
Co-sponsored by Maxim magazine, the party's crawling with press, and Coors is the only beer available at the bar, open or otherwise. After negotiating a wall of paparazzi photographers at the entrance, Sossamon is stopped by a reporter, who asks her if she's ever before been to a Maxim party. "I think I DJed one once," she says. On her way to the bathroom, a journalist working on her magazine's Christmas issue asks her whether Santa would say she's been naughty or nice this year. "Nice, I think," Sossamon responds. When she's sitting at the back of the club, downing a cold one, a photographer from the Associated Press snaps our picture. He asks her who I am. "My husband," she tells him. Sossamon navigates the media with the sort of aplomb that could get an unsuspecting writer into a lot of trouble.
She says her impulsive days are behind her, but she's got stories to tell and a couple of tattoos to show for them. There's an 'S' on her shoulder blade and two eyes on her lower back, the products of what she calls "a phase." She was born in Honolulu but moved to Nevada with her parents at the age of one and hasn't been back. Sossamon's mother was a blackjack dealer who raised Shannyn and her sister on tips from the casino; her stepfather manages a car dealership. Her parents were apprehensive when, 24 hours after graduating from high school, Sossamon and two friends packed a car and left their home in Reno for L.A.
"Nothing compares to that feeling when you first leave home and arrive somewhere new," she says. "When we woke up in the morning, just making coffee felt amazing. It felt like being so free -- just to wake up and make coffee and look at our couch. Nothing beats that."
Out west, Sossamon studied modern dance but wound up doing commercials because they were easy to get. "I didn't want a real job," she says. After appearing in a couple of Daft Punk videos, she began DJing for fun and profit. She refuses to describe the kind of music she likes, because she doesn't want to categorize the artists -- it's too reductive -- and says she'll listen to anything so long as it's good. Lately, she's fond of an L.A. band called Moving Units and likes the New York dance-punk group the Rapture so much that they're included on the soundtrack for The Rules of Attraction. Isolated in the DJ booth, totally alone in public, she loved her gigs because they let her lose herself in the music. "About five years ago, I was friends with all these DJs," she says. "I couldn't believe that was their job, drinking for free and not having to talk to anyone they didn't want to talk to." She continues: "In a weird way, I feel like I should have been a DJ at a radio station, because I wanted to play songs -- that's it. For four hours, I just wanted to play the songs that I wanted to hear and hoped that other people could hear what I thought was great about them."
Although the music came first, her chill demeanor and exotic looks made transitioning to the movies a painless next step. She owes her striking beauty to a mixed heritage -- Sossamon's mother is a Hawaiian-Filipino-English-German mix, and her father is French-Irish. She doesn't think her looks are extraordinary. "People don't recognize me unless I come to places like this," she says, as the AP photographer spots his next subject and moves along. Still, she's unmistakably conspicuous. Earlier in the evening, we were to meet at the SoHo Grand Hotel's Grand Bar and Lounge. I asked the staff if she was waiting (she wasn't; the actress was still in her room), but they didn't know who Sossamon was. When I listed the actress' movies, the hostess understood who I meant and said, "Oh, no, there hasn't been anyone that beautiful in here tonight."
Since she's decided to continue her acting career, she's completed two more projects. One is a short film called Wholey Moses, which doesn't have wide distribution, and the other is a big-budget thriller, The Sin Eater, which again pairs her with Heath Ledger. Written and directed by Brian Helgeland (A Knight's Tale), the film was shot in Rome, which gave Sossamon the chance to vacation. "It was so beautiful," she says. "I spent a lot of time by myself, wandering around and catching up on my reading."
She's not doing any reading tonight. After alternating between beer and red wine and dancing for a couple of hours, she's ready to hit the next party -- a Moby-hosted celebration next door at APT, where there's less press but a longer bathroom line. Sossamon's got energy to burn. It's late and she's on a fast East Coast trip, but she wants to take advantage of New York's nightlife. She's doing a pretty good job so far. When she sits down again and I ask her whether she's enjoying the city, she takes my notebook and quotes lyrics from Jay-Z's "I Just Wanna Love U (Give It 2 Me)": "Gimme that funk, that sweet, that nasty, that gushy stuff." For an actress whose first love is music, that's about as succinct as it gets.
Styling by Christine Baker. Hair by Nathaniel Hawkins/ Contact. Makeup by Mally Roncal/Contact. Special thanks to Lindsey Heller.