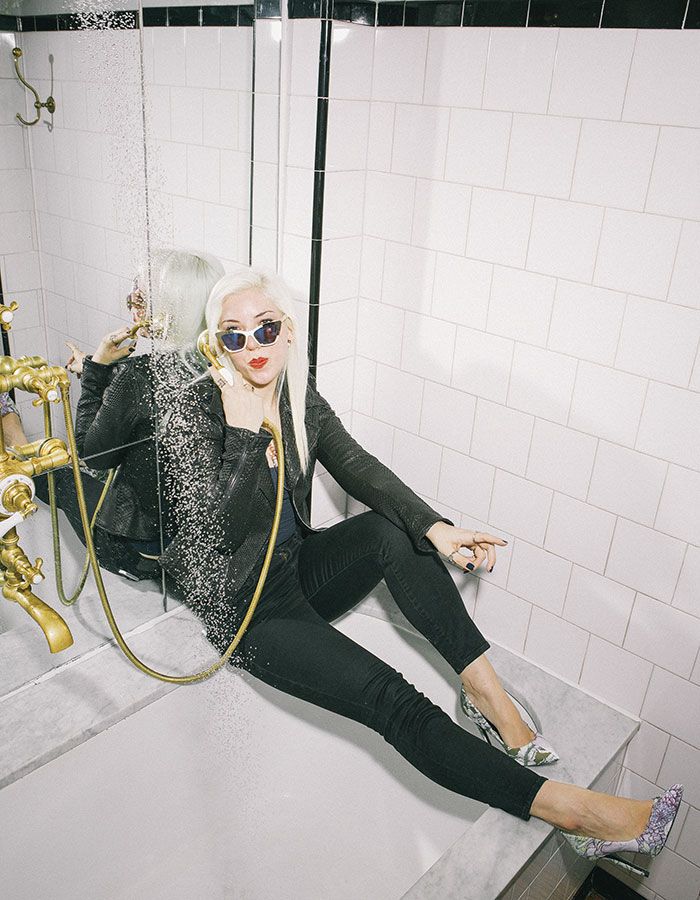 Jeanette wears jeans by Proenza Schouler, jacket by RTA, camisole by Calvin Klein, 
earrings by Chanel, rings by Bond Hardware and Workhorse and shoes by Swash.
Where you've seen her:  
Presenting her work at the Half Gallery, Art Basel Miami and Motelsalieri Gallery in Rome.
Why she made the list: She mashes up religious iconography and iPhone graphics, classical painting technique and a mad flair for GIFs. As she says, "When you put something on the Internet it's mine."
On her "Internet on Canvas" period... 
"This is the first thing I've hit on in my career that I want to be talking about, but I don't want to be painting Michelangelos with iPhones for my whole life."
On what's next...
"It's already been changing. Instead of iPhones and Macs, lately I have been switching it more into pop culture references. I made some anime paintings, and I think it's going more in this route, where I'll explore correlations of pop culture and history as opposed to hyperreal technological imagery and history. Like, today, yesterday, tomorrow."
Hair by Dina Calabro at Wilhelmina Artists using Kérastase / Makeup by Natasha Smee at The Wall Group using Nars / Photographer's Assistant: Dean Dodos / Stylist's Assistant: Hailey Rozenberg / Fashion Coordinator: Kelly Govekar / Fashion Interns: Samantha Lewis, Katy Miller, Gabrielle Obusek and Olivia Valdez / shot At the Jane Hotel and Lafayette House.