When the Leader of the Free World turns out in a look fit for the Hypebeast Supreme™ , you better bet the Internet's going to roast his penchant for drawstring pants...especially if it's a picture with almost too many built-in jokes.
Roses are red
And although he looks dapper
Obama is dressed
Like a Soundcloud rapper pic.twitter.com/sDOe8FsgWN
— Lil Zika Cigarette (@th0tcouture) September 6, 2016
I mean, whoever took this must have spotted the fortuitous "69" in the back.
The 69 behind obama 😂 https://t.co/rJlaTtXRNu
— Kush Patel (@sxekush) September 6, 2016
And while GQ was quick to point out that the photo was from 2009, it sure as hell didn't stop an onslaught of aesthetic-centric lols over the holiday weekend.
President Obama dressed like an AAU basketball coach. pic.twitter.com/9edWFd9kgx
— Philip Lewis (@Phil_Lewis_) September 5, 2016
Obama smoke Newports pic.twitter.com/csf0QEbsF6
— Lil Zika Cigarette (@th0tcouture) September 5, 2016
obama dress like i owe him money pic.twitter.com/oP0c2CLTlw
— g (@thugtear) September 6, 2016
these people are leaving the White House soon and America is guaranteed an aesthetic downgrade pic.twitter.com/WVPlz3Vdcc
— dev, a good girl (@bummermaid) September 5, 2016
Barack dressed like he only text you after 2am pic.twitter.com/cah7hXjzBd
— Fall & Oates (@yc) September 5, 2016
The UK also had a little fun, comparing Obama's newfound penchant for Climacool ventilation to the sort of looks typically sported by grime MCs à la Drake favorite/Tracksuit Mafia don Skepta.

Listens to Skepta once. pic.twitter.com/KLzaBDlS2N
— Carl Anka (@Ankaman616) September 6, 2016
Obama looking like he's about to drop the hardest grime tape of 2026 🔥 pic.twitter.com/kEEdqz1Cdo
— Highsnobiety (@highsnobiety) September 6, 2016
Roadman Obama LOOOOOL 👀👀😆😆😂😂😭😭 pic.twitter.com/vmV3nnOXL0
— DJ J-ⒸⓊⓈⒽ RINSE FM (@JCUSH) September 6, 2016
@Skepta Obama just joined the Tracksuit Mafia #TopBoy https://t.co/IFQmetVns0
— Mtumishi (@ZolaniNkomo) September 5, 2016
When your president hung out with too many rappers. pic.twitter.com/KiNinms2Mr
— Reggie Ossé (@Combat_Jack) September 5, 2016
However, like this one Twitter user, we're mostly concerned about Barack's brand loyalty.
Why my boi Obama mixin Nike w/ Adidas come on son ur the leader o the free world dont do that. pic.twitter.com/rZxMZZkLA0
— yung赤丸chakra (@yungakamaru_) September 6, 2016
Like, bruv...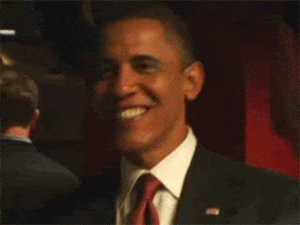 [h/t GQ]
Ed Note: A previous version of this article incorrectly attributed @yc's tweet to another source.