[UPDATE 05/20/16, 5 p.m.: According to the New York Times, Lake expects to be fired from her job of two years, even though a Home Depot spokesperson "did not directly address Ms. Lake's job status" in a statement regarding the hat.
A gaggle of Trump supporters are currently having a collective social media aneurysm on Home Depot's Facebook page...and it's all thanks to 22-year-old employee Krystal Lake's incredible headgear.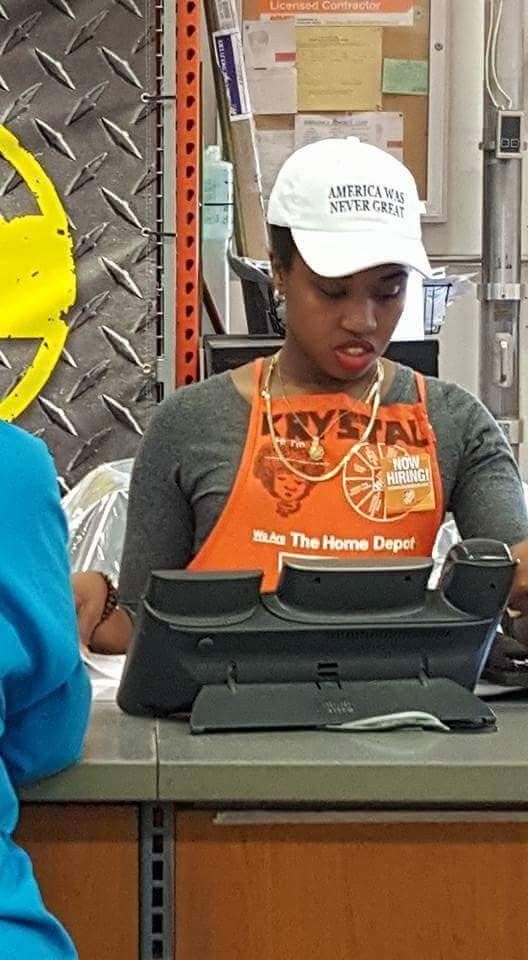 A spoof of Donald Trump's "Make America Great Again" campaign slogan, it may be the coolest hat in history. Which feels like an appropriate thing to say as Lake herself told SILive.com that "the point of the hat was to say America needs changing and improvement. I don't think it's a positive message to say, 'Let's look to the past'" -- because, true. And even though Home Depot has a ban on employees wearing items of political support, Lake said she had been seeing some of her coworkers "wearing 'Vote for Trump' pins on their uniforms...But no one ever says anything to them."
The photo began to make the social media rounds after it was snapped on Sunday, and subsequently brought out all the bigots to Home Depot's Facebook page by Wednesday evening. Behold: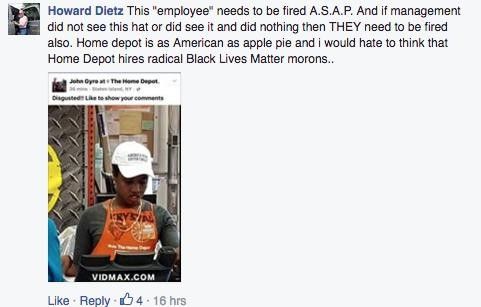 "I feel it offended a lot of people because a lot of Trump supporters live in Staten Island," she continued. "Trump is very rash and in your face, but when someone else has a message against him, his supporters can't take the criticisms."

And despite the dozens of death threats she's received for her sartorial savvy, Lake says she intends to wear the hat again -- which, bravo. All we want to know now is where can we get one too.
[h/t Gothamist]