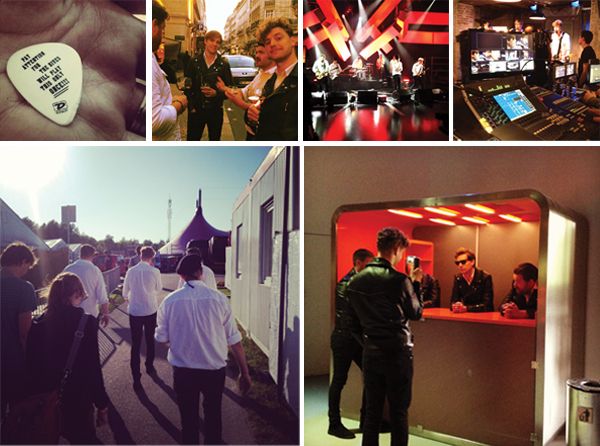 Swedish punks The Hives rose to stateside fame during the Great Garage-Rock Boom of 2001 alongside fellow "The" bands the White Stripes and the Strokes. The black-and-white-clad quintet distinguished itself from their peers partly through a bombastic stage show and steadfast refusal to break character -- but offstage, singer Howlin' Pelle Almqvist comes off as a levelheaded, cordial fellow when discussing his favorite pastimes in Bedford-Stuyvesant, Brooklyn, where he bought a brownstone about five years ago. (Almqvist also maintains a residence in Stockholm.) "I basically just eat, drink, and hang out with friends when I have time off," he says. He enjoys brunch at the bakery SCRATCHbread. Howlin' Almqvist thinks about brunch! 
In April, Almqvist told England's Daily Star he felt anxious recording the band's new album Lex Hives. He shrugs off the notion that this flies in the face of his usual bravado. "There's a lot of doubt and hesitation that goes into [making an album.] Once we've finished, that's when we can be confident." 
More misconceptions shatter when Almqvist's asked whether the band really lives at shared residence "Hive Manor," celebrated in a drum-and-organ instrumental on 2007's The Black and White Album. They stayed there briefly, but the experiment failed. These days it's just a rehearsal space and hangout: "I think one reason we've been together for such a long time is because we don't live together anymore." The Hives can get annoyed with one another, like mere mortals. 
Still, Lex Hives makes it easy to think the Hives' folklore matters less than their music. They've ditched the experimentation of The Black and White Album -- i.e. "T.H.E.H.I.V.E.S." -- a Pharrell Williams-produced hip-hop number -- in order to "be as Hives as we could." That means fast, loud, brash tunes that sometimes sound like a tighter version of their breakout LP, Veni Vedi Vicious. Almqvist's tortured yelp sells an opening track whose lyrics are primarily "Come on!" over and over again; Chris Dangerous pounds the skins with violent abandon. Nicholaus Arson and Vigilante Carlstroem's guitars buzz and snarl. Key elements of the Hives' mystique remain, like matching outfits: top hats and tails onstage, less-formal attire for other appearances. Do they have matching pajamas? "No. We all sleep matchingly naked." 
Then there's the mysterious Randy Fitzsimmons, the Hives' alleged manager and songwriter. Some say he's a pseudonym used by Arson. On this matter, Almqvist sticks to his guns. "It's kind of like God. Some people say he's not real, some people say he's real." So Fitzsimmons and God exist, whether one acknowledges them or not? "Well, yeah," says Almqvist. "I don't know about God. But I know Randy."