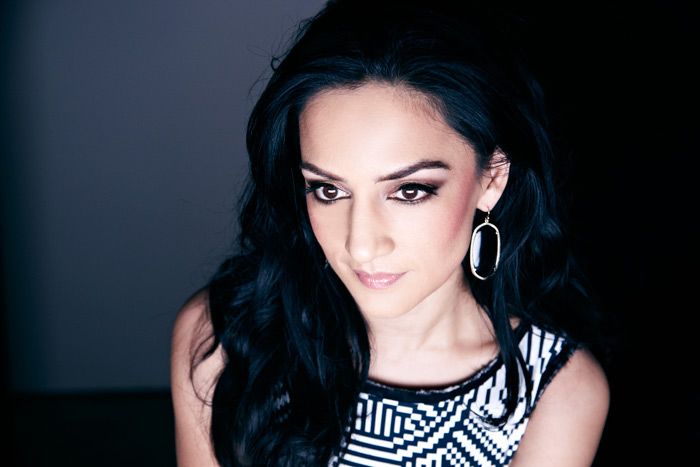 Aside from showing up to our interview wearing the same black knee-high boots that her character, aloof, steely-eyed private investigator Kalinda Sharma wears on the popular law firm drama,
The Good Wife
, Archie Panjabi couldn't be more different than her wily alter-ego. For one, she's about 70 degrees warmer. "I definitely smile a lot more than she does," Panjabi says with a laugh. "But that doesn't mean I don't have a certain toughness. I'm just showing it in a different way. I take qualities of my own and personify them differently in Kalinda."
It's Panjabi's ability to filter her own (more empathetic) qualities into Kalinda's hard exterior that has attracted legions of fans, and won her an Emmy for Best Supporting Actress in 2012. It's also made Kalinda pretty irresistable to the opposite -- and same -- sex. She's hooked up with numerous partners throughout the show's four seasons -- some of whom the voiciferous Good Wife fans didn't approve of. After series creators Michelle and Robert King introduced Kalinda's estranged, abusive husband (played by fellow Brit Marc Warren) to the show -- which led to several violent sex scenes, including a particularly skin-crawling moment involving an ice cream cone -- viewers and critics alike lashed out. (
Entertainment Weekly
critic Ken Tucker called Kalinda's subplot "a mess" in one biting review.) "I was shocked," Panjabi says of the response. "It showed how protective fans are about her. People were like, 'Don't touch my girl!'" As a result, the Kings concluded the season four story line earlier than planned. But Panjabi doesn't mind. Although she plays one of television's biggest misanthropes, the actress wants to keep her fans happy. "It's great for me," she says. "I have a whole group of people I need to please because they love this character."
***
Archie Panjabi answers our TV survey:

What's the show that no matter what time it is, or what you're doing, you'll watch if it's on TV?
Homeland
What's the best thing about going to set everyday? The worst?
The best is playing Kalinda Sharma, a character I adore. The worst is shooting in New York in the winter wearing Kalinda's short little skirts. Brrrr!
Do people come up to you to talk about your character? What do they say?
They have a grin on their face, a twinkle in their eye and whisper, "You are bad girl!"