Robin Rihanna Fenty is being photographed for PAPER while jumping on a trampoline in a well-lit studio wearing a pink, frothy confection-like dress designed by Luella. She is the perfect doll: a porcelain, café-au-lait ballerina twirling inside a jewelry box. Delicate and fragile, Rihanna exudes a pop-princess persona. At first glance, it would be hard to find anything about her that reflects the title of her third CD, Good Girl Gone Bad.
Of course, we all know that looks can be deceiving. If good girls follow rules and bad girls break them, then Rihanna is undeniably in the bad girl category. But to her, the title of her new CD represents more than just that -- it's about a revolutionary remix of her image. "It really represents my liberation -- how I wanted to do everything my way," she says. "I was tired of people forcing me to be a certain image."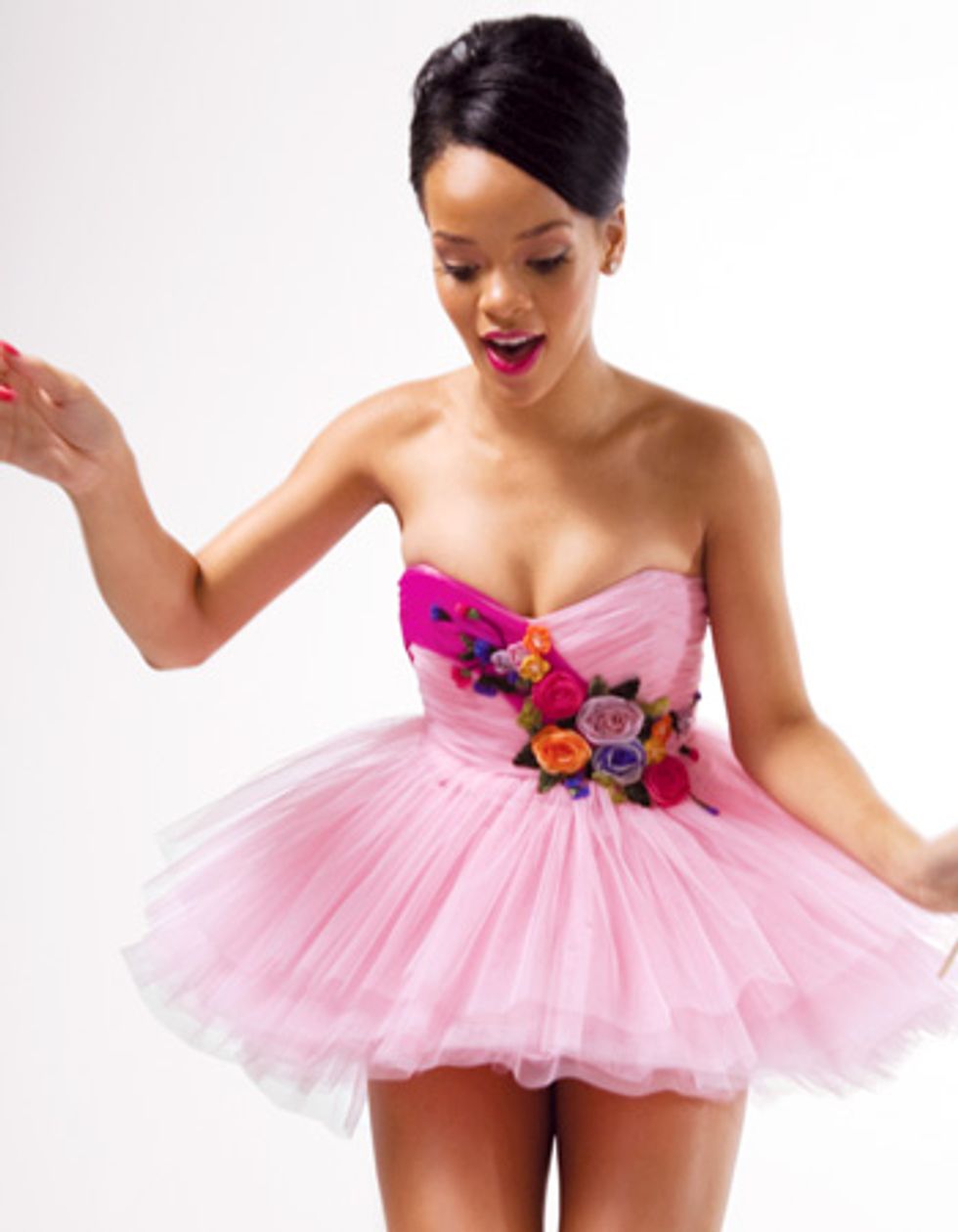 When Rihanna first hit the music scene in 2005, it seemed like every single piece of press about her mentioned the word "island," while publicity shots emphasized her curvy figure, light mossy-green eyes and long wavy hair. There was no mistaking that Rihanna was being marketed and perceived as the quintessential island girl. On the surface, she was. Born and raised on the picturesque and tranquil island of Barbados (one of the most affluent islands in the Caribbean), Rihanna lived a not un-charmed life as a typical Bajan girl -- she went to school, chilled on the beach with her friends and, of course, sang.
The casual ease of her island girlhood would change in an instant when music producer Evan Rogers (Christina Aguilera, Kelly Clarkson), who was vacationing in Barbados with his wife, heard Rihanna sing. With her striking good looks and dulcet voice, Rihanna struck Rogers as the total package and he immediately invited her to New York, where she would be welcome to stay with him and his wife while he developed her demo. Initially reluctant to let her go, her parents would ultimately decide to embrace this opportunity for their daughter.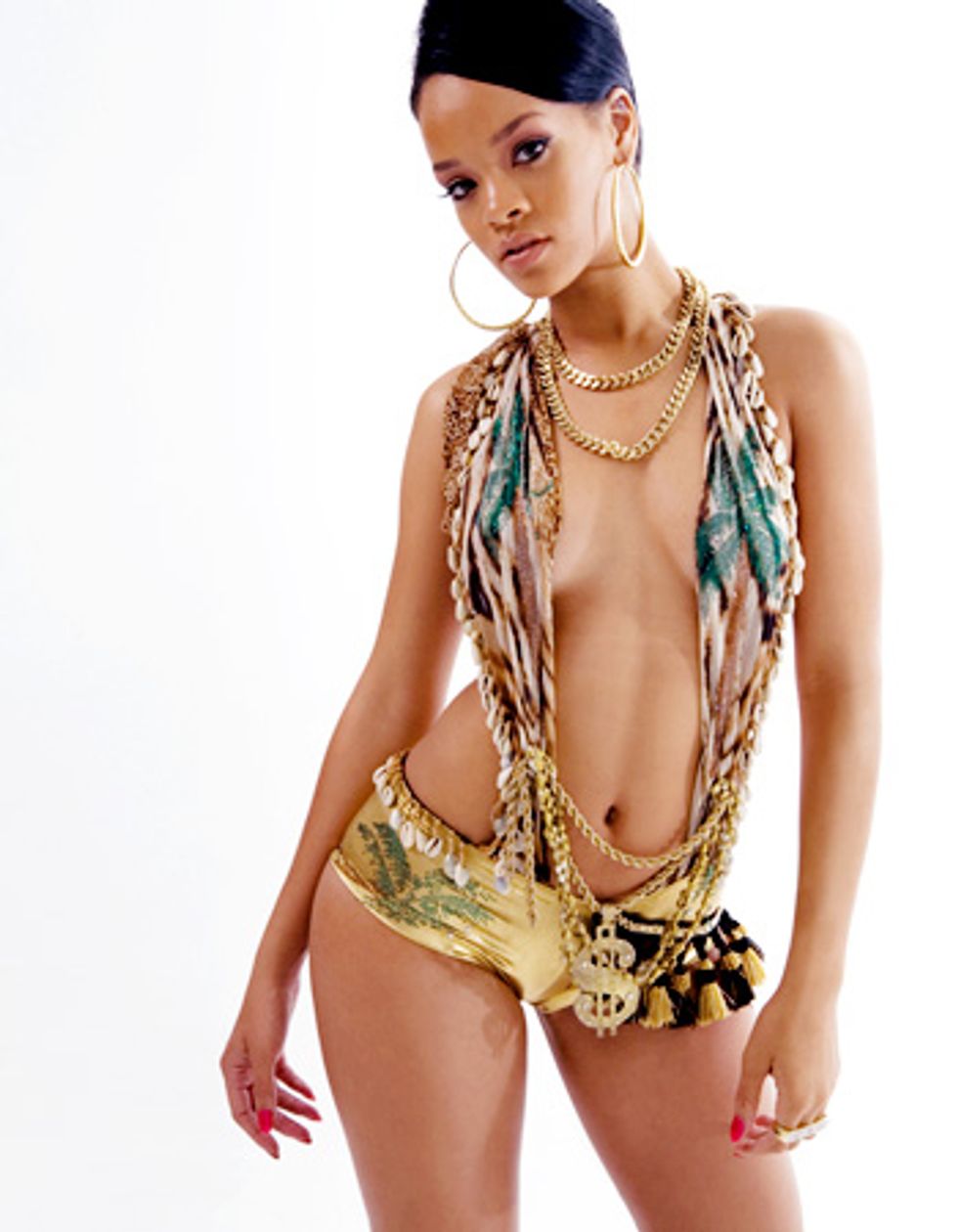 Rogers sent Rihanna's demo to all the major labels, but it was Def Jam, the modern-day equivalent of Motown, that ultimately won over the young songstress. Shawn "Jay Z" Carter, then president of Def Jam, recalls his first impressions of Rihanna. "It was in her eyes. She had it all in her eyes," he says. "The way she carried herself and performed right there on the spot, I was like, 'Wow, she's a star, we'll figure out the rest later.'" Although, not much later. "We wouldn't let her out of the building," he continues. "We actually closed all the doors, brought her some food. She brought in her lawyers and her production team, and we signed the deal that day."
Music of the Sun, Rihanna's first release on Def Jam, debuted in 2005, featuring the sassy single "Pon De Replay," a sweet summer jam with a reggae beat, a catchy chorus and a cute video with easy-to-follow dancehall moves. The song went straight to the top of the charts, and Rihanna was on her way. Capitalizing on the currency of her radio play, Def Jam promptly and smartly released her second album, A Girl Like Me (2006), which produced the wildly hot and infectious single "S.O.S.," as well as the equally popular "Unfaithful." Rihanna was sitting pretty.
But this time around, Rihanna's not resting on her chart-topping laurels. With Good Girl, this ambitious songbird is intent on letting her fans get to know the real Rihanna: "The other stuff I did was easy breezy -- a lot of [it] I felt was stuff that any artist could have done. This one only a certain artist can do... I want to be the black Madonna."
Now don't be shady, pass judgment or start a blog campaign against the girl. She's not studying kabbalah or re-creating the Sex book; she simply looks to Madge for visual inspiration. "When I did that metallic stuff for my 'Umbrella' video, I didn't do it to show my body. I didn't do it for people to like me. I did it because it was a cool visual, unexpected, and it looked hot. I just find myself leaning toward stuff that only Madonna can pull off." It's worth mentioning, the "Umbrella" video, which also features Jay Z, debuted in May on MTV's Total Request Live at No. 10 and, within a week, had reached No. 1, where it stayed for four days.
"I knew ['Umbrella'] was going to be a No. 1 record," Jay Z says. "I believe what happened with this album is that she found her voice."
Drawing parallels between yourself and Madonna might sound cocky, but coming from Rihanna, with her youthful confidence and casual fearlessness, it's downright endearing. And that self-assured nature will serve her well as she continues to veer away from the familiar. Good Girl includes a few rock-influenced tracks that would imply somebody's been watching more MTV and less BET. "You know what, when I moved [to New York], it was a totally different world of music that I didn't know," Rihanna explains. Her personal favorites from the CD include "Umbrella" ("Of course," she says), "Don't Stop the Music" ("It's dance music, but European"), "Breaking Dishes" and "Shut Up and Drive." Listening to these songs, it's clear why she's a fan of current pop rockers Ashlee Simpson, Fallout Boy and Avril Lavigne.
When Rihanna debuted, the R&B chanteuse category was filled to the brim with the likes of Amerie, Ciara, Christina Milian and Teairra Mari -- so many girls, so little individuality. Less than a year later, Rihanna had pulled ahead with the success of "SOS" but also, she says, because of her desire to be different from the rest. "At first, I felt like I was being lost in the race," she says. "I felt like a lot of it was because we all had a similar look; we were all classified as R&B girls." Although her label was against it, Rihanna shocked the hair-weave obsessed R&B industry by cutting her honey-highlighted hair: "I wanted to get a little dirty, dye my hair black and cut it short."
Rihanna also decided she wanted to go in a different direction with her fashion sense. After trying out a couple of new stylists ("The old stylist from the first album didn't get that we wanted to upgrade the image -- the new Rihanna," she explains), she found Mariel Haenn, who understood her vision. Names like Zac Posen, Roberto Cavalli and Christian Dior have become a part of her style vocabulary, and for her new release and revamped "glam rock" image, Rihanna is looking to the rock 'n' roll infused designs of Dolce & Gabbana. "[They] are on point with the new image. I hate when stuff is too high fashion. I like when stuff suits me, my personality, my age," she says. "Now I have the right team that can express how I like to dress."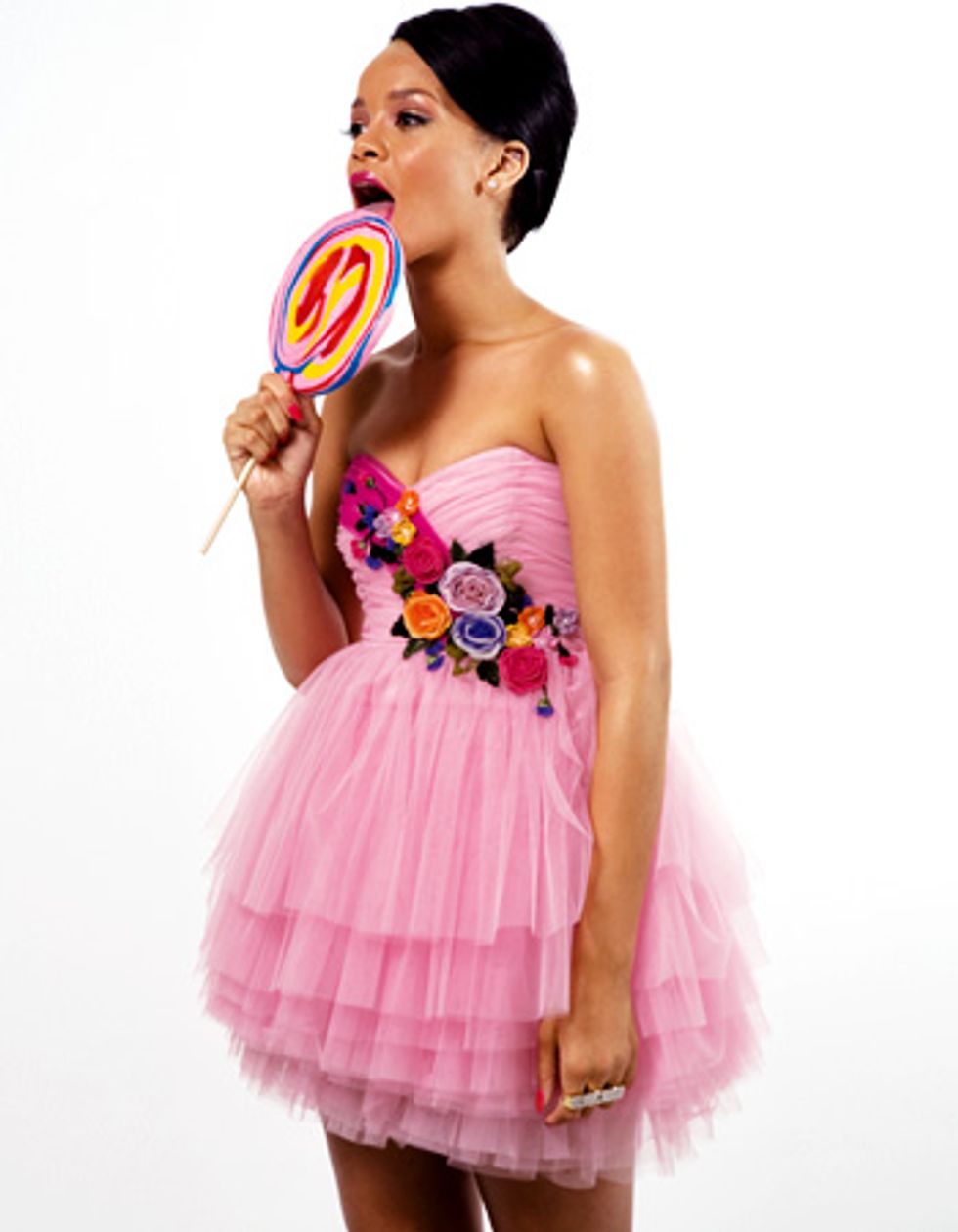 As a woman in youthful prime, Rihanna is relentlessly looking for new outlets of self expression. So it's not surprising that during our interview she takes me with her to a neon-lit tattoo parlor in the heart of New York's Greenwich Village. What is surprising is that the establishment is completely rundown, and not in a kitschy way. Nothing cute about it. As a matter of fact, it's on the same block as a sex-toy emporium and a Taco Bell that was recently closed down for rat infestation. Rihanna bursts in with hellos all around and a big hug for her tattoo artist Bang Bang (clearly, this is not her first time here). "I'm down here at, like, midnight or two o'clock in the morning. Every time I come to New York, I get tempted to do something weird, like get a piercing or a tattoo." When asked if she has any piercings, she first shows me her ear and then produces a sneaky smile. I take the bait: "Aren't you a good girl gone bad, Rihanna?" She giggles mischievously: "But I'm still a good girl."
Rihanna is pondering where she should get her fourth tattoo (it will eventually land on her hip). Her management has been "advising" her where they think her tattoos should go; they don't want them to ruin her look. She does have an endorsement deal with CoverGirl, and it wouldn't be so strange for a makeup company to be less than thrilled about one of their celebrity spokeswomen sporting a big ole visibly placed tattoo. When asked if that's one of the downfalls of being famous, having people tell you what to do, Rihanna's response is direct. "A lot of people don't get to tell me. They always say I know you're going to do what you want to do, but I'm telling you what my concerns are." Although she listens to her team, she's obviously not going to let them control her life.
Most artists talk about independence and guiding their own career all while being surrounded by a gaggle of handlers, but Rihanna appears to be the real deal. There's no evidence of a Svengali manager acting as puppet master, no publicist hovering around nervously as we conduct our interview, making sure she doesn't say something that could jeopardize her recent endorsements. She doesn't even have a bodyguard. "Sometimes it feels like I've taken on a lot, especially [with] this album because I was so involved creatively," she reflects. "I have so much to think about, I can't leave anything to anybody anymore--I'm in charge of it all."
Assitant to Photographer: Stephanie McNiel * Styling by Masha Orlov * Hair by Ursala at Epiphany Agency * Make-up by Mylah Morales/B. Lynn Group * Interns: Jessica Sussman, Pierce Jackson.