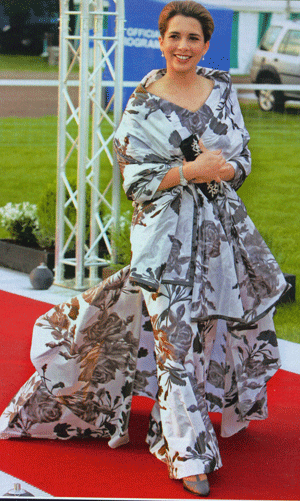 MM is trying to spread out in terms of royalty and is eager to hear from you kids if you have any favorite royals, particularly if they're more obscure or less covered. Anyhoo, here's Princess Haya of Jordan, sister of King Abdullah, looking super glamorous at the Royal Windsor Horse Show. MM sometimes bumps into Princess Firyal of Jordan when MM ventures to the chic upper East Side of Manhattan. Haya is the president of the International Equestrian Federation. Haya is married to HH Sheikh Mohammed Bin Rashid Al Maktoum, ruler of Dubai and Prime Minister of the United Arab Emirates. How's that for a royal match?

Check out Haya's fancy official website.

You can read about her horsey activities including riding at the Sydney Olympics.