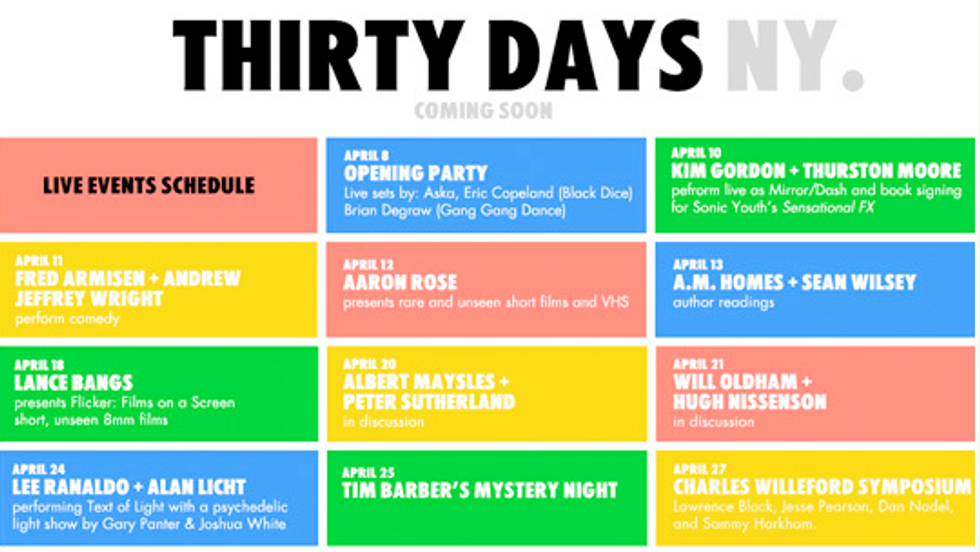 In the few years they've been open, L.A.'s
Family bookstore
has become a leading purveyor of new work from Los Angeles' up-and-coming writers, artists and musicians. Lucky for us, Famils is crossing the country to share the work of some of their favorite West Coast creative types with New York. Their month-long Tribeca pop-up,
Thirty Days NY
, sponsored by the fine folks at
ABSOLUT
, opens tomorrow and showcases artists including 
Pablo Ferro, Autumn de Wilde,
and
Geoff Mcfetridge 
with their instillation
"King Kong: Art from Los Angeles." They've also got a slew of events planned featuring New York-based artists, writers and comedians, including
Art Spiegelman
,
A.M. Holmes
,
Kim Gordon
,
Thurston Moore,
and
Fred Armisen
. (
Andrew Jeffrey Wright
, a Philadelphia-based cartoonist who apparently tells a mean
Matthew Barney
joke, will also appear with Armisen.) Here, Family's
David Jacob Kramer
chats with PAPERMAG about the project, the L.A. art world, and who he's looking forward to seeing most.
Why did you decide to do 30 Days NY?
Absolut has worked with
Spike Jonze
on his recent short film,
I'm Here
, and wanted to do some kind of physical space-bound art project. Spike suggested they work with us and they've trusted us completely. Doing this has been a pretty magical fulfillment of ideas. For example, we'd say, 'Wouldn't it be cool if
Joshua White
and
Gary Panter
could set up a psychedelic light show theatre that would accompany performances from our favorite bands?' Then a few days later, there's a construction crew, and there's this giant wall with a screen and lights being installed and Gary is doodling on it in chalk. Or 'Wouldn't it be cool if
Ben Jones
of
Paper Rad
designed our bookshelves?' We've been able to work on a scale we've never been able to explore before.
What do you think the Los Angeles-based artists you chose to participate say about L.A. and its creative community?
We wanted to put together an exhibition that wouldn't bore New York. There was no point in curating a strictly fine-art gallery show because the art world is so established in New York, kind of like Hollywood in L.A. We didn't see adding to that as our role. So for the "King Kong" exhibition we approached a bunch of L.A. artists we love, but also ones who aren't necessarily 'gallery artists.' The works have an L.A. vibe, celebrating weirdos and visionaries and people who work outside of institutions. We picked work from artists like Pablo Ferro who created titles for films like A Clockwork Orange and Dr. Strangelove and Harold And Maude -- we're showing the original sketches and production boards he presented to Hollywood studios in the '60s, and they're beautiful. We're also showing fabrics that Rodarte experimented on, as well as work by graphic designers like Brian Roettinger and Geoff Mcfetridge. A lot of the work also reflects the L.A. environment, but it's more about a spirit of doing your own thing.

Is there anyone appearing in week one you're particularly looking forward to?
I'm really excited about the Joshua White and Gary Panter light shows. Joshua basically invented the psychedelic light show in the '60s at the Fillmore East in San Francisco for artists like Jimi Hendrix and The Grateful Dead. Gary created the sets for Peewee's Playhouse in the '80s and iconic punk fliers for the Screamers and Germs. He's also an amazing fine-artist and cartoonist. The light show set-up they've constructed is something new and epic. They'll be performing opening night, on April 8, with Brian Degraw of Gang Gang Dance and Aska Matsumiya. Aska was my first friend when I moved to L.A. and Family released a 7" single of a song she wrote with another amazing musician, Dave Scott Stone. She's only done one or two shows with her new solo project, and opening night is her first NY show ever.

I'm also really excited about the comedy night with Fred Armisen and Andrew Jeffrey Wright, on April 11. Besides being the the funniest members of SNL, Fred has this amazing DVD that Drag City put out, called Jens Hannemann's Complicated Drumming Technique. It's genius. Andrew is generally known as an artist and animator, and is probably the only comedian with Jeffrey Deitch or Matthew Barney jokes.

Thirty Days NY opens tomorrow at 7 p.m. Watch a time-elapsed video of the Pop-up space transforming from an empty loft to Thirty Days NY here.