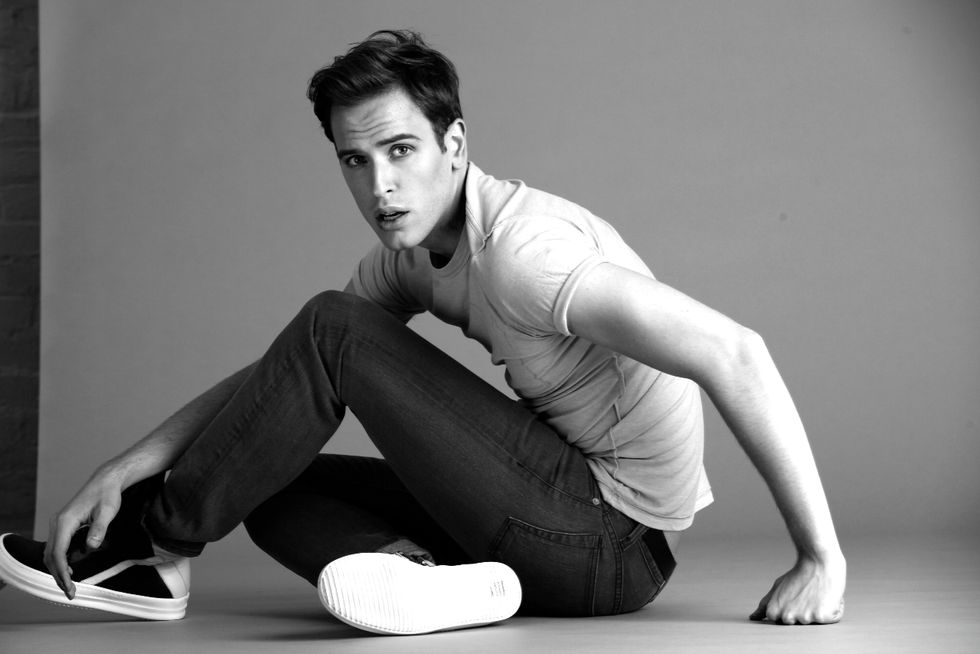 Though we love the ruling ladies of the current pop scene, it isn't hard to notice that the Y chromosome has been absent from it for quite some time (unless, of course, you count a certain 17-year-old heartthrob with a lesbian haircut).
Christopher Baker
would like to change that. The Harvard graduate and musician, who performs only as "
Baker
," is set on bringing back a rare specimen: the male pop star. Baker, who grew-up in New York City, comes with an unlikely pop-star background that includes studying classical cello and performing in a collegiate a cappella group. His upcoming debut album, however, brims with squiggly synths and big, poppy hooks. And his sights are set high. Barker's debut single, "Echo," was co-written and co-produced by L.A. based Hyper Crush, and the easy-on-the-eyes singer says he's looking to produce "the catchiest, most danceable pop album ever." We chatted with Baker last week as he laid down new tracks in the studio with producers Cutfather and Damon Shape (the guys behind some of Kylie Minogue's and Jennifer Lopez' most memorable tunes). 
Your background is pretty high-brow -- you've been a classic cellist for most of your youth and played Carnegie Hall. Why did you want to get into the pop music world? It seems like a drastic change.
Definitely. As a cellist since the age of five, my musical background is pretty traditional. But, as a singer, I grew up listening to late '90s and early aughts pop, so I couldn't imagine doing anything else. That said, my classical roots often inform the melodies or beats that I put in a song. I haven't played the cello in a while but I can see working with a string quartet or an entire orchestra one day.
Did your training as an a cappella singer at Harvard influence you at all?
So much. I was lucky enough to have solos that really challenged me as a singer and made me explore different parts of my range I never knew I had. And acappella showed me how to layer vocals and construct harmonies that can really elevate a song.
Right now, female pop stars are mostly emphasizing empowerment to their listeners. What do you think is the role of a male pop star?
I see pop music as something that transcends gender or race or sexuality or politics. Anyone can be an empowering figure if they have a voice, something to say that's unique to them, and that's certainly what I intend to share as well.
Who were some of your favorite male pop artists growing up?
I definitely owe a lot to Elvis and Bowie. Kanye West is a visionary and he continually amazes me. And Jack White has been a huge influence. Every project he's involved in is so diverse -- a true original. I'm influenced by their music and their style but, more than anything, those guys' "fuck you" attitudes inspire me. You may love it or hate it, but they're gonna do what they believe in.
Is the on-stage persona of "Baker" any different from real-life Christopher?
They blend together! I actually feel most like myself onstage. There's no room for the timidity or self-consciousness that can happen in real life.
The music industry has morphed in recent years due to file-sharing and YouTube. Do you think the Internet makes things easier or harder for new artists to be discovered?
It definitely makes things more democratic. People in places all over the world have discovered my music because of Facebook and YouTube and music blogs. I've never performed or been on the radio in Finland or Mexico or Japan but there are people there that have me on their iPods and that's pretty awesome.
You're currently in the studio with Cutfather and Damon Sharpe laboring away on your first album. What can we expect from it and when will it be released?
My debut album is gonna be nothing but fat beats and big hooks. Music for the car, the gym, the stage, everywhere. And I'm hoping to have it done and released by the end of this year or early next year.
You live in L.A. As a native New Yorker, was it hard to adjust to life on the West Coast?
L.A. is great and the laid-back stereotype is real. I've become less neurotic and high-strung living out here. I'm still a terrible driver though...
Baker performs live tomorrow night, July 28th, at
Sullivan Hall
. 8 p.m.