Maybe taking Adrien Brody to an Eastern European-esque restaurant wasn't such a great idea. "A cup of borscht and I'll have a total emotional recall and breakdown," he says, referring to his role as a man who escapes the Warsaw Ghetto scarcely intact in Roman Polanski's The Pianist, a film that has already made him a star overseas and has put his name on critics' shortlists of Academy Award contenders. "You'll say, 'He's so crazy! He's so emotional!'"
Everyone who's seen the film has said something to that effect. Brody plays Wladyzlaw Szpilman, a Jewish concert pianist who loses everything he knows and loves to the Nazis. His transformation from a confident, elegant figure to a delirious shadow is haunting, at times making you question why survival is the better choice -- as well as why any young actor would put himself through such a destructive experience, even if it could culminate in an Oscar. Brody will happily talk about the toll the harrowing six-month shoot took on his life, from breaking up with his girlfriend of several years to shedding the 30 pounds that Polanski made the already-thin actor lose -- and almost losing his sanity as well. But what's more important to the 29-year-old these days, he says as he plays with his substandard borscht, is what he was able to gain from the destruction. And it has nothing to do with his career.
"This was probably one of the most difficult experiences of my life, because I was putting myself in a really horrible state of mind for a long time," he says. "I was killing myself, because I really wanted to suffer and know that desperation. And it opened me up to a level of pain and emptiness that I couldn't act, a deep, deep connection to this sadness that goes beyond hunger." To prepare for the role, he inundated himself with "documentaries and footage of that time, literature, books. Before I left, I gave up my apartment in New York, sold my car, got rid of my phones to understand at least some kind of loss. And then I lost 30 pounds in six weeks. You've heard of the Zone diet?" he jokes. "I did the War Zone." A bread crust a day? "No bread! I would've killed for a bread crust. No carbohydrates. Nothing, none. Ze-ro! No sugar, no nothing -- no fruit, no grains. You just try it for a week. I did it for eight. There were four hours of piano lessons a day, dialect lessons, script rehearsals. I locked myself in my room. I couldn't have a drink with anyone, because I wasn't drinking. Couldn't go out for a bite to eat with anyone, because I wasn't eating. So I stayed in my hotel room and played the piano," he says, looking dejectedly at his watery soup. "See, my experiences made me not want to complain -- but this is pretty bad," he says, referring to the soup, and sends it back.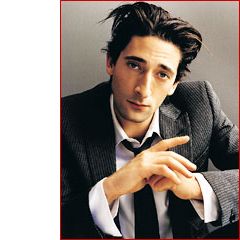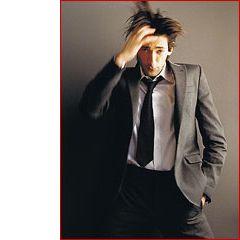 By the time shooting began, he was physically and emotionally frail. The first scene they shot was the one in which Szpilman, near death after spending months hidden in an apartment without food, escapes the looting German army through a wall and literally tumbles upon a city that consists only of charred buildings. "It destroyed me, that scene. That was day one," he says, and shakes his head. "I told them, I have no energy. I'm delirious. And Roman was like, 'What do you need energy for? Just do it. Do it!' It made me cry. So I knew it wasn't going to be an easy journey."
Taking the easy journey has never been Brody's m.o. A native of Woodhaven, Queens, he has acted since he was 12, studying at the American Academy of Dramatic Arts and Manhattan's La Guardia High School of Performing Arts. (Early role choices included an orphan and a mental patient.) He was in the city every day, whether it involved taking four trains to school or joining his mother, veteran Village Voice photographer Sylvia Plachy, on assignment (like, for instance, the time he accompanied her to shoot Timothy Leary when he was six). But his social life was in Queens, with its hip-hop, racing muscle cars and street life. You can still hear it in his voice. "I was a wild kid. I don't consider myself a tough guy, but, you know, life in New York was difficult for a teenager in the '80s," he says. "I grew up with a very thoughtful and artistic home life and a kind of wild, dysfunctional street life, because friends at an early age didn't really have a home to go to."
At 19, he dropped out of Queens College to move to L.A., where he crashed with the only person he knew, a guy he'd done a commercial with. He and his friend went straight from the airport to Astroburger, where Brody mistakenly ate another guy's fries. When Brody apologized, "the guy says, 'Don't make no mistakes in L.A.! Fuck around and I'll put your hand in the grease!' And I felt really alone!" He laughs. "It was one of the hardest years of my life. I had a really terrible motorcycle accident. I had no work and no opportunity, really. I hardly had an audition." After almost a year, he got a role as a Depression-era con artist in Steven Soderbergh's King of the Hill. Since then he's played a variety of sensitive thugs (in Six Ways to Sunday, Spike Lee's Summer of Sam, the upcoming Love the Hard Way and The Singing Detective), psychopaths (Oxygen), aristocratic cads (The Affair of the Necklace), artist/photographers (Harrison's Flowers, Bullet) and nice Jewish boys (Ken Loach's Bread and Roses, Barry Levinson's Liberty Heights). There have been commercial offers like the one he got for Pearl Harbor, but he's turned them down, opting for roles he can learn from. "I want the journey to remain interesting and fulfilling," he says. "Therefore, I don't want to skip steps...because that can jeopardize longevity -- and it's also something I don't find very interesting."
It's his most difficult and perhaps least commercial role that will assure his longevity. When The Pianist premiered at Cannes last spring, it received a 15-minute standing ovation and won the Palme d'Or. "It was unbelievable," says Brody, who took his parents as his dates. "There was such an amazing outpouring of emotion. All these people with tears in their eyes and my parents crying, and I cried. I felt really fortunate to get something back after that kind of work. 'Cause I've done this kind of work before, and I haven't gotten it back," he says, referring to his experience with Terrence Malick's The Thin Red Line, for which he went through boot camp and endured six months "exploring fear" as a WWII soldier. He took his parents to that screening only to discover that his role had been reduced to a nonspeaking part. "I worked so fucking hard, took it so seriously, and it made me stronger. Instead of being bitter about it, I kind of went on and said, all right, that sucked, but again, life isn't fair" -- a phrase he repeats throughout the interview, along with, "I don't mean to complain, but...," before half-jokingly commenting on the food.
This time around, he says, "I felt incredibly fortunate to have shared this with my parents, who have really been supportive of me my whole life. Just to be able to take them to the French Riviera, treat them right, and pull up in the limo and have that kind of reaction to my work -- and to be involved in such a serious dramatic work at a relatively young age -- it all just came crashing down on me. I don't know if there will be anything quite as spectacular ever again."
"It was the best birthday I've ever had," said his mother, reached by phone in Queens. "If I hadn't been taking pictures, I would've fallen apart." While she says the experience of the film was long and painful for Adrien, "he learned about things more deeply because he worked with Roman, who's a passionate director, to say the least," she says with a laugh. "And so is Adrien. It was very good for him to work with someone who puts himself into it so much." Asked if she's responsible for her son's strong work ethic, she shakes off the term. "He's had a love of what he does from the beginning. It's not ethics. It's a joy."
Mention the words Academy Award and Brody's angular face shifts into a pure, wide smile. But so far the film's biggest reward has been the changes it's brought about in his approach to life. "Beyond what [The Pianist] does for me careerwise, it's made me have a different focus, so I gained so much. I know what's more important," he says, pulling down a sleeve of his snug, white cashmere sweater. "It put things in perspective, on a level that I almost feel uncomfortable with, the good fortune that I've had in my life, because I'm aware how easily I could've been handed a less fortunate existence. It's important to be connected to the sadness that other people endure, especially in an industry that makes it very difficult for you to remain focused on reality."
As for his experience working with the fabled Polanski, Brody is expansive, although he chooses his words carefully, making it clear that the director expected nothing less than the actor's extreme dedication. "I spent six months with Roman, who I got to know very well. This is a man who's experienced tremendous, tremendous hardships and yet maintains this wonderful, open, enthusiastic, youthful quality. It's indescribable, it's incredible," he says, suddenly cut off by a young French film-industry guy, who somehow found Brody hidden in the café corner. Polanski initially insisted on finding an unknown actor to play Szpilman, holding an open audition for 1,400 in London, but eventually opened his search to American actors. "When I saw some of Adrien Brody's work, I didn't hesitate: He was 'The Pianist,'" he said in an interview.
Rather than capitalize on the momentum of The Pianist and the three other films he shot around it, Brody has taken time off to work on himself, as he puts it, clarifying, "It's not momentum if it's not fulfilling and not a step up." He's spent the last year traveling, rebuilding friendships, promoting The Pianist (three months and counting) and working on his music. Raised on the likes of the Geto Boys, Run-DMC and Gangstarr, the self-described hip-hop fanatic has been making beats and producing tracks for nine years. He has a studio in his new L.A. home and always brings his sequencer on location. Right now, he's torn between selling tracks to rappers and saving them for his own album -- though he says that he doesn't have the patience to pay his dues in the music world at the moment. The Pianist prevented him from scoring the upcoming film Love the Hard Way, in which he plays a New York City gangsta who conceals his writing career from his friends, sneaking off to a storage space to work between heists. "My music is very cinematic and in the same vein as what my character was like in this kind of New York, sensitive yet twisted and hardened way," he says.
Sensitive yet twisted: There you have his forthcoming films. In Dummy, with Milla Jovovich, he plays a man who goes from being a lousy ventriloquist to merely a mediocre one. Then there's Love the Hard Way, which, Brody admits, "brought back a lot of memories of being a teenager. [Making] it was harder than I thought, because it was very personal. And then I did The Pianist," he says, shaking his head. To escape the weight of Szpilman, he then took a small part as a '40s gangster in next spring's The Singing Detective. "It was just fun: I sang and beat up Robert Downey Jr. It was a much easier day at work than not eating and wearing an armband and being whipped by a Nazi officer," he says with a laugh.
Brody would enjoy a brief diversion from the sensitive-yet-twisted/ethnic-guy track he's been on for the past 17 years. "I think it'd be fun to do a big movie that's silly and easy on me emotionally," he says with one of his charismatically conspiratorial grins. "I could do that: Go off to some exotic location, have a beautiful girl as my co-star, look like a fucking superhero, save the day, make a lot of money and then go home and suffer on something else," he says, chuckling. "You need to mix it up a little bit."
Styling by Scott Newkirk * Grooming by Lisa-Raquel/See Management