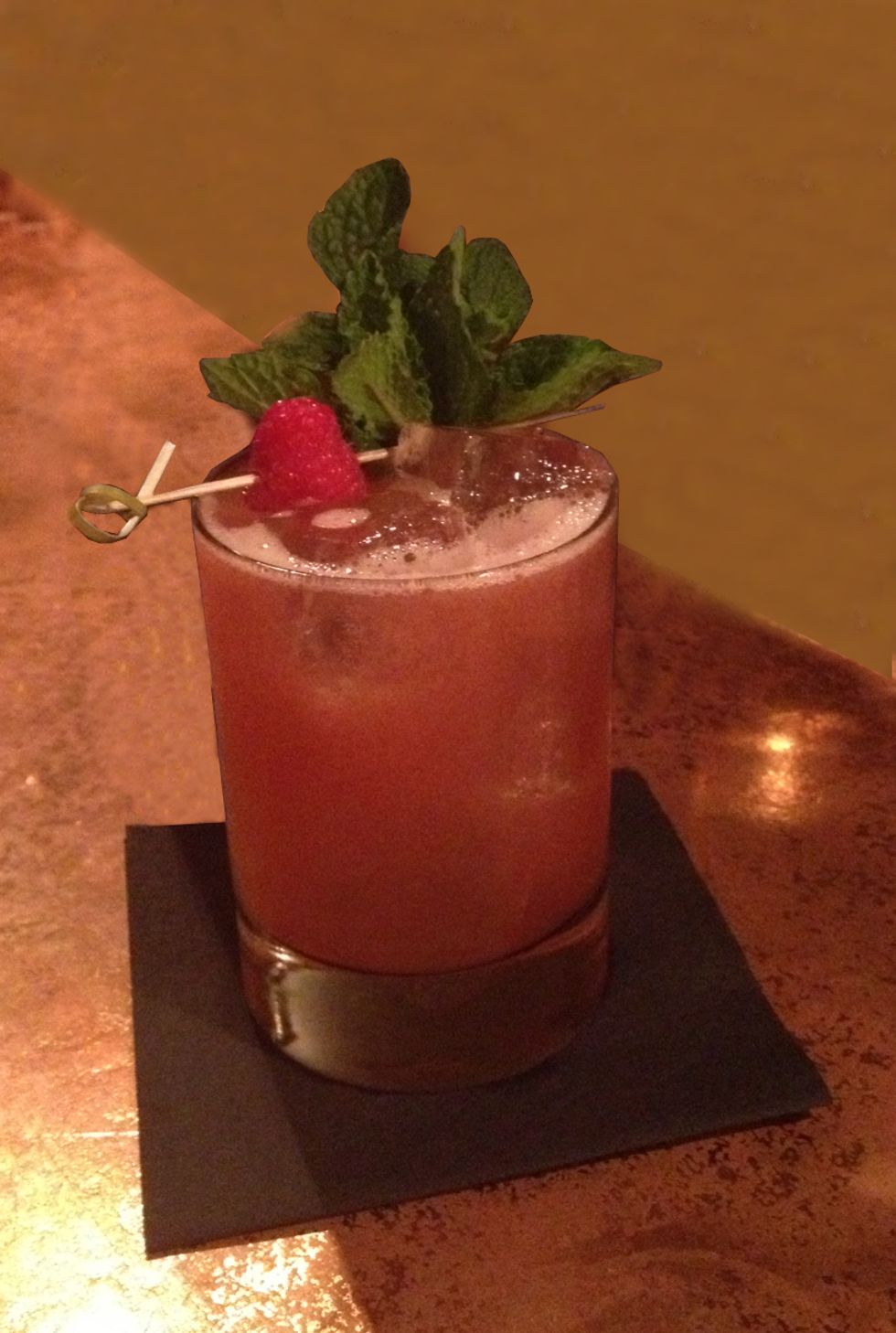 In his definitive
Jerry Thomas' Bartenders Guide: How to Mix Drinks
, the renowned 19th-century barman included the Gin Fix, a zippy libation with Holland gin, raspberry syrup, lemon juice and powdered sugar dissolved in a little water. At
Bathtub Gin
-- the dimly lit Chelsea speakeasy hidden beyond an unassuming door in Stone Street Coffee -- bartender Ivan Mitankin offers his homage to the classic: the refreshing Dutch Gin Fix, fittingly made with Nolet's Silver Dry gin from the Netherlands. He combines it with lemon juice, Combier raspberry liqueur, cane syrup, and, unlike Thomas' version, fresh raspberries and mint to heighten the aromatics.
Don't be deceived by its mauve hue. Instead of flooding with a sweet surge of fruit, this tipple is an appealingly crisp one. "The initial flavor profile is berry-driven, but the fresh-squeezed lemon juice, along with the tartness of fresh raspberries, complement the floral character of the Nolet's gin and result in a bone dry cocktail," says Mitankin.
Sipping one of these, summer's imminent decline just doesn't seem possible.
Recipe:
5 fresh raspberries
2 oz. Nolet's Silver Dry Gin
1 oz. fresh-squeezed lemon juice
¾ oz. Combier crème de framboise
*¼ oz. Cane Syrup
* Cane Syrup: In large container add two parts fine cane sugar and one part hot water. Stir well until sugar is dissolved. Chill and store in refrigerator until ready to use.
Add all ingredients to shaker. Then add ice and shake vigorously. Fine strain into ice-filled large rocks glass. Garnish with fresh mint sprig and fresh raspberry.