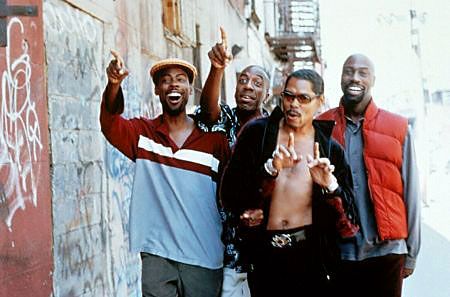 FILM
10th Anniversary Screening of Pootie Tang with Lance Crouther at 92YTribeca
Louis C.K.'s anti-comedy comedy gem
Pootie Tang
turns 10 this year, and 92YTribeca is celebrating the occasion with a screening of the cult classic and
a post-movie discussion with star
Lance Crouther
. In this send-up of '70s Blaxploitation films, Crouthers stars as the marble-mouthed title character who fights crime and produces pop hits thanks to the powers of a magical belt. When a crooked millionaire tries to steal the belt, Pootie and pals Trucky and Biggie Shorty (
played by J.B. Smoove and Wanda Sykes, respectively) band together to defeat
evil.
Sa da tay!
92YTribeca Mainstage, 200 Hudson St., (212) 601-1000. 7:30 p.m. $29. Tickets here. (Free Radeberger beer from 6-7 p.m.)
MUSIC
The Drums at Bowery Ballroom
Brooklyn indie rockers The Drums have been on tour in support of their sophomore album,
Portamento
-- full of their straightforward, anthemic hooks -- but they're back tonight with a homecoming show. Welcome them home (and maybe do a little dancing) when they play the Bowery Ballroom with Patrick Cleandenim and Grand Rapids.
Bowery Ballroom, 6 Delancey St., (212) 533-2111. 8 p.m. $15-$17. 
DISCUSSION
Occupy: Presented by n+1 and Housing Works 
Editors of and contributors to venerable literary and cultural journal n+1 will be on hand at Housing Works this evening to discuss the events taking place in Zuccotti Park; "what it means, how it's going, and where to go from here." Keith Gessen will moderate a panel between Meaghan Linick, Sarah Resnick and Astra Taylor, and free copies of n+1's Occupy Wall Street newspaper OCCUPY! will be there for the taking.  

Housing Works Bookstore Cafe, 126 Crosby St., (212) 334-3324. 7 p.m. Free.