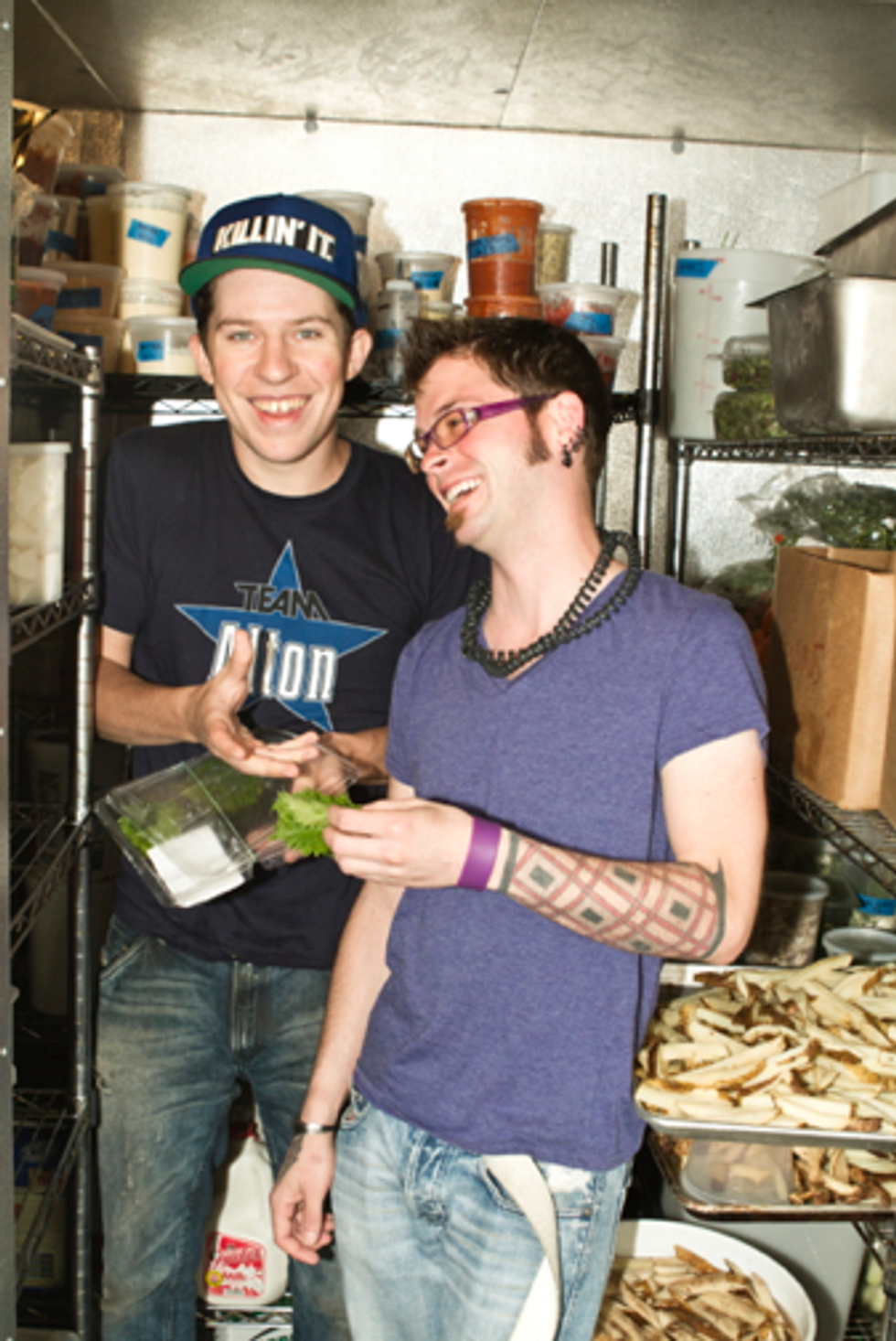 [Left-to-right: Justin Warner, George McNeese]
Each week in our new Off Duty series, we'll talk to some of our favorite chefs and industry folk around the country to find out their secret late-night spots where they like to grab a bite and a pint when their kitchens are finally closed. Next up: Justin Warner and George McNeese, owners of the awesomely roguish Do Or Dine in Brooklyn's Bed Stuy neighborhood.
Justin WarnerWhere do you like to eat when you leave the restaurant?
There's this sake bar/izakaya called Hagi. It's freakin' rad, man. It's in Midtown close to Times Square. It's the only good thing about Times Sq other than Guy's American Kitchen and Bar. It's hella cheap. It's hard to find at first because it's downstairs -- you have to go down a flight of steps and the hostess has a notebook that says 'write your name here.' It's generally really crowded but it's not fancy -- it's just a Japanese pub.
Hagi is basically a place to have lots of drinks and lots of interesting food. I would venture to say they have over 100 items on the menu. There's everything from spaghetti with ketchup or cod roe to crazy stuff like squid tentacles. There's also some comfort food stuff like nabeyaki udon. I've seen more people passed out in plates of sake here than anywhere else -- just faces in the booth.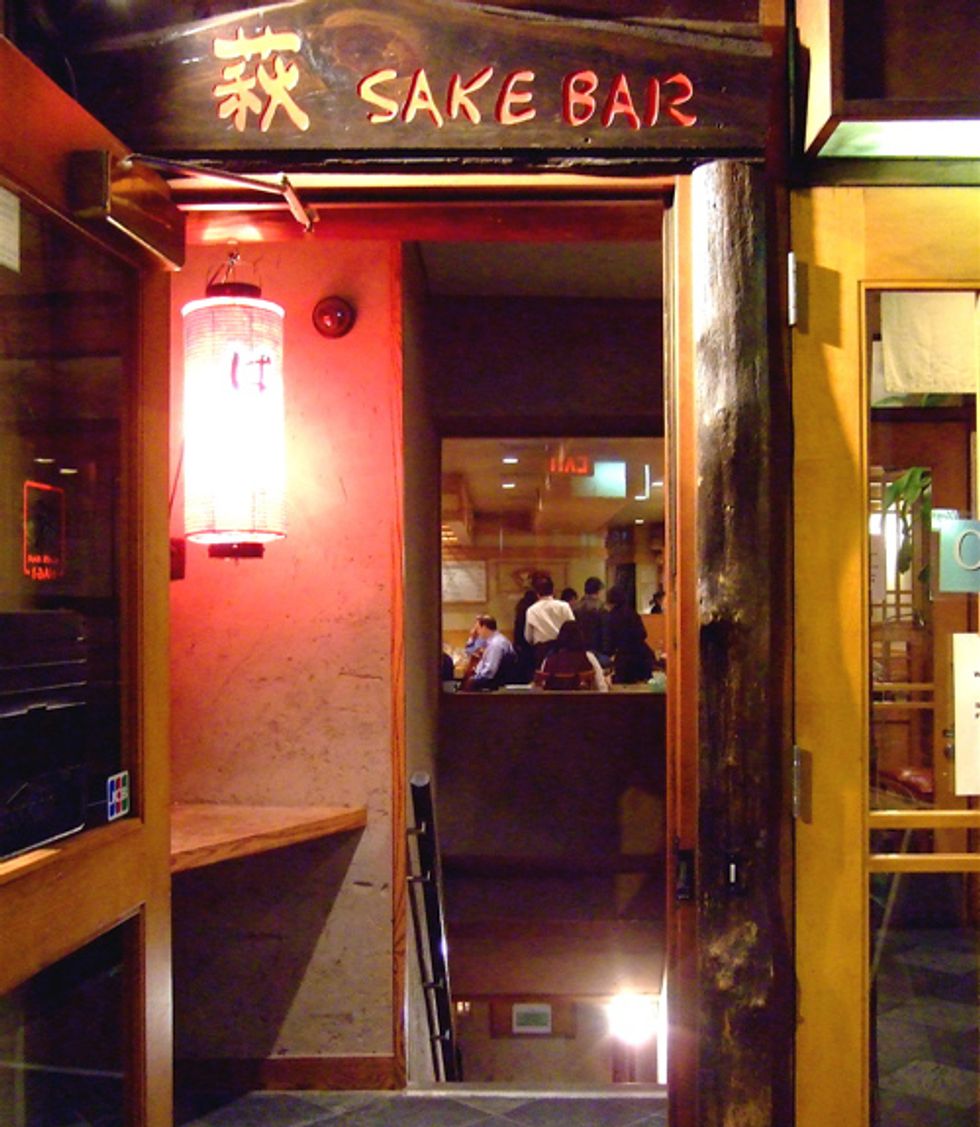 What are some of their specialties?
In the old days before the kids discovered it, you used to be able to get beef liver sashimi. You could get raw beef liver but I think what happened was a bunch of gringos came there and it became the gross-out treatment and people started barfing. I think it's delicious and it's what initially got me to go to that place -- I love raw beef liver. Now it has a piece of tape over it on the menu that says 'not available.' Maybe if you beg and plead or if you're a dignitary, they'll give it to you.
[They also have] katsuo tataki, which is tuna covered with onions and garlic and swimming in ponzu sauce. It kind of haunts you a little bit because it's not the best for your breath but if you share it with someone and you plan on making out with them, then at least you're both square. I generally order fifteen different things. I love the spaghetti with cod roe; the spaghetti with ketchup is not my jam but I've been known to get it from time-to-time. There's also a thing called Moro-Q and it's literally cucumbers, mayonnaise and Korean red bean paste and it's freakin' delicious. There's something about it...very chill.
How long have you been going there?
I used to work at The Modern at the MoMA and we would go there after work a lot but I still will make the commute from Brooklyn to Midtown just to go there after work sometimes because I dig it so hard.
Any crazy anecdotes?
I think just literally seeing dudes passed out in plates of food or sake. I also celebrate a lot of impromptu birthdays there. It's very easy to go there with eight people and everyone gets weird. Ultimately I would say that one of the best things about it is i don't remember very much [after going].
George McNeese
Where do you like to go, George?
There's a place called Brooklyn Crab in Red Hook. At this point they're still the lowest-rated restaurant in Brooklyn on Yelp because their service is slightly deplorable but the food there is really good. I love crab legs -- it's my favorite food. It's the only place where you can get a pound and a half of snow crab legs for $22 outside of Hooter's anyway.
They try to make it look like a crab shack -- it's on stilts and so after Sandy, I think it was the only restaurant in all of Red Hook that didn't get destroyed, just because it's elevated. The inside has crab traps and all sorts of crap hanging from the ceiling. It's nice in the summer especially because if you're sitting upstairs, it overlooks the water and you can see the Statue of Liberty. It's a pretty nice view.
How did you first hear about it?
I heard about it because I was looking for putt putt golf, which is surprisingly hard to find in New York and they have putt putt golf in the back. It's probably the worst putt putt golf I've ever seen. It's just made out of plywood and it's awful. But while you're waiting for a table, you can just go downstairs and play miniature golf. So that's how I found it -- I was looking for putt putt golf and I found a place that had putt putt golf and crab legs so I was like, "I'm going there tomorrow."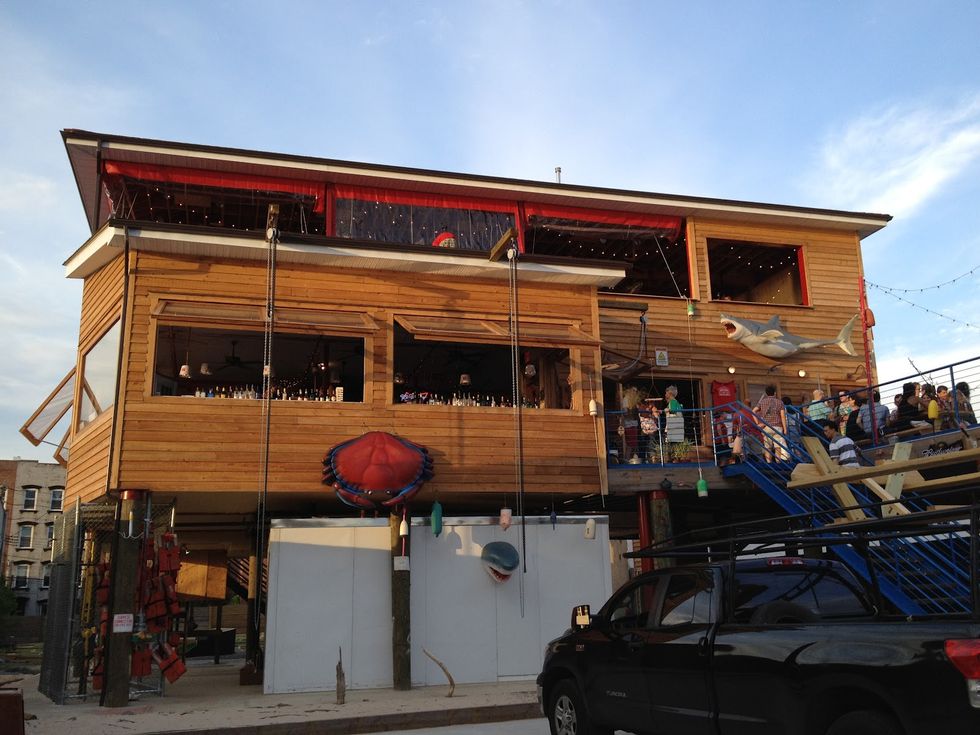 Other than the crab legs, do they have other specialties?
They do. They have oysters, clams, all sorts of things. I pretty much stick to the crab legs. They give you the corn, the potatoes, the cole slaw and stuff. I just push that to the side and eat the crab legs, though. That other stuff is just filler.
Do you have any fun stories?
Not really -- the only memorable thing that stands out is that every single time I've gone, I don't think I've ever been to the bar where they haven't forgotten to get me my drink at least twice in a row. Once I waited for 45 minutes for one beer that I ordered five times. But once you sit down, it's okay. Then the service is pretty good.

Sake Bar Hagi, 152 W. 49th St; 5pm-3amBrooklyn Crab, 24 Reed St., Brooklyn; Mon-Fri, 11:30am-10pm; Sat-Sun, 11am-11pm
More From Our Chefs Off Duty Series