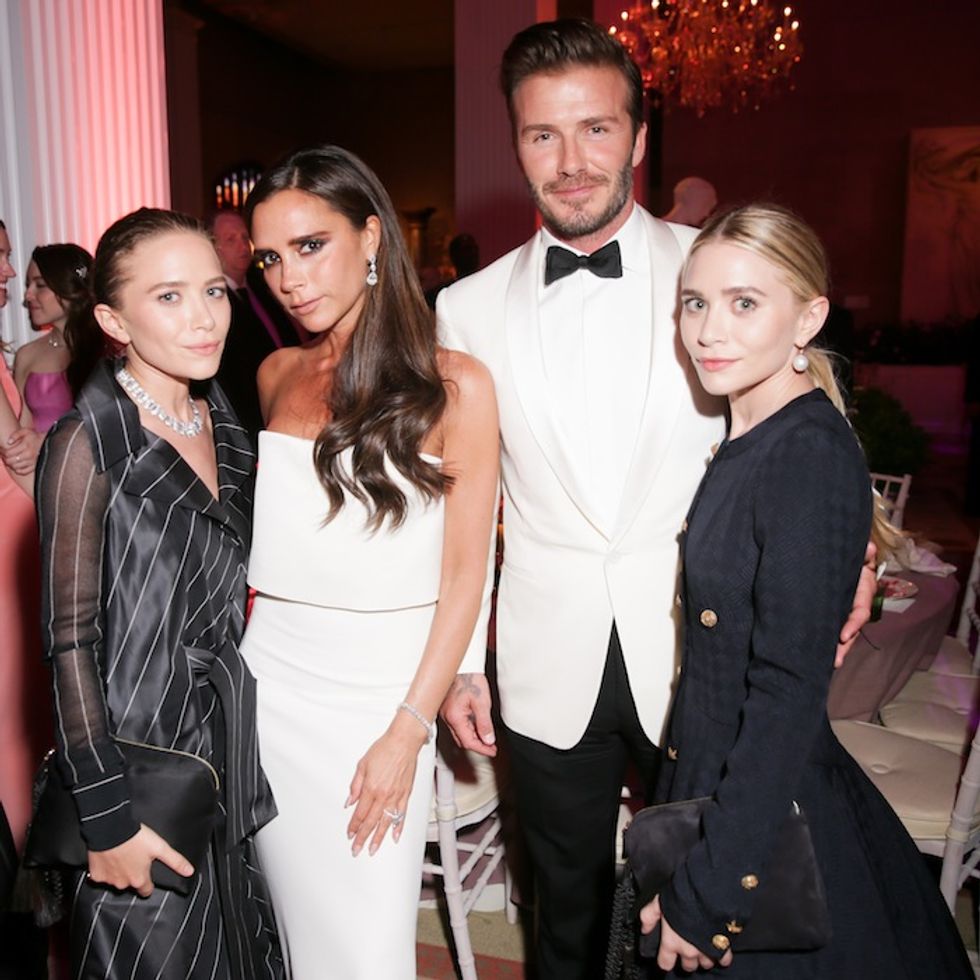 Mary-Kate and Ashley Olson with Victoria Beckham and her husband David at the 2014 Met Ball. Photo by David X. Prutting/BFAnyc.com
New York Fashion Week is as a place to discover new designers. But, although we're merely a few days into an ongoing month of world-wide Fashion Week shows, the chicest collections came from designers that are neither new nor traditional -- Victoria Beckham and Mary-Kate and Ashley Olsen's the Row. If you had suggested before Mrs. Beckham and the Olsens launched their companies that they would end up ruling majestically over the NYFW scene, you wouldhave been laughed at. Celebrities as designers? Child star sitcom veterans? A Spice Girl? Despite Beckham's one-time "Posh Spice" alter ego being the more high-end of the Spice Girls, she certainly gave no sign in those girl group years that she knew how to design an immaculately draped day dress.
Of course, this did not happen over night. Beckham began by doing small presentations a few years agi for groups of ten to 15, in which she sat with the crowd and described each look as it came out. She obviously was very involved in the design process and she beamed with pride as a look she was particularly excited about appeared. After one such presentation she told me that she had told her children she was going to New York City to 'take a test' the way the kids took tests at school. She told them Mommy had to show the fashion people what she could do. She laughed that her son Brooklyn had told her if she needed to she could write the test answers on the inside of her arm. Beckham built her brand the right way, slowly and steadily rebranding herself as a woman with immaculate taste and a sense of humor. Similarly the first time I saw the Row was an appointment at the St. Regis Hotel. Mary-Kate answered the door and she and Ashley walked me through the collection of beautifully made, spartan separates. Watching Olsen hold up a long gown by the hanger, over her head so I could photograph it was a bit surreal. I left asking myself if I was crazy or if those were the chicest clothes I'd seen in ages. 
Yesterday Beckham showed her collection at the historic and gorgeous Cunard Building on lower Broadway. The clothes were like Jil Sander with a sexy kick. This morning, the Row presented their collection on the 34th floor of the landmark Seagrams Building. It was a simple monastic collection and each look screamed "I'm not only rich, I have good taste too."

These are two cases of the classic American dream at work. Women, albeit famous and  connected women, came to New York City, totally reinvented themselves and wound up perched atop the fashion scene in one of the world's most stylish cities. I wouldn't have believed it if I hadn't seen it with my own eyes.