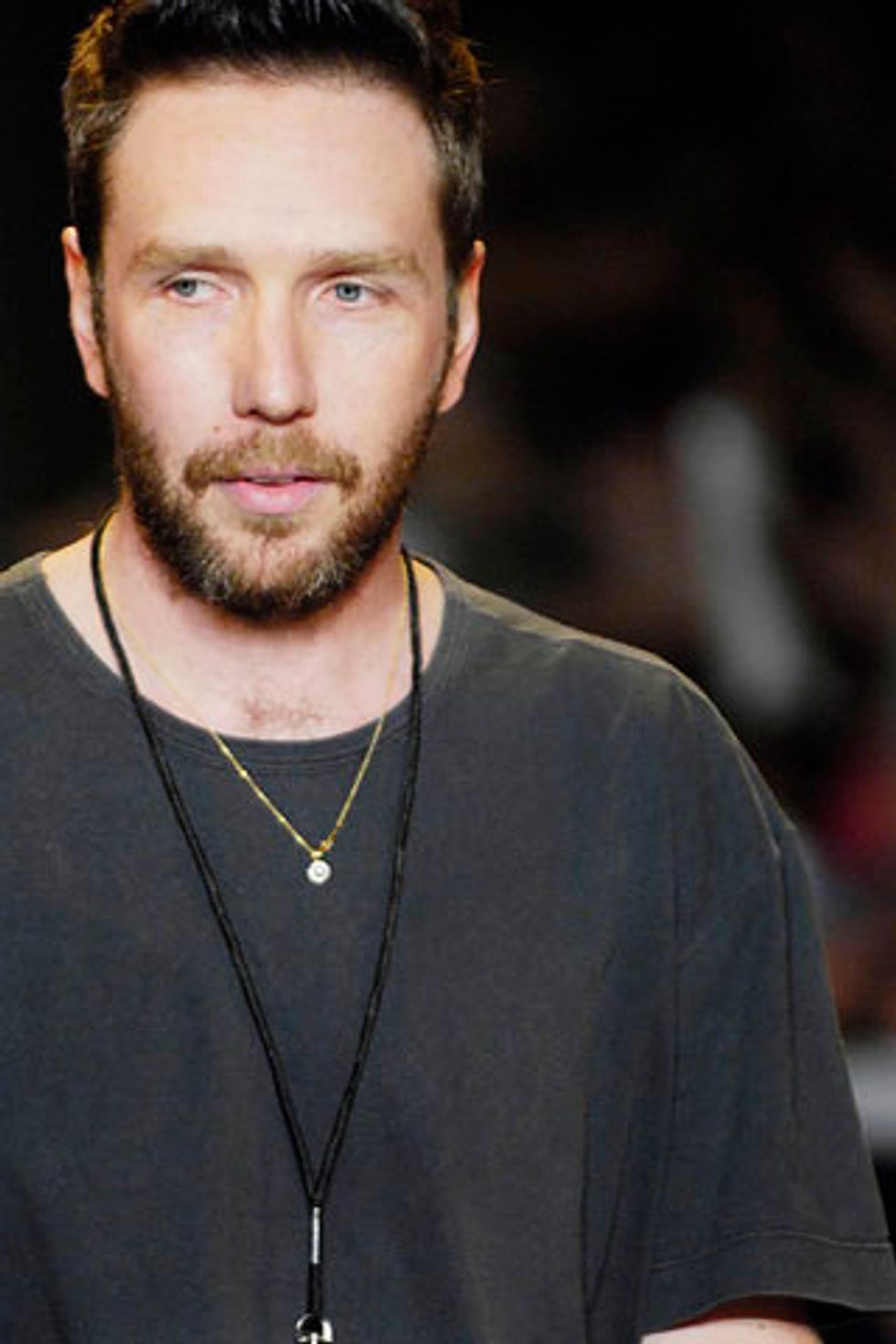 The Alexandre Herchcovitch show was bananas! Due to an error on the part of my fave PAPER employee Carol Lee (who "forgets" things some times) I don't even think I was on the list or anything… but I STILL got front row seating. Bryant Park is way crazy right now, and I'm pretty sure people think I'm more important than I am (lots of paps taking pictures of my "downtown" ensemble… patent leather knee high docs! Mmm yes!) but whatev, I rolled with it like the solja I am.
I knew I was in the right place when I ran into my buddies V.I.P. Party Boys -- the greatest contemporary American gay rap trio existant today -- alongside Le Tigre's JD Samson (totes developing a kind of weird crush on her, BTW). Also ran into model-cum-DJ Aggy Deyn (looking a tad lost, but gleaming!), a couple Misshapes, super-stylist Kristen Naiman, tons others… Really, aside from some stellar clothes, the best thing about Herch's show was getting to see all my cohorts! Others spotted include Mr. Mickey with the Voice's Lynn Yaeger, Luigi Tadini, Cory Kennedy (wearing some kind of trashbag that I just assumed was Herchovitch, not to undermine his talents or anything), and former sketch comedy superstar Nick Cannon with his smoking hot Vicky's Secret supermodel ladyfriend. (BTW, does N. Cannon do something to deserve fame nowadays? Because the last thing I saw him in was Nickelodeon's kids comedy vaudeville spectacular "All That," which was cancelled like sixyears ago I think.)
After the catwalk prowl concluded, I got to meet Alexandre backstage while a flurry of Asian journalists snapped fotes. But NOTHING could top the part where, attempting to escape the post-show madness, I almost walked into my she-devil princess of American fashion reporting herself -- THE Anna Wintour, devil to my Prada - -as she coolly ducked into the Erin Fetherston show! She totally heard me whisperly scream at JD "Oh my god! It's ANNA!" To which she responded emphatically with an icy glare -- hot dang, I'm in love!