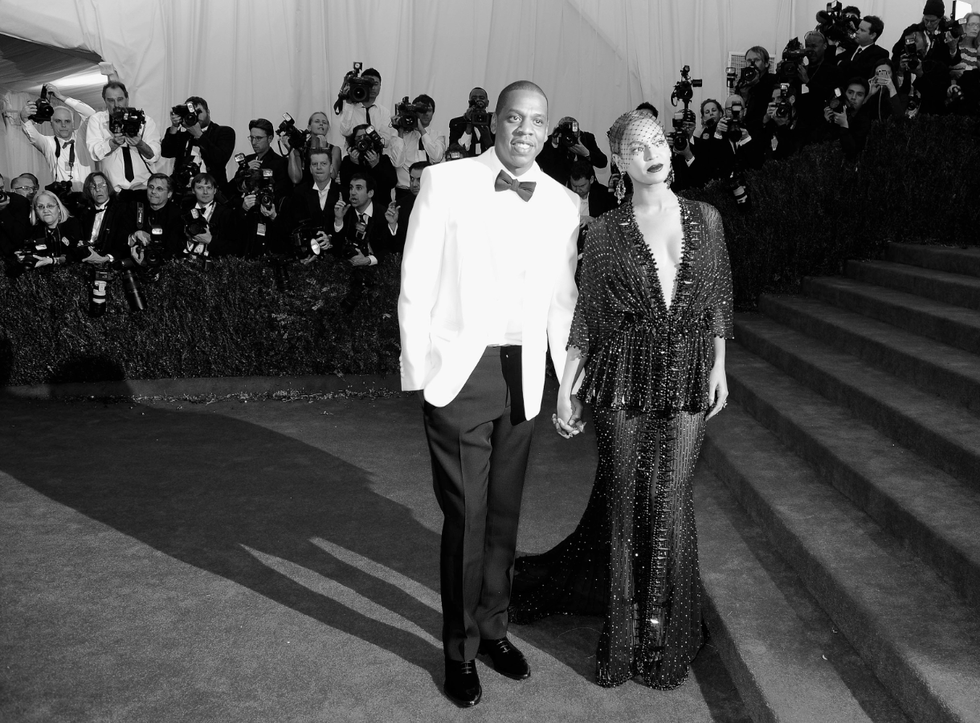 (Photo by Nicholas Hunt/
PatrickMcMullan.com
)

With soul-crushing rumors about an impending Beyoncé-Jay Z split heating up this week, we look back at all of the cuckoo gossip stories, cryptic Instagram photos, and strife (real and imagined) within the House of Carters that, collectively, bring us to the tea leaves reading everyone on the World Wide Web is doing today.
Early 2000s-ongoing:
Since their relationship's beginnings in the early '00s, Jigga gets dogged by cheating rumors,
love child rumors
, and, well, basically all the standard rumor mill grist any famous person in a relationship with another famous person is 100% guaranteed to see written about them in the tabloids or on the Internet.
December 2008:
Rihanna's former publicist
admits to starting a false rumor
that @BadGalRiRi and Hova are banging, telling the press that he and a business partner did it to drum up PR for Rihanna's hit "Pon de Replay."
November 2009:
Trashy
gossip blogs allege
Bey is hooking up with her bodyguard, Julius.
September 2011:
A pregnant Beyoncé
says in an intervie
w that Jay Z (or, rather, his cologne) smells bad.
November 2012:
Beyoncé posts
lyrics to Lauryn Hill's "The Ex-Factor" on Facebook. Uh, who cares?
November 14, 2013:
Media Takeout
runs a story on the Carters' attempt at a 'trial separation.' Their source was
Star
Magazine so you have to take this with a 2lb grain of salt.
February 2014:
France's
Le Figaro
alleges that Beyoncé is
having an affair
with President Obama. An Illuminati fantasy for the ages.
April 2014:
During a radio interview, Rita Ora
slams down a reporter's reference
to a rumor she'd cheated with Jay Z.
May 12, 2014:
THAT ELEVATOR INCIDENT
.
May 14, 2014:
Everyone notices that Beyoncé
removed her "IV" tattoo
on her ring finger that she had inked when she and Jay got hitched.
May 14, 2014:
Beyoncé goes on an Instagram binge, posting four photos of herself and Solange and one of herself with Rihanna at the Met Gala. It doesn't take a semiotics major to guess that she's hoping to quash rumors that she's both on the outs with her little sister and that Rihanna might have something to do with trouble in her marriage and that's why Solange lost it.
May 15, 2014:
Beyoncé and Jay Z
release a non-statement statement
about what happened in the elevator. To paraphrase the statement: "
¯\_(ツ)_/¯"
Late May 2014:
Divorce rumors,
fueled by more speculation over why Solange lost her shit at Jay Z, heat up.
June 2014:
A 1Oak hostess and Long Island Princess
files a lawsuit
against Bauer Publishing (
InTouch, Life&Style
) after they publish rumors about her being Jay's mistress.
June 26, 2014:
The couple's On the Run tour opens.
July 21, 2014:
A
blind item
-- widely guessed by blog commenters to be about the Carters -- alleges that their relationship has been a business arrangement the whole time and that they'll be split up by the end of the year. 
July 21, 2014:
Beyoncé
posts this cute photo
on Instagram of her and Jay holding hands with Blue Ivy.
July 26, 2014:
Page Six
runs a lengthy story in which an unnamed source describes their marital stuff and describes the situation not as a matter of "
whether they'll split, but how they'll split
." Okay, "unnamed source."
July 27, 2014:
Beyoncé posts a slew of Instagram pics ostensibly from some amazing vacay, including a shot that seems to show her and Jay enjoying
sunset cocktails
. Ok, we get it.
July 28, 2014:
Page Six
is back at it with a new story that alleges Bey is penthouse shopping without Jay Z, implying that she's in the market for 'bachelorette pad' she can share with Blue Ivy.