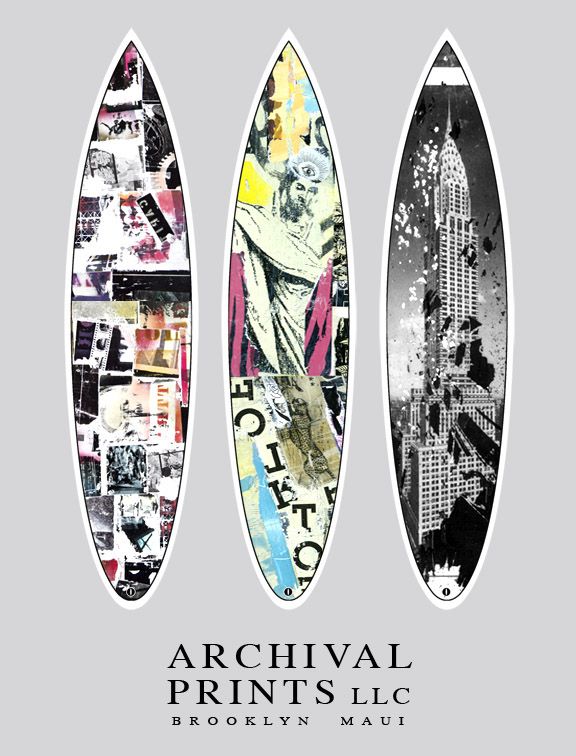 Archival Prints LLC is a family affair. Founded in 2004 by collage artist Chad Porter, surfer Flynn Porter and their mom Joanne Marroni, the company combines state-of-the-art surfboard design with Chad's collage-work. Along with world-renowned shaper Jeff Timpone, the family has developed an unprecedented product: custom surfboards clad with original 150-year archival prints inside fiberglass. In the last four years, the board-making family has found much success, having collaborated with the Van's Triple Crown of Surfing, EA Sports and Tetris Games. In October 2008, Chad moved from Maui, Hawaii, to Brooklyn, where he now lives, works and co-runs the business. We recently tracked him down for a brief talk.
Describe your artwork.
My art is a portrait of my thoughts and surroundings, which right now are in Williamsburg. There's an underlying story to every piece.
Much of your work seems political too, no?
I'm definitely not trying to shy away from the political -- it comes into the themes. But I'm not red or blue.
What inspired you to put your work on surfboards?
When my brother Flynn wanted to get his first custom surfboard, he decided to get it shaped by Jeff Timpone, who is the best-known shaper in Hawaii. The guy's boards are everywhere over there. Anyway, Flynn wanted a photographic image on the board and had the idea to merge a fine-art process with the surfboard process. He wanted art on the board's entire surface -- a reproduction glassed in. We made one board and then went from there.
What are your general thoughts on art/commerce collabs?
I feel that any media is worth it. If you can reproduce your work, you can't limit it. It would be nice to only use canvas, obviously, but as an artist, you need a lot of outlets.
What current projects are you working on?
There's the show at Gallery Bar. It will be an art exhibition of different mediums, surfboards mostly. And Fynn and I just started producing skateboards too, long boards.
What do you have in store for the future?
Hopefully Archival Prints can have more New York shows and a traveling show.
Are there other mediums on which you'd like to see your artwork?
Shoes. Wherever it could be displayed, really. But that's a hard question. I don't want my art on everything.
Archival Prints LLC surfboards will be on display March 11, 2009, at Gallery Bar (120 Orchard St., (212) 529-2266), where each will be auctioned off for charity. The profits raised will benefit the listener-supported radio station KEXP and the Odyssey House, an inner-city youth art program. Collections are also available exclusively on the company's website.