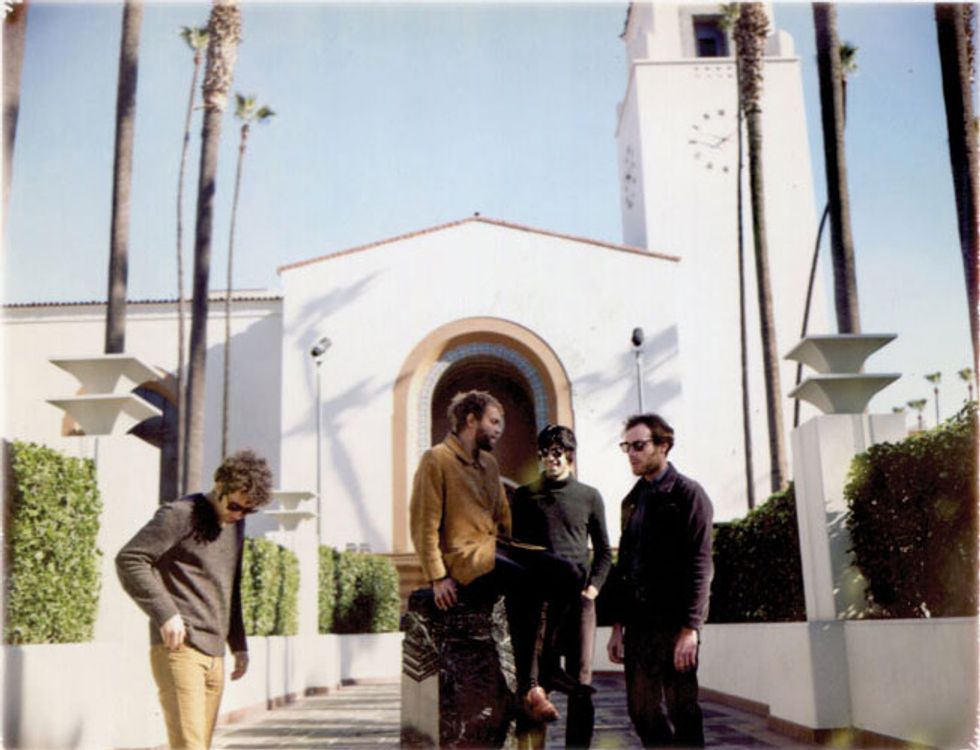 (L-R) Miles Michaud, Matthew Correia, Pedrum Siadatian and Spencer Dunham
Brian Wilson didn't surf. But that didn't stop him from creating a California-of-the-mind through the music of the Beach Boys, an art-directed fantasy that became, if you're a glass-half-full kind of person, even better than the real thing, or if you're of the glass-half-empty persuasion, the way it could be but never is.
Which brings us to current Los Angeles combo the Allah-Las. Theirs is a different version of the good ole wet California dream, one that generates its peculiar alchemy from the combination of actual surf culture and the obsessiveness of vintage record and gear collectors. It's echoey, stoney surf music performed by actual beach boys who know how preposterous it sounds to sing about how their surfer knots are rising and their boards are losing wax.
The Allah-Las' origin story -- their Tarantino-as-a-video-store-clerk yarn -- involves coming together as CD case inspectors in the basement of the massive Amoeba record store in Hollywood, where they dulled the day-job blues by listening to the most obscure reverberating reissues and dreaming up a band. A band that would make the girls with the bangs and the sundresses swoon and frug like no one had since there were riots on the Sunset Strip.
Lead singer and guitarist Miles Michaud and bassist Spencer Dunham grew up surfing around the South Bay. Drummer Matt Correia surfed in Venice and Topanga. The fourth member, guitarist Pedrum Siadatian, has less of a surfer pedigree, but makes up for that by being the one who looks most like a '60s Beat heartthrob.
"We were all into surf music and genres like that in high school," Correia says. "We adopted some of those reverb tones into our sound. Even our band name pays respect to the origin of surf music, which is derived from a mix of Spanish and Middle Eastern guitar styles." They also read the quintessential So-Cal history tome,
Southern California: An Island on the Land
and watched Thomas Campbell's DIY surf films. "The generation that grew up watching [Campbell's] films had a much wider perspective of surfing history, art and design aesthetics," says Correia.
"We met on Sundays and messed around with ideas in Spencer's parents' basement," Correia continues, "which was filled with his dad's never-ending surfboard collection. We didn't have any goals or plans. It was free and easy and none of us knew what would come of it."
But much did come of it. Painstakingly recorded sessions and instantly collectible 45 RPM vinyl singles produced by retro maestro Nick Waterhouse led up to a very well-received debut album last September. An upcoming tour is in the works and a second batch of singles might be available by the time you're reading this.
When touring allows, the band continues exploring West Coast surf meccas, hoping to live the surfer's dream of catching the perfect wave in that pink-lit faraway beach.