On a frigid December evening, Matthew Healy was in full-on rock god Dionysus mode: hips swaying with Presleyian abandon, expensive-looking white shirt flowing just so, glass of red wine in hand, fuck-me eyes dialed up to ten. But when the frontman for UK New Romantic revivalists the 1975 looked down and saw that fans in the front row were getting crushed, he seemed to worry that he might have gotten the crowd at New York's Terminal 5 just a bit too worked up.
"Could you all just take two steps back," Healy asked between songs while making a pushing gesture. "Please look out for each other in this cesspit of emotion." The show went on like this for the rest of the night, with Healy seesawing rapidly between rakish sex symbol and earnest artist wanting to make sure everyone was having a good time. At one point Healy told the crowd how sincerely beautiful they were, how they should put their phones down so they "don't miss what's right here" and how happy his band was to share their new songs with their true fans.
Originally, the 1975's business managers wanted to kick off the tour in support of their expansive second album, I Like It When You Sleep, for You Are So Beautiful Yet So Unaware of It, with a stop at Madison Square Garden. But the band insisted on a relatively small-scale outing to preview their new material -- ranging from ambient ballads to gospel-rock party starters -- in front of their most hardcore devotees. (Later, the band would have a proper rollout for the new album involving a stop at Saturday Night Live in February and high-profile performances at Brooklyn's Barclays Center and Coachella.) "If I was 17 and my favorite band was on their second album, and the first opportunity I got to go see them was in an arena, I'd think that's bullshit," Healy explains.
Often going out of their way to communicate with the faithful online and in person, the 1975 take their fans seriously. And the 1975 have a lot of fans. Perhaps more than you realize. Their 2013 self-titled debut was a stealth success that eventually hit number 28 on the Billboard charts on the strength of the singles "Sex" and "Girls," and it also made them one of the most popular groups in the world at a time when guitar music is reportedly out of vogue.
"I can't go on the Internet and read something that a kid has to say and not obsess over it," Healy says. "Maybe I have to leave that behind a little bit, especially as we get bigger, but part of me doesn't want to."
Healy, guitarist Adam Hann, bassist Ross MacDonald and drummer George Daniel met at their high school's music department in Wilmslow, "a bullshit nothing town near Manchester with no real counterculture," according to Healy. Twelve years ago they were invited to play a show at a public hall for a youth charity, and they learned a few songs by Lit, Guns N' Roses and Me First and the Gimme Gimmes for the occasion. "We pulled out the classics, mate," says Daniel.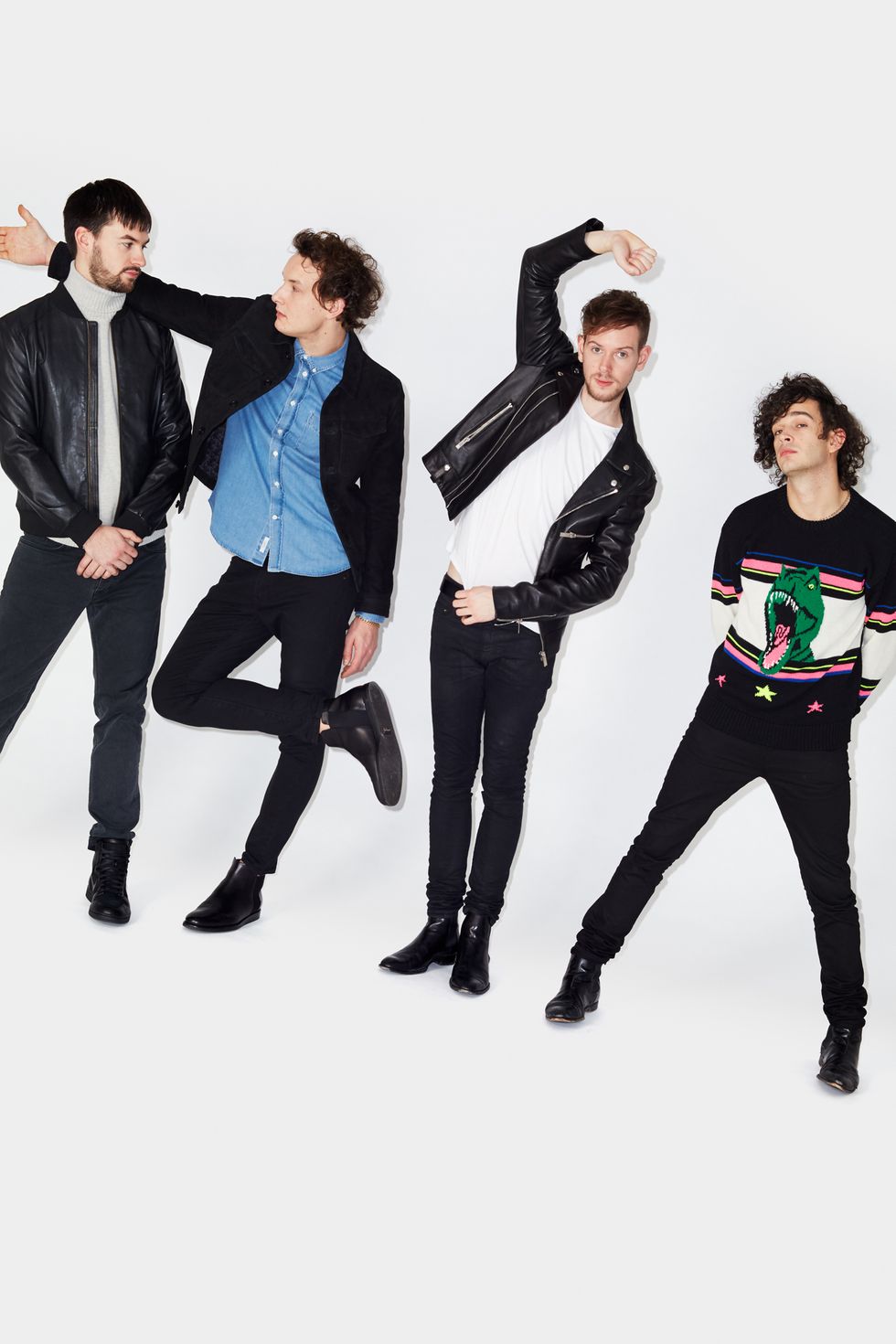 In this and splash photo Ross wears a jacket by Cole Haan, a sweater by Ami, jeans by COs and sneakers by Nike; George wears a jacket by Zadig and Voltaire, shirt by Acne, jeans by Levi's and boots by Vince; Adam wears a jacket by Theory, shirt, jeans and shoes by Saint Laurent; Matthew wears a sweater by Saint Laurent, jeans by Acne and boots by Prada

They've been together ever since, cycling through several band names (at one point they were called Drive Like I Do) before landing on their current one. In the process, they've moved from a sound rooted in "proper emo bands," in Healy's estimation, such as American Football and Jimmy Eat World, to a more diverse approach that incorporates his love of soul music (his parents played Wilson Pickett constantly while he was growing up) and '80s pop. "I've always found myself being inspired by songs, as opposed to bands," Healy says. "I wouldn't say that we're massively inspired by Peter Gabriel, but I'd say we're inspired by 'Sledgehammer.'"
The four members live near each other in East London, and Daniel and Healy live together; the pair writes most of the 1975's songs together. "I'm coming at it from a lot more of a production angle and being kind of in charge of the sonic design," Daniel says. "And Matthew's always been about the bigger picture and the song." But that relationship started to fray last summer when the band holed up in Los Angeles for four months to record. "We were beaten and tired and had been on the road for three years," Healy says. "We were trying to live up to this record that had really defined us." He admits his coping mechanisms didn't help matters.
"I don't want to talk about drugs because it's so boring, but I was doing a lot of silly drugs that you don't do," Healy explains. "It started to put a wedge between me and George, and that's never happened before. There was a fear that we had lost it."
The band's confidence was restored when they finished the album's first single "Love Me," an art-funk number with a riff worthy of prime INXS. Emboldened, the 1975 went on to craft an album that touched on Healy's struggles with depression and his "profound disdain of my own behavior," on songs that nick shoegaze beauty and jagged art-rock riffs as often as blue-eyed soul grooves.
"What we really want to do is create in the way we consume," Healy says. "David Bowie or Nina Simone, it doesn't really matter. A 17 year old's iPods are expected to have Kendrick Lamar and Carole King. It's expected."
Wildly overstuffed and unapologetically ambitious, I Like It When You Sleep, for You Are So Beautiful Yet So Unaware of It has already notched a few hit singles and turned the heads of tastemakers who originally dismissed them. (Healy notes with glee that NME, which named them Worst Band in 2014, recently put them on the cover.) "If we do become enormous off this album, then we're big for the right reasons," Healy says, gearing up to make sure the newcomers feel welcome.
"I want every kid to be able to meet us. I want every kid to have that feeling of, you know, when it's your band? I want every kid to have that feeling be justified and not feel like, 'oh, they're everyone's band,'" he says. "We are everyone's band, but we're also specifically your band."
Grooming by Stephanie Flor using Clinique for Men
Location: Dune Studios
You May Also Like