There's no point in eating unless there's also some partying involved. And it turns out that the most treasured boites, cafes, and eateries in New York's history have been the sceniest ones -- the places where people went before or after a club, or which became like clubs, thanks to the extraordinary richness of the ambience on the menu. Here are the 10 most glorious of these fabled haunts:

One U (1 University Place)
Mickey Ruskin had opened the world famous Max's Kansas City where rock, drag, and Warhol prevailed. Well, he later premiered Chinese Chance (which was nicknamed One U) with Richard Sanders, and the result wasn't quite as legendary, but it did have a distinctly downtown cache. One U was a comfortable, atmospheric '70s hangout for clubbies, stars (Lauren Hutton, Nico, Bowie), and gawkers. Sitting there one night, I learned that Reagan had been elected in 1980 -- but I still have good memories of the joint.

Lady Astor's (Lafayette Street, across from the Public Theater)
I loved this charming hangout, which brimmed with chandeliers, mirrors, and hanging velvet. Amazingly, it wasn't the least bit pretentious. It was actually cute and almost clubby, and I remember going for light snacks and not being forced to order more than I wanted.

Dizzy Izzy's New York Bagels, 408 W. 14th Street
Before the Meatpacking District became a polished destination for tourists with multiple credit cards, it was the home of prosties, transsexuals, rats, Jackie 60, meat trucks, and a wonderfully seedy place where you could get really delicious, fresh bagels. It was so New York I can still taste it.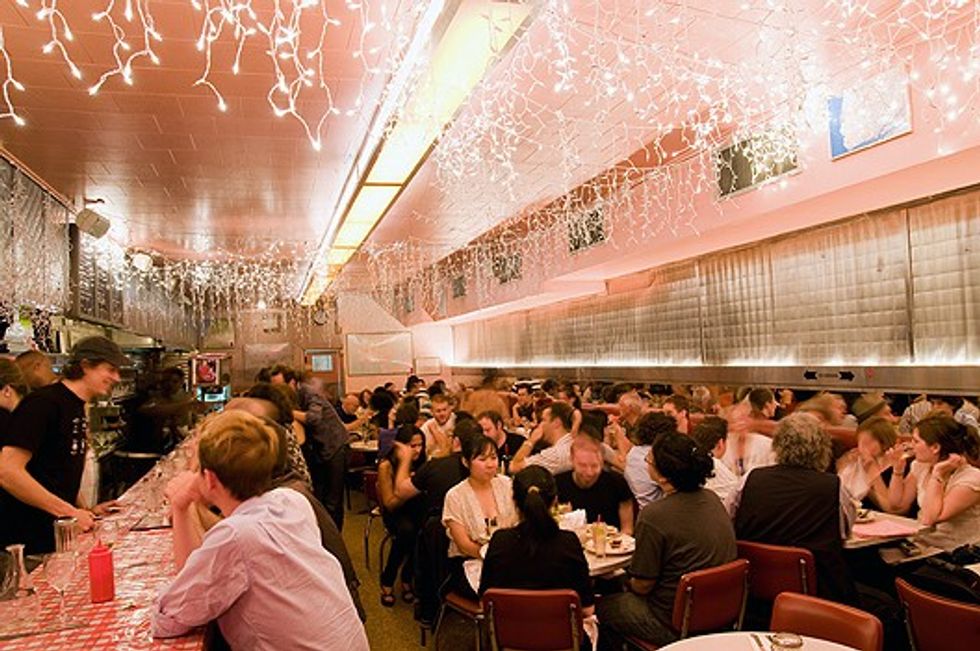 Florent (69 Gansevoort Street)
This was another Meatpacking pioneer, opened by the flamboyant Florent Morellet in 1985 and going on to become a thriving hub for performance artists, AIDS activists, and onlookers way before that nabe was descended on by outsiders. An occasional drag performance would ratchet up the excitement, and the annual Bastille Day party was extravagantly fun and full of feathers. Most fascinatingly of all, the menu board on the wall included Florent's HIV diary!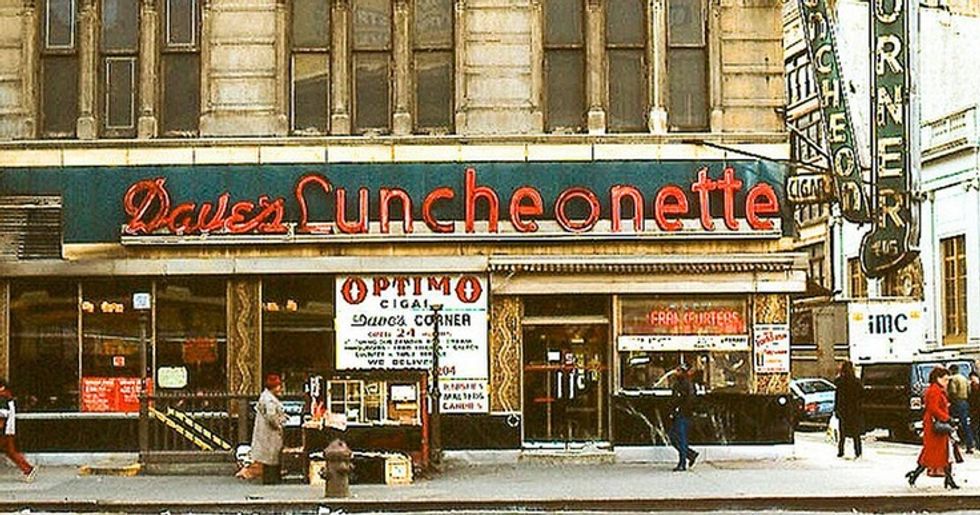 Dave's Luncheonette (Canal Street and Broadway)
At this retro diner, old school waitresses served you eggs with egg creams, and if you sat by the window, the people-watching was just as delicious. Even if you didn't, you were agog at the panoply of extraordinarily colorful creatures sitting inside the place. Dave's was open 24 hours, and it quickly became the de rigueur stop for narrow-tied rockers and filmmakers who needed a bite after a night of dancing and posing at the late '70s hotspot, the Mudd Club. It was basically the after party.

Brasserie (100 E. 53rd  Street)
This perfectly amiable restaurant is still there, but its heyday was in the '70s, when it became the after-place for revelers at the ultimate disco, Studio 54. It wasn't even all that close to the nightclub, but after dancing till 4 A.M. to Donna Summer songs, everyone was adrenalized (and a lot of them were pumped up on other things, of course), so the trek was inevitable. Brasserie -- which anyone in the know called "The Brasserie" -- offered not only sustenance, but a swanky enough sensibility to keep up the evening's classy allure. And it's open all night!

Jean's Patio
After nights of Village bar hopping, this was a wonderfully gay-friendly, comfy neighborhood hangout, with nice food, good service, and terrific outdoor seating in the summer. It was like home to many a gay.

David's Pot Belly Stove (94 Christopher Street)
If you craved an omelet at three in the morning, you headed to David's, which was cozy and rustic, yet sophisticated and teeming with the Village party crowd in need of some egg-citement. A real treasure, David's was on the site of what's now Havana Alma de Cuba restaurant. Even though it raised everyone's cholesterol rates, I miss the potency of that pot belly stove.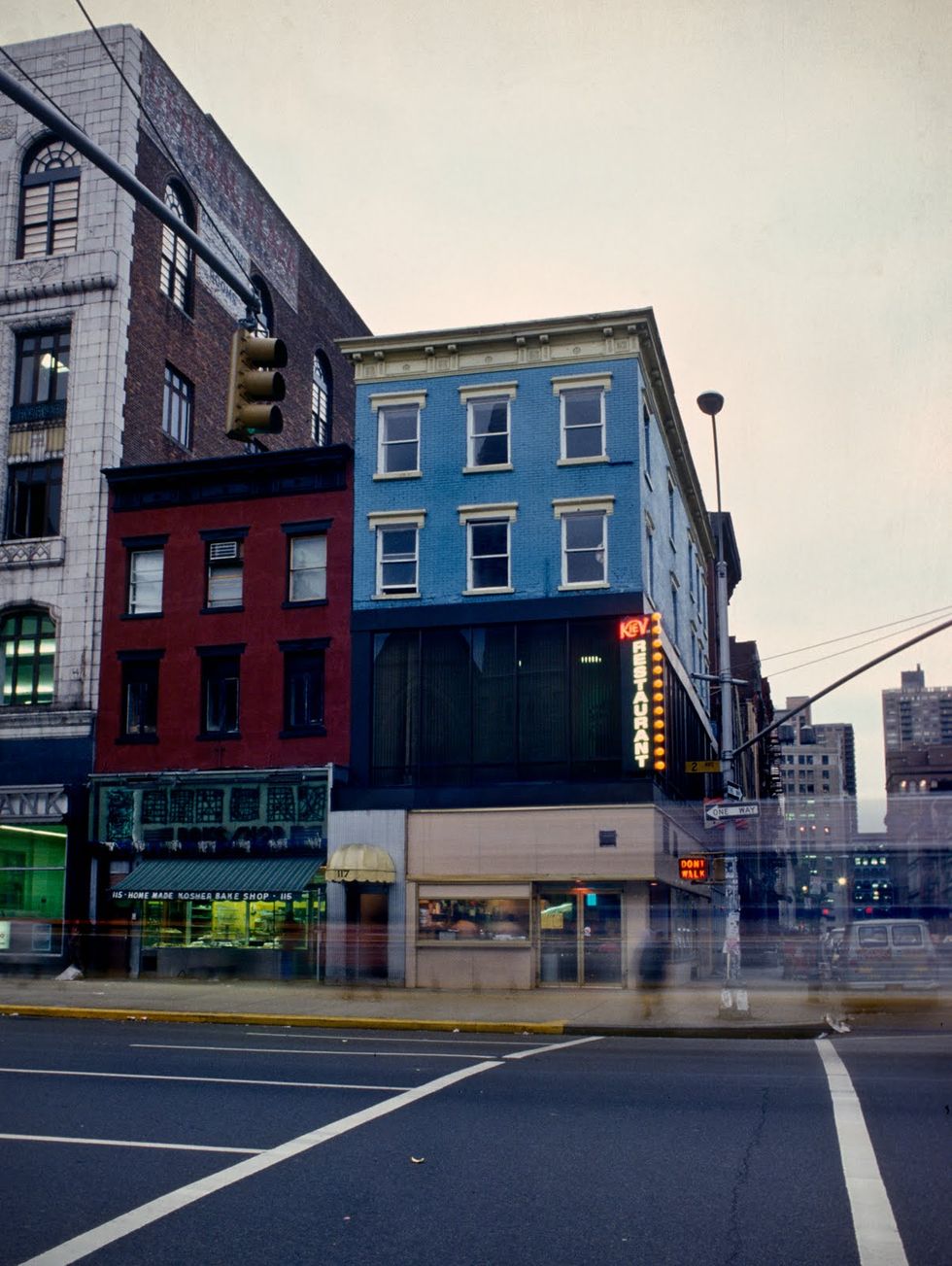 Kiev (117 Second Avenue)
The king of NYC's "Pierogi Belt," Kiev opened in the 1970s, serving wonderful Polish food to the East Village club crowd. It closed in 2000, was reinvented, then shuttered again in 2006, then reopened again, and then closed again! But the memory of that borscht lingers on.

One-Fifth (1 Fifth Avenue)
Where Otto pizza restaurant currently stands was a fancy but inviting restaurant that felt more like an event than just a place to get food. The nautical theme was special, and so was the next restaurant the same team of owners opened -- the long running Odeon. You can still go to Odeon, so I suggest you do that and realize that, despite the glories of the past, the best of times is now.


You May Also Like