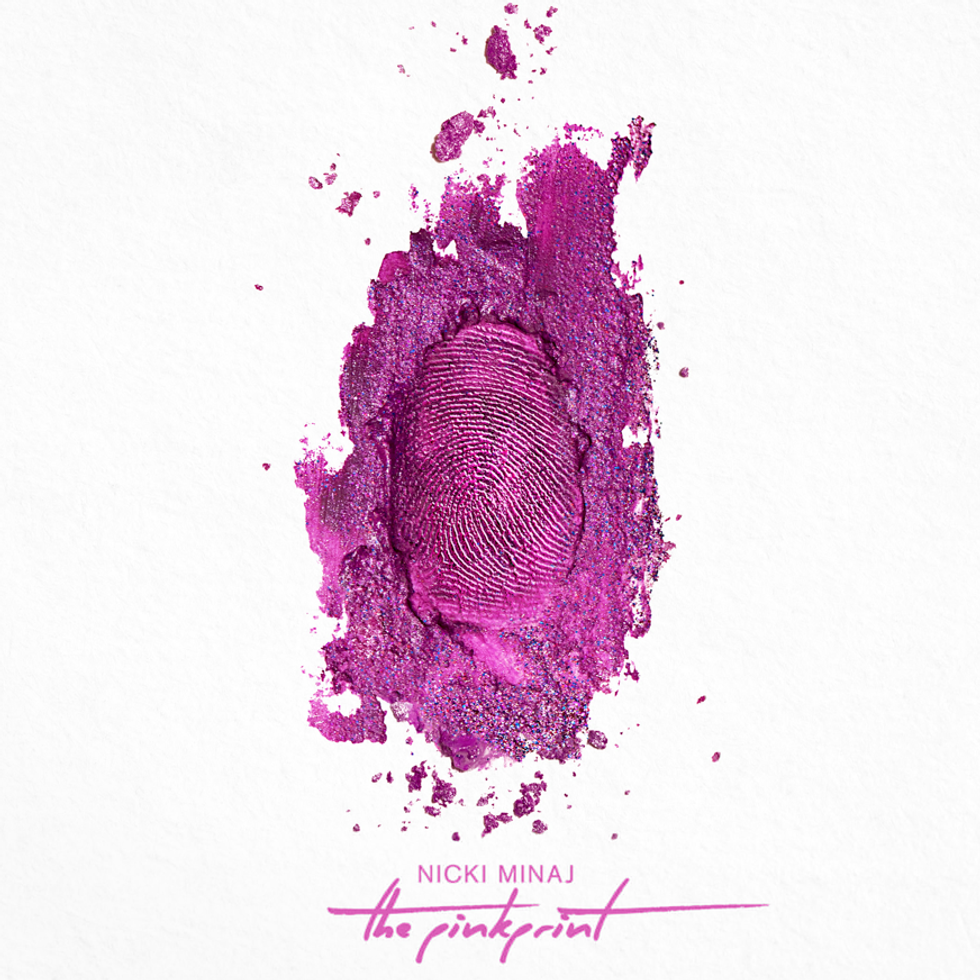 Nicki Minaj's highly-anticipated album
The Pinkprint
sprung a leak
yesterday, inundating the Internet with a flood of bitchy one-liners and sexy innuendos. Her third studio release, which officially comes out December 15, is packed with Nicki's signature bravado and a lineup of admirably  over-the-top, in-your-face tracks. While it's hard to top the lyric, "If I had a dick, I would pull it out and piss on 'em," from the 2012
Pink Friday
standout, "Did It On 'Em," these ten lyrics come close.
1. Get On Your Knees (feat. Ariana Grande)
"Got a bow on my panties 'cause my ass is a present."
Millions of people across the globe are fervently rewriting their holiday wish lists and clearing out space in their homes to fit Nicki's impressive booty inside -- us included.
2. Feeling Myself (feat. Beyoncé)
"I say, 'Yes daddy, I do. Give me brain like NYU.'"
We love the idea that head, or as Nicki says, "brain," can be educational. Why spend $50k on a lousy college degree when you can learn just as much, if not more in bed?
3. Four Door Aventador
"Peanut butter Benz, got 'em jelly at the deli."
Is this Benz chunky or creamy? Jif or Skippy?
4. Favorite (feat. Jeremih)
"I don't wanna hype ya, but you a lucky nigga if my mean ass like ya."
This is what you say to a worthy contender at the bar. Look him right in the eyes and Let. Him. Know. It's a winner pick up line, especially if you suffer from bitchy resting face, A.K.A. 99.9% of New York.
5. Anaconda
"Pussy put his ass to sleep, now he calling me Nyquil."
Not only is this the best lyric on
The Pinkprint
-- a rejoinder to Ice Cube's sleep-inducing jimmy in "It Was a Good Day," 21 years in the making -- it's the best lyric of 2014. Ridiculously brilliant.
6. The Night is Still Young
"If he sexy, he planking on me."
We didn't realize planking occurred outside the viral fad from a few years back, but according to
Handbag.com
, "the sexual plank" is for "gym-loving couples" with "super human upper body strength." Ok, that's sexy.
7. Big Daddy (feat. Meek Mill)
"Your time is ticking, you bitches will be around shorter than Vine vids."
Six seconds,
Iggy Azalea
-- that's all Nicki's giving you. Six. Short. Seconds.
8. Shanghai
"You could get it in the winter time or that Mayweather like Floyd's out."
We see what you did there, Nicki.
9. Win Again
"Lewinsky, like I couldn't get the stain out."
Beyoncé first dropped Monica Lewinsky's notorious name on her track, "Partition," moaning the lyrics, "He Monica Lewinsky-ed all on my gown." Now, Nicki's taken a stab and it's just as filthy. Even nearly 20 years later, poor Monica still can't catch a break.
10. Truffle Butter (feat. Drake & Lil Wayne)
"I floss everyday, but I ain't a dentist."
Poetry.