There's nothing more Halloweenie than a scary lady with a big brimmed black hat and a pocketful of curses. Here are the 10 movies in which witches were at their spookiest best.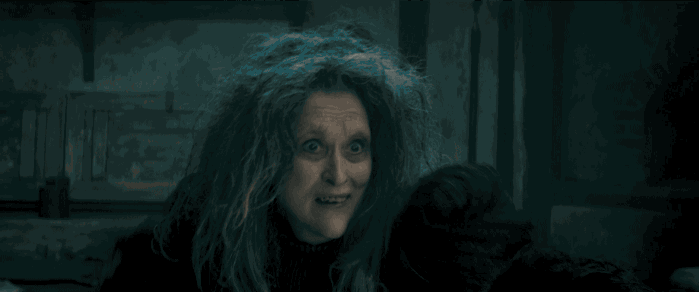 INTO THE WOODS (2014)
The lavish adaptation of the Sondheim/Lapine show centers on a witch who orders the baker and his wife to go on a challenging journey in order to reverse a hideous curse that's befallen them. Meryl Streep is -- big surprise -- magnificent as the Witch, especially in her "Stay With Me" song, in which she begs her daughter Rapunzel to keep her ass in the tower, away from the world's horrors. Yes, this is a witch that cares -- and transforms!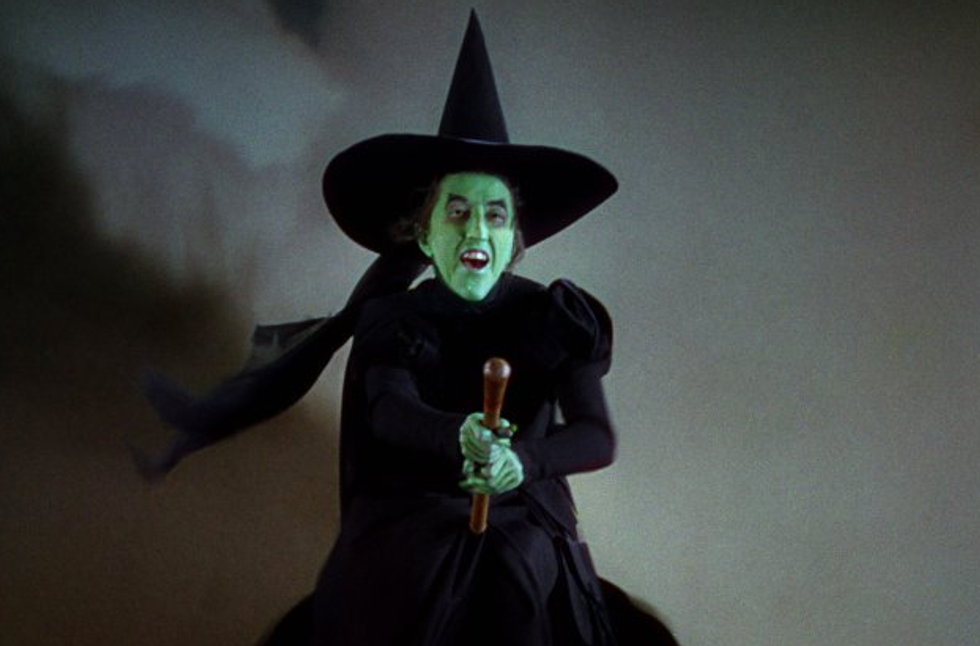 THE WIZARD OF OZ (1939)
The original
Wicked
, this is the quintessential children's fantasy, but it also has nightmarish elements, particularly in Margaret Hamilton's brilliantly scary portrayal of the Wicked Witch of the West. Thank God for Glinda, the Good Witch (the quivering-voiced Billie Burke) and for flying houses everywhere.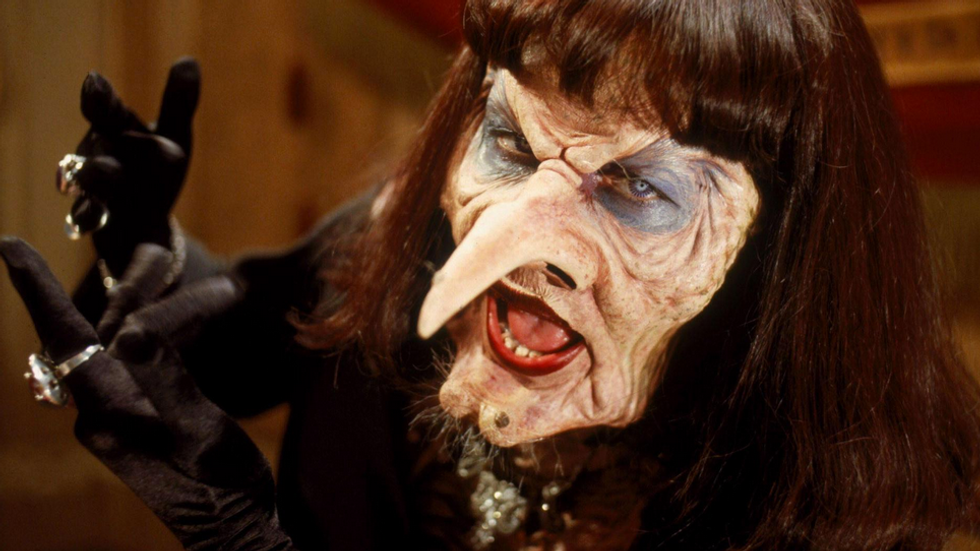 THE WITCHES (1990)
Based on a Roahl Dahl novel (from which it was admittedly a bit watered down), this is a wonderfully art directed vision of a boy's vacation changing tones when the hotel he and granny are staying at turns out to be filled to the rim with witches. The boy finds himself turned into a mouse, cementing his vow to battle the witches' plan to wreck the planet. Nicolas Roeg directs, Anjelica Huston stars, and Jim Henson's people created the creatures.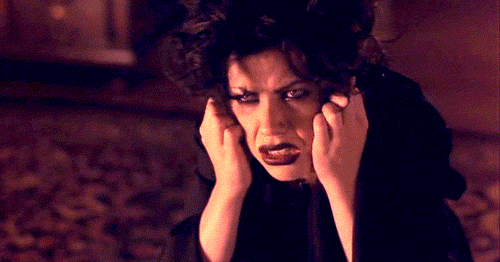 THE CRAFT (1996)
The same year
Sabrina, The Teenage Witch
hit the tube came this entertaining and smart story of witchy students bonding at a school full of evil oppressors. The way these outcasts use their craft to get back at some horrid folks around them could convert you to witchery on the spot.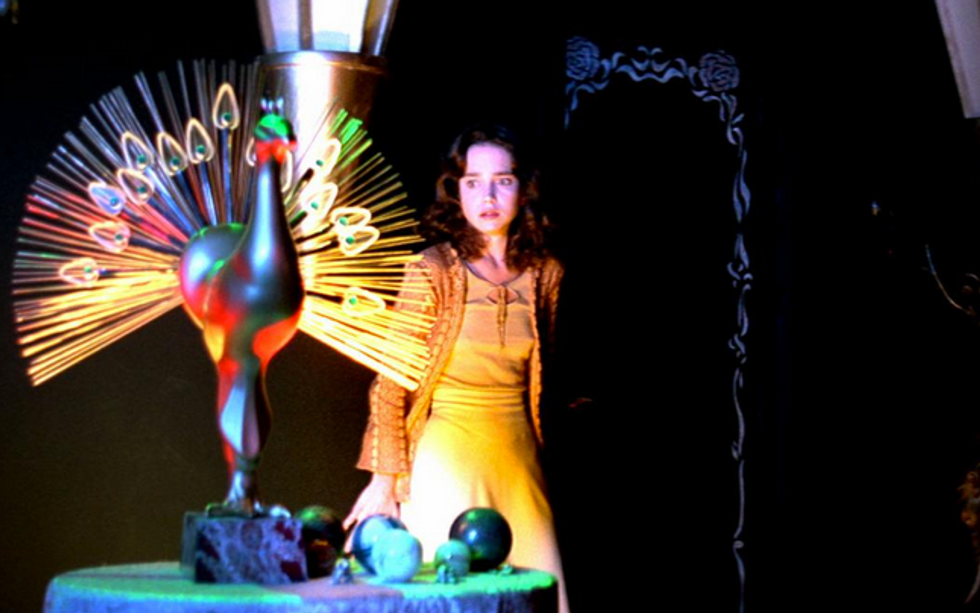 SUSPIRIA (1976)
Dario Argento's tale of a young American woman who gets sucked into a grisly dance academy slash coven is beautifully filmed, a real feast for the eyes and mind. Joan Bennett, Alida Valli, and Udo Kier add able support, but be sure to take a chill pill before watching.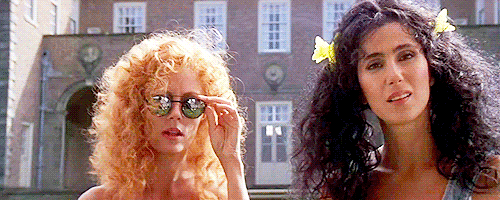 THE WITCHES OF EASTWICK (1987)
Three creatively flourishing but repressed friends (Cher, Susan Sarandon, Michelle Pfeiffer) encounter a crude seducer (Jack Nicholson) who unleashes all sorts of hot stuff in them, like a wickedly effective little devil should. And it turns out they conjured him with their own witchy powers! A comedy, a melodrama, a horror film -- this one has it all, with everyone having a rollicking good time in the process.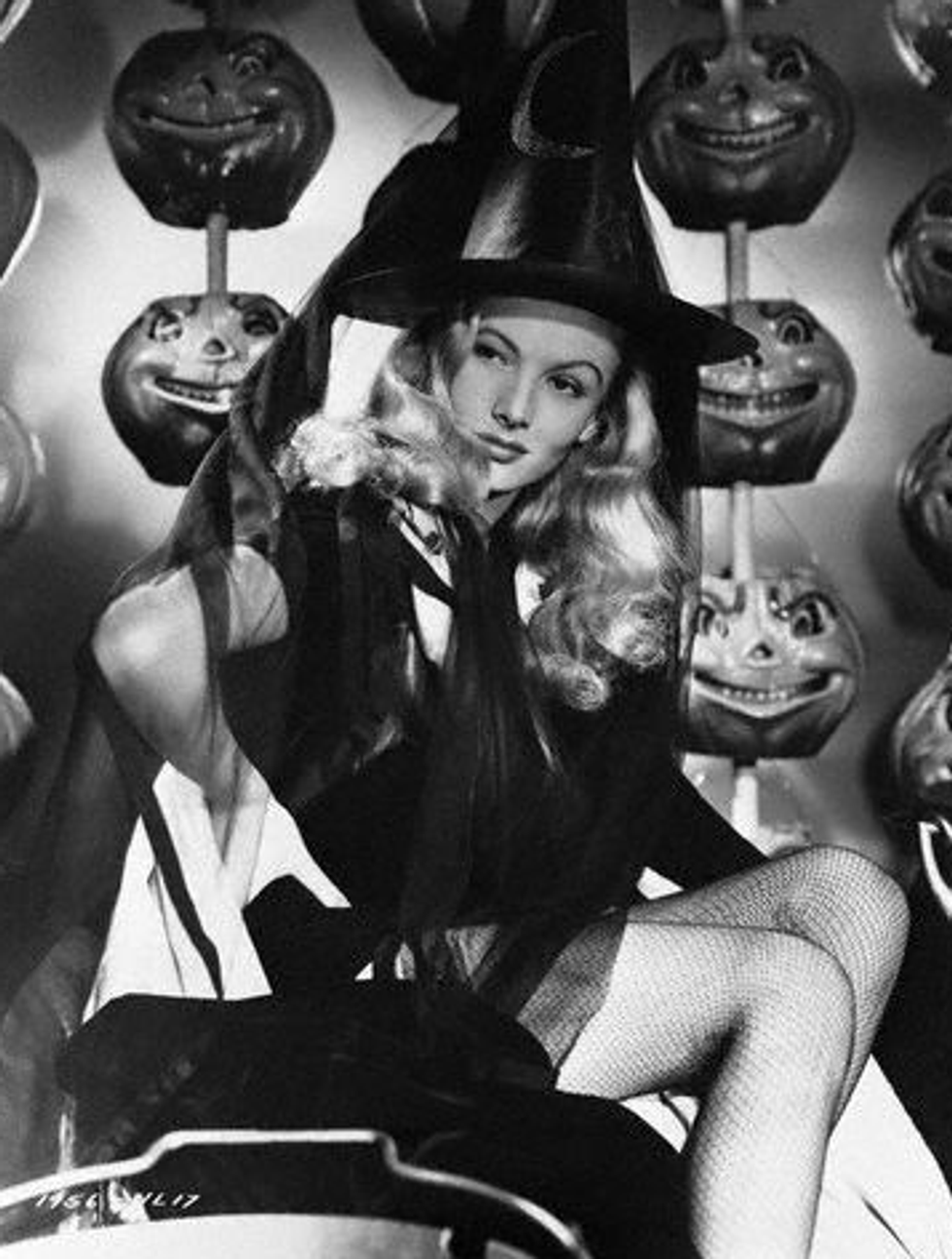 I MARRIED A WITCH (1942)
Veronica Lake was so much more than an interesting hairdo, and in this Rene Clair-directed froth, she's a sheer delight as a witch who was burned centuries ago and has come back to wreak havoc on a descendant of the man who wronged her. Her victim is played by Frederic March, and Susan Hayward, Cecil Kellaway, and Robert Benchley also rode broomsticks into this extremely cute classic.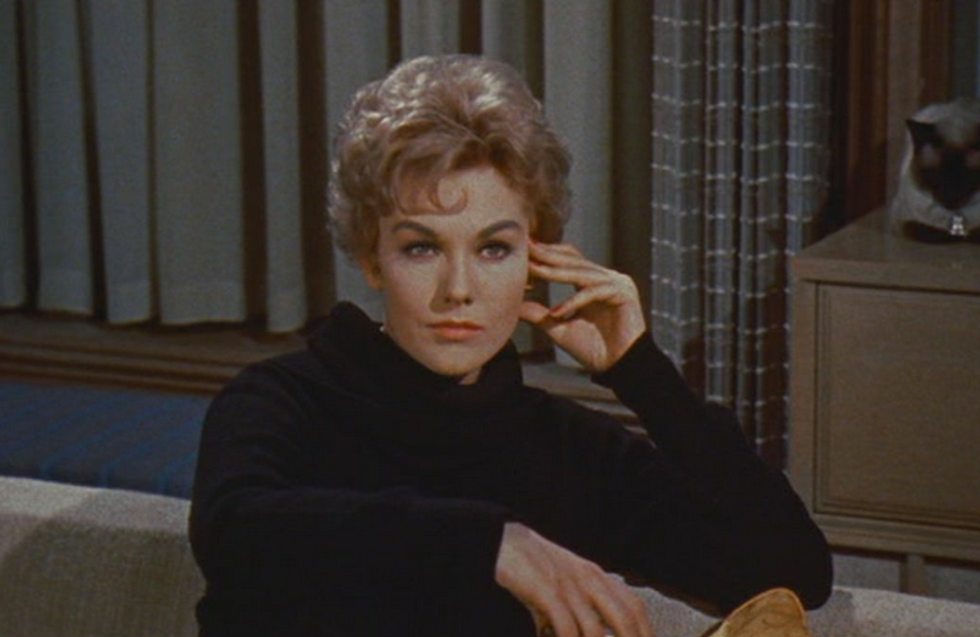 BELL, BOOK AND CANDLE (1958)
Kim Novak has the right husky voice and ethereal charm for the part of a witch who casts a spell over publisher James Stewart, then falls in love with him for realz. The supporting cast members add wacky luster: Hermione Gingold, Jack Lemmon, Ernie Kovacs, and Elsa Lanchester. And "Pyewacket"!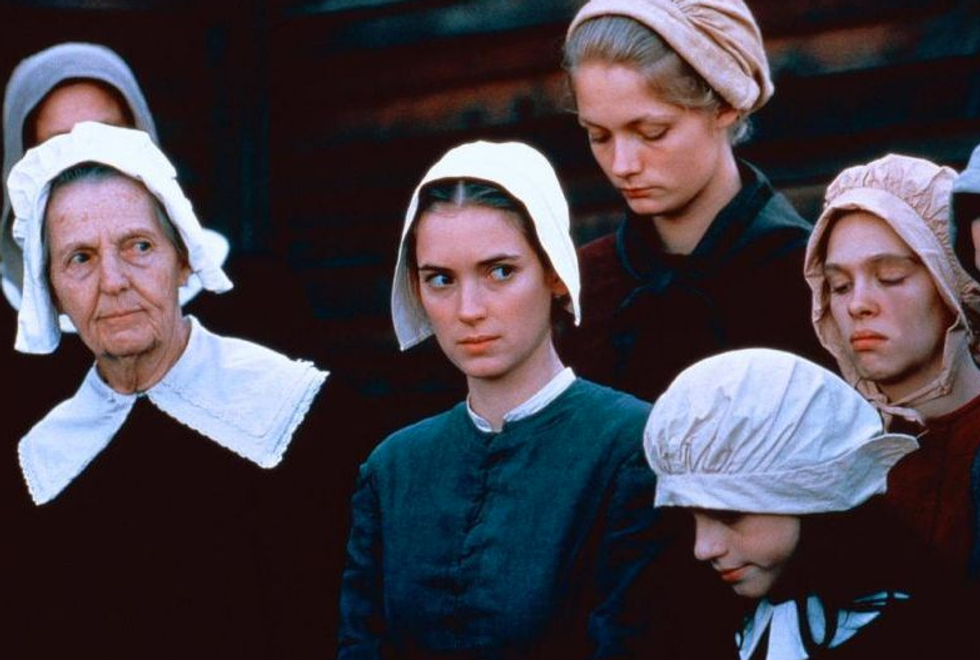 THE CRUCIBLE (1996)
Based on the Arthur Miller play about the Salem witch trials (with a heavy subtext of the McCarthy hearings of the 1950s), this film captures the hysteria of heightened accusation, with big help from performances by Daniel Day Lewis, Joan Allen, Winona Ryder (as the main hysteric), and Paul Scofield. In 1957, it was done in French with Yves Montand and Simone Signoret. Yes, witches come in all languages.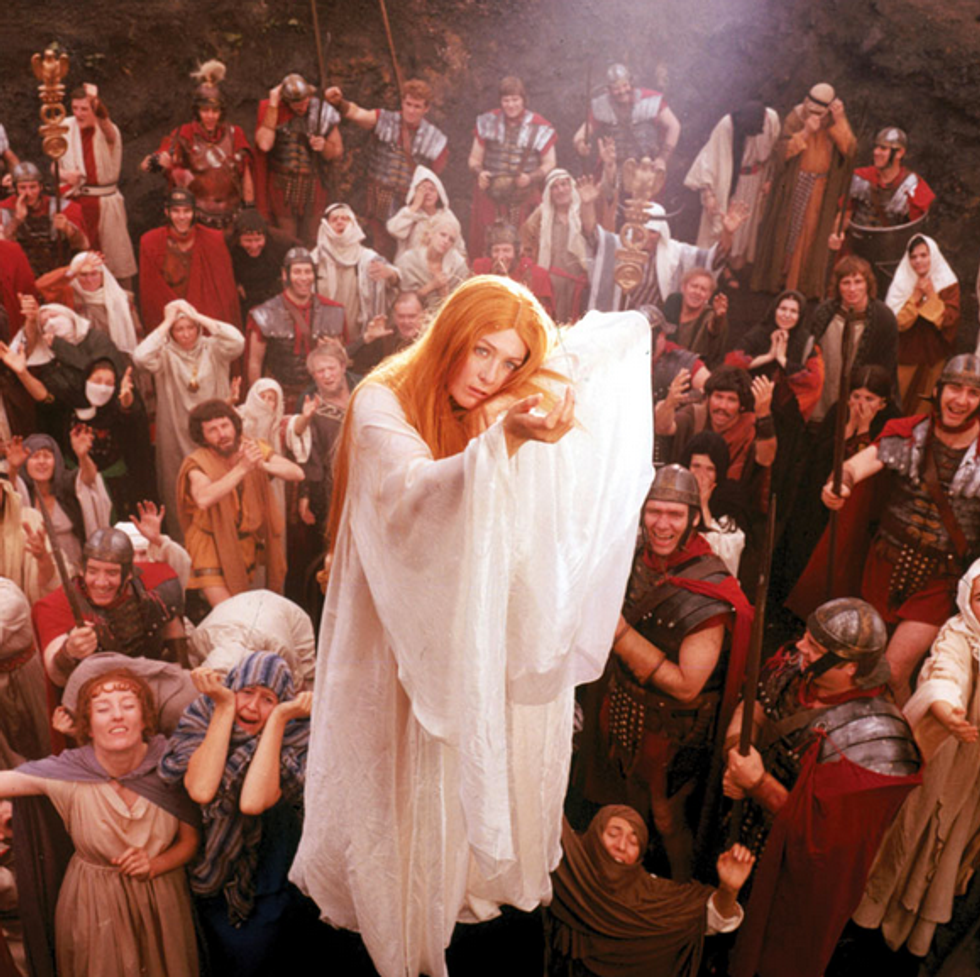 THE DEVILS (1971)
In his attempt to grab at more power, Cardinal Richelieu demonizes priest Oliver Reed (who ends up on fire) and the nunnery (featuring Mother Superior Vanessa Redgrave, who's all hot and bothered over Oliver Reed) as warlocks and witches. Sick and over the top (and that's a good review), this can be seen as Ken Russell's answer to
The Crucible,
though it really defies comparison to anything. Other critics called the film a "swirling, multi colored puddle" and took note of the "worm eaten skulls, masturbating nuns, and gibbering courtiers." Again, good reviews!
Also:
Hocus Pocus
;
Practical Magic
;
Burn, Witch, Burn!
;
Maleficent
(though she's more of a "malevolent fairy");
Sleeping Beauty