1. Towards the end of her set, Sharon Van Etten, dressed head-to-toe in black (because that's what real rock stars do regardless of the heat), thanked her parents for making it out to her festival set, and then apologized for the song she was about to perform. After singing the line "people say I'm a one-hit wonder/But what happens when I have two?/I washed your dishes/but I shitted in your bathroom," from "Every Time the Sun Comes Up," she grimaced and said "sorry, mom." But hopefully her mom is proud of what a commanding stage presence her daughter has become, one capable of turning a festival field into a safe space for her and her fans to share some feelings. Also, it was very thoughtful of Sharon not to play "Leonard," as that song might make a certain reporter cry in public, regardless of how many people are around him.

2. After more than a decade in the game, UK dance-rock group Hot Chip have become experts at getting a crowd moving, but at the end of their Sunday night set they had a surprise for their fans: a cover of Bruce Springsteen's classic "Dancing in the Dark" that took the Boss' working man's lament to a futuristic disco, while losing none of the original's poignancy. And just for extra pathos, the band tacked on a bit of LCD Soundsystem's "All My Friends" at the very end, just to make sure the crowd's desire to dance through their woes was fully acknowledged.

3. Governors Ball still has some growing pains to work through. Though safety is obviously important, the security line on Saturday was a complete clusterfuck of confusing, slow-moving lines that took close to an hour to get through. As for the alcohol options, they were over-priced and paltry to begin with, and by the end of most nights the only option most stands had were large cans of watery Miller High Life. But credit where credit is due: there were plenty of easily accessible stands where one could get their water bottle refilled for free, and these stands were inevitably manned by some of the most cheerful people at the festivals.
4. Drake fans have been wondering for months who Mr. Worst Behavior would bring out on stage as a guest. Nicki Minaj? ILoveMakonnen? Tupac? Turns out he didn't feel the need to bring out anybody. Cue much Twitter grumbling. But maybe Drake knew there was no way he could top Chromeo's cameo move, as during their Friday mainstage afternoon set, Chromeo guitarist Dave 1 started noodling on the riff to Vampire Weekend's "Cape Cod Kwassa Kwassa." Then VW frontman Ezra Koenig appeared. "Dave, I showed you the riff, man," he said. "It's really not that hard." Ezra, whose band headlined Governors Ball last year, proceeded to join them for a run through of "Cape Cod Kwassa Kwassa" and Chromeo's "Bonafied Lovin" that turned an already amped crowd into overdrive.

5. St. Vincent has long been one of the best guitarists of her generation, as evidenced by the set closing punch of "Your Lips Are Red," which saw her spray menacing feedback across the field. And ever since she started touring for last year's self-titled album, she's been one of the best dancers popular music has to offer, swaying around the stage like an art-damaged marionette. But she also stepped up her between-song banter game during her Friday night set, coming across at times like a surreal stand-up comedian. She claimed that New Yorkers assume that all babies have telepathic powers, and then said that every New Yorker has had the experience of roughing out a storm so terrible that it seems like the world might end, and that every New Yorker knows that when confronted with that situation, they need to grab three things: a Susan Sontag book, an Arthur Russell album and a Grandmaster Flash seven-inch. Actually, that sounds about right, Ms. Clark.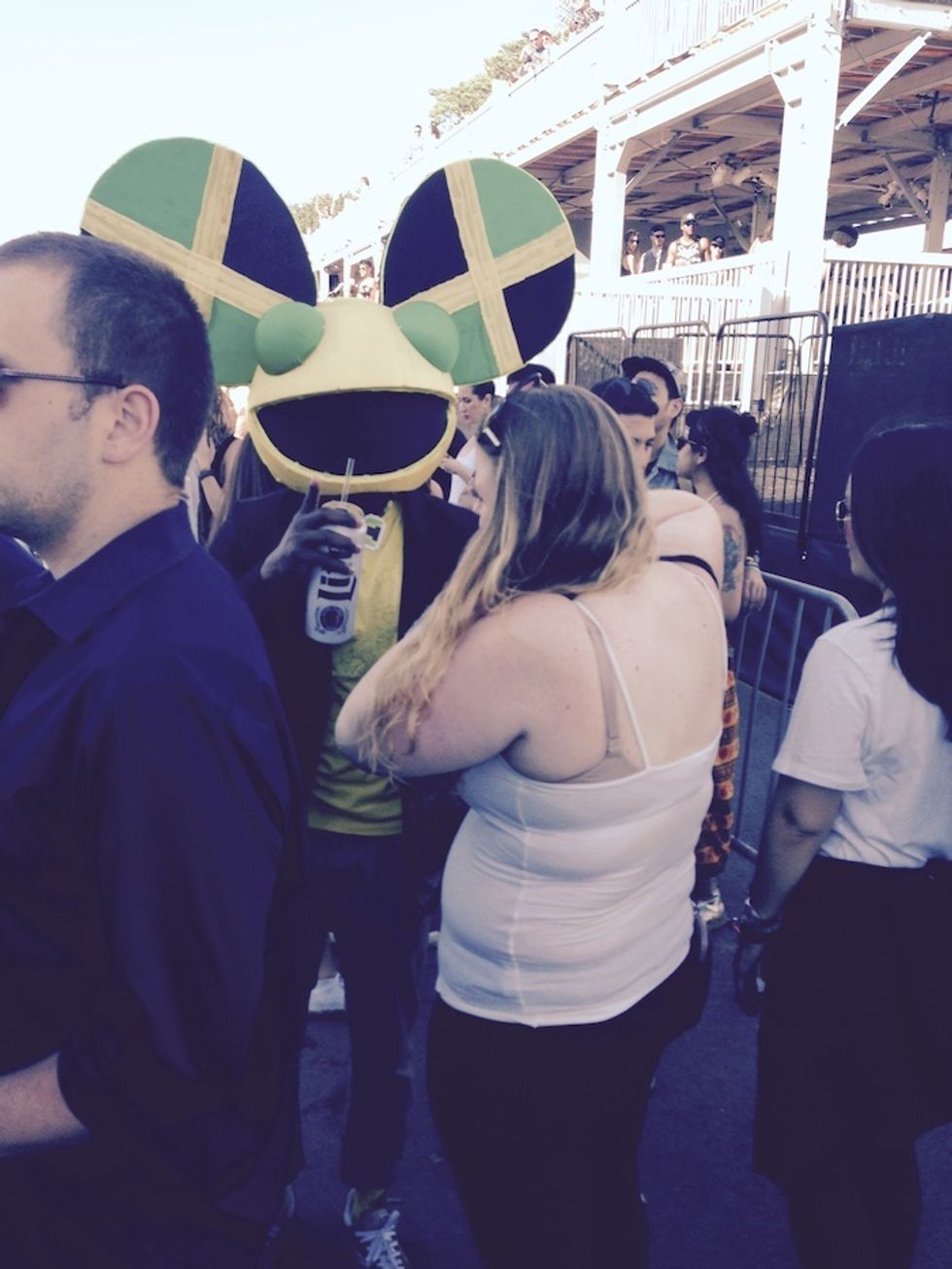 6. Shout out to the Deadmau5 cosplayers. What 75-degree heat?

7. Shortly after the release of last year's Lost in the Dream, it practically seemed as if Barack Obama had passed a Presidential mandate requiring that all music festivals book the War on Drugs to play a late afternoon golden hour set. Adam Granduciel and company took their official duties seriously on Sunday night, attacking some Dream cuts with a ferocity their recorded counterpoints can only hint at, while letting other cuts drift out and build slowly. At times, they combined the approaches. After a languid interlude, the crowd lost their mind when the echo-y piano line came back in at the end of "Under the Pressure." Clearly, echo-y piano lines are to modern classic rockers what drops are to EDM acts.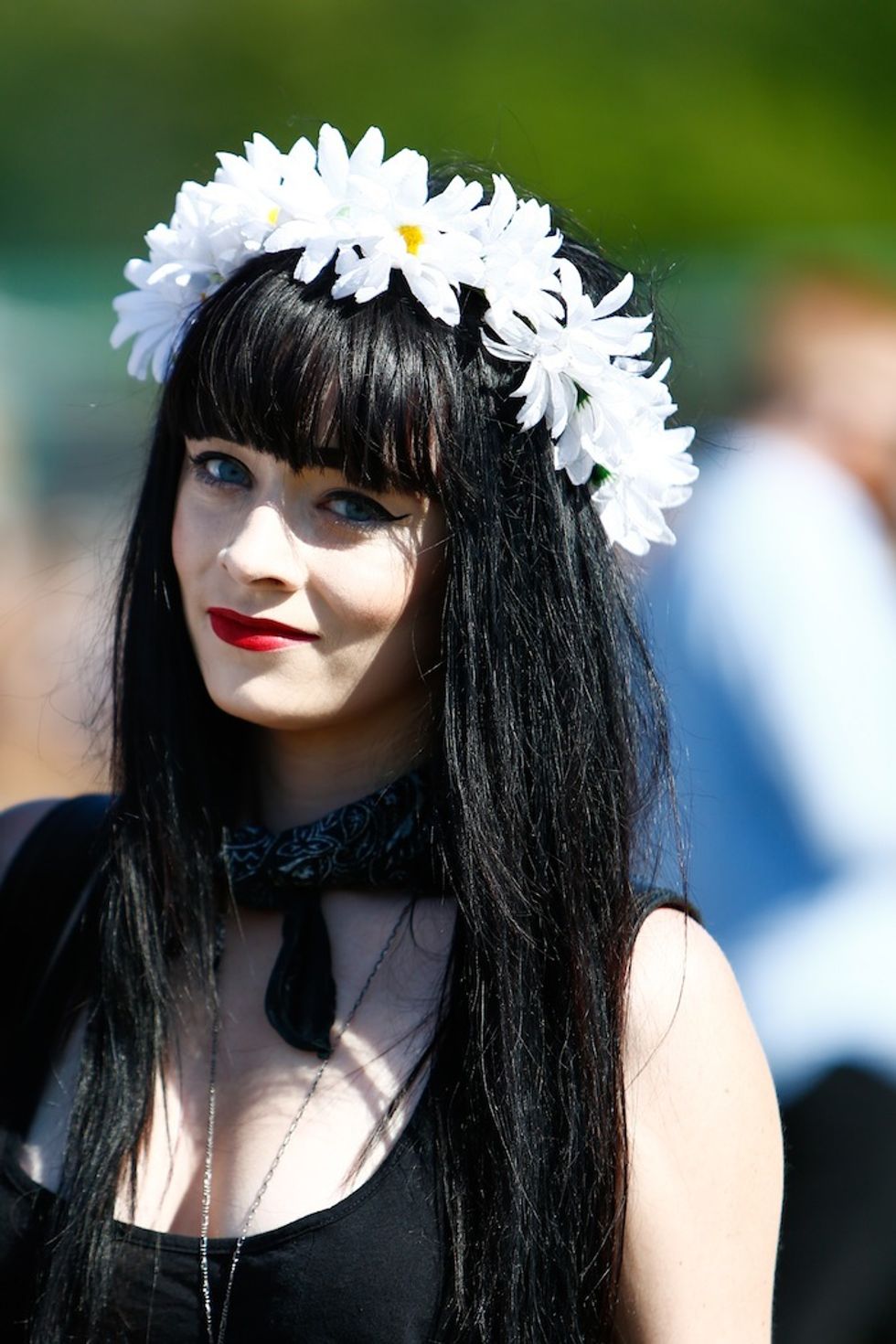 Photo by Ryan Kobane/BFAnyc.com
8. Once again, flower crowns were the headpiece du jour of the festival this year. And even if you're inclined to grumble at millennial fashion choices, you have to admit it's a vast improvement over the sight of white college kids rocking Native American headdresses. And just in case you rolled up to Governors Ball without a flower crown like some kind of basic-ass peasant, there was a booth you could buy one on site (props for not worrying about being too on the nose or anything, Governors Ball), and thus spare yourself the embarrassment of not paying proper tribute to Lana Del Rey.
9. I'm not sure who Carl is, why his name was on a flag or why the guy with the flag spent the entire weekend waving said flag around while screaming "Carl! Carl! Carl!," and frankly, I'm glad I didn't ask. I'm sure the theories I created are much better than the reality of the situation.
10. No one is touching Ryan Adam's stage game at the moment. Flanked by two vintage arcade games (for Asteroid and Berzerk), a hair model with a '70s cop beard and glasses, a stuffed tiger, a vintage Dr. Pepper vending machine (we wouldn't want Ryan to get thirsty, would we?) two comically oversize amps, one of which had what looked to be a stuffed lemur on top (it was hard to tell exactly what was going on from a distance), Adams made it feel like the entire crowd was invited to his man cave. (Please keep in mind that it is someone's job to set all of this stuff up every night, and you know Adams is particular about placement.) Though he made headlines for taking a few shots at Deadmau5, who was playing at the same time and whose brutal drops often bled into the set, what is more important is that Adams and his band were absolutely on fire on Saturday night, running through songs new and old with the sort of vigor that compelled him to do the old "leaning back and thrusting the ax into the sky during a solo" move at several junctures. Shortly before capping the set with the immortal "Come Pick Me Up," Adams improvised a song about hot dogs, bowel problems and the security guards who protect him from insane fans, before telling us, "New York, you're going to be all right."


You May Also Like