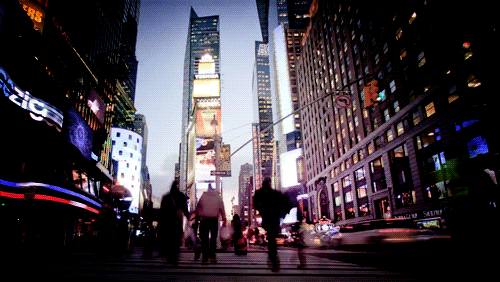 I've written so much about the glories of New York's past that I feel I should put that on the back burner for a second and make a palette cleanser out of celebrating what's great about this city today. Here are the 10 things that make our tawdry town electric in the here and now. Ouch.
WE'RE WINNERS
So many people have fled the city because it's allegedly lost its edge, though one suspects that they simply couldn't afford it anymore. That's all perfectly understandable -- to each his own -- but the reality is that all of us who are still here must be doing something right because we can actually pay the rents! (Or maybe we just married the right people.)

IT'S BIKE FRIENDLY
You can own a bike (like I do) or get a Citi Bike and enjoy the many city-maintained paths around town. Best of all, while riding, you are actually viewing interesting places and people, not just shopping malls and chain stores. (I simply shut my eyes when riding by a 7/11 or Popeye's -- except when going in, of course.)
IT'S NOT JUST ABOUT MANHATTAN
There are four other boroughs, and they happen to have an eclectic bunch of restaurants, clubs, shops, and housing that are well worth visiting. You have to believe me! There's a world outside Manhattan! Go on, ride your bike there!
THE THEATER
Broadway teems with revivals, jukebox shows, star turns, and fairy tale deconstructions, but there's also room for quality dramas and nouveau musicals. And if it's still all too safe for you, there's off- and off-off-Broadway, where things percolate on a more experimental level. Put it all together and you've got more theater than anywhere in the country -- even Branson.
THERE'S A LATE-NIGHT PRESENCE
As awful as it might seem to have all-night stores like Duane Reade, you've got to admit it beats living in the country, where your chances of getting anything after midnight are nil. And it's not just pharmacies that are open late. A lot of places are! Walk your privileged ass around at 2 A.M. and see how many lights are on. Then head to, say, Sayville, Long Island, and check out that scene. And then hush.
THE SERVICES
Thanks to the demands imposed by a great urban sprawl, there are lots of tip-top grocery stores, plumbers, boutiques, household appliance venues, and so on, making everything seem accessible and quality-driven. No, it doesn't always come with the charm of Mayberry RFD, but that's the price you pay for living in the big city, y'all.
THE DIVERSITY
It's still a big kettle full of cultures, as well as a place that the majority of people around the globe crave the chance to drop by and sample. NYC really redefines "mixed crowd," staying defiant in the face of persistent threats at sameness. I regularly go on jaunts to Harlem, Curry Hill, and Korea Town, and occasionally even enjoy the glories of white people.
IT HAS A RICH CINEMATIC HISTORY
Not only are they shooting movies and TV shows everywhere you go, but locations all over town bring back the memory of classic movie magic. "Hey, that's where they shot
Annie Hall
!
Saturday Night Fever
!
Arthur
!
Being John Malkovich
!
Mr. Popper's Penguins
!"
THE FIERCENESS
They can be obnoxious, but the people here have a certain indomitability, a feisty determination to keep going, and a rich pride in the fact that they're New Yorkers.
Try to argue that and they'll chew your ear off.
THE NONSTOP ACTIVITY
You're in a metropolis full of bustling action, and it keeps going every minute, complete with all the big-city sounds that provide the soundtrack to our lives. Would you rather just hear angry crickets? Cheers, Gotham. You're so amazing you can even survive being called Gotham.
You May Also Like