The late great exploitation produce Dave Friedman said it best: "After Mr. Edison made those tin-types gallop, it wasn't but two days later that some enterprising guy had his girlfriend take her clothes off (for the camera)." Foreign film in the 60s pushed the boundaries and love scenes slowly became more and more explicit. Nowadays nude love scenes grace most films but there are some that scar the brain for life. Here are my favorite top 10.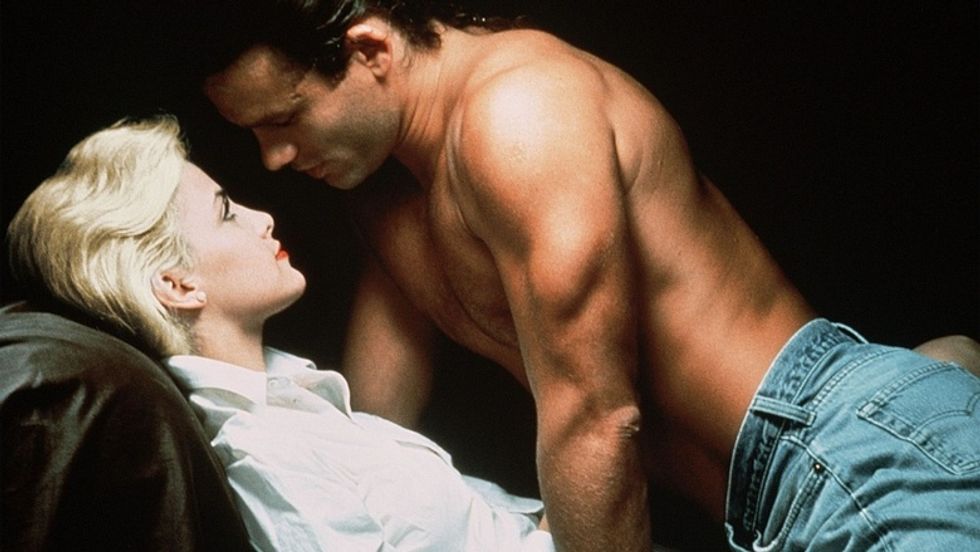 Two Moon Junction
Zalman King's crackpot masterpiece about a spoiled Southern debutante (Sherilyn Fenn) who falls for a studly long-haired carnival worker (Richard Tyson) on the eve of her wedding, How can she say "I do" when she's turned on by the sound of the Tilt-A-Whirl in the distance? "You frighten me," Fenn says as she drops out of her dress and rips Tyson's tee shirt off. Watch the scene here.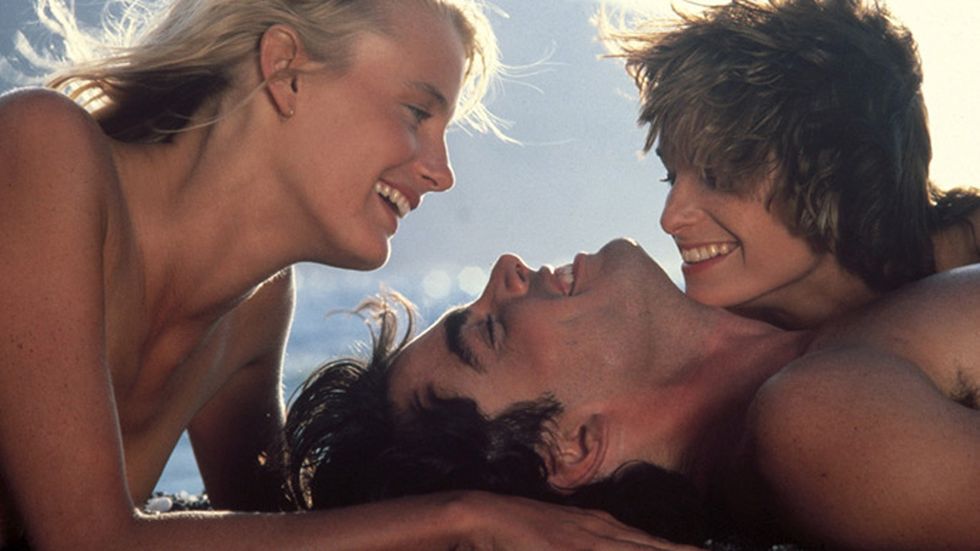 Summer Lovers
Cathy (Daryl Hannah) and Michael (Peter Gallagher) play a cute, vapid, American couple who take a villa on a Greek Island for the summer. While Cathy's off snapping pictures of annoyed locals, Michael is making skin souvlaki with Lina (Valerie Quennessen) a French archeologist. "Making love to you is like riding a horse," Michael exclaims breathlessly. Soon all three are sunbathing nude and rubbing olive oil on each other. Watch the scene here.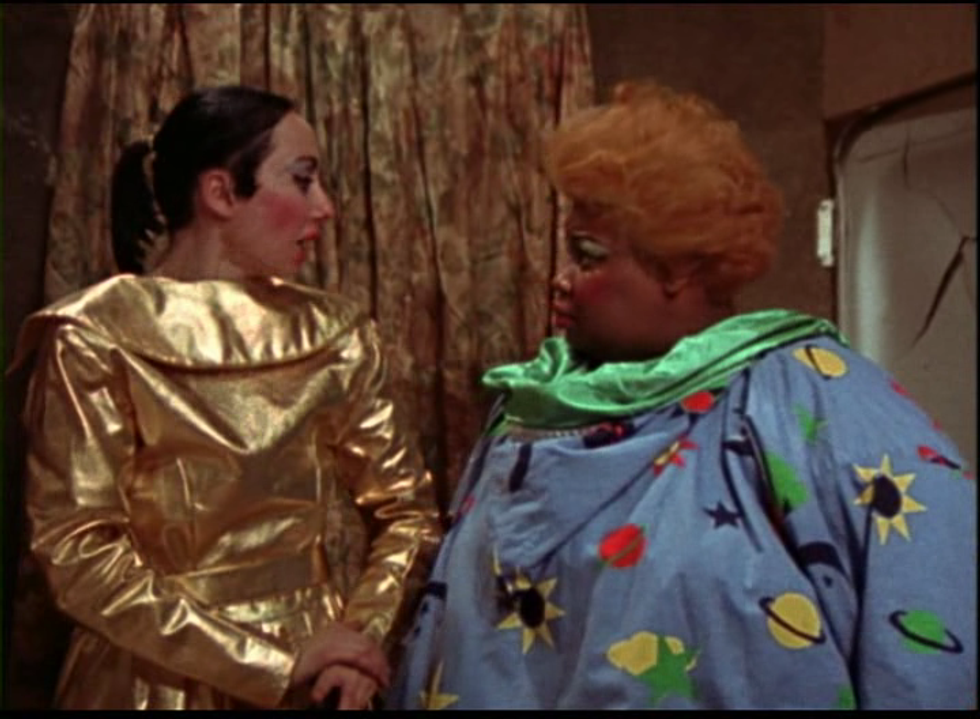 Desperate Living
In John Waters' fractured fairy tale, Mink Stole stars as the raving Peggy Gravel on the run with her 300 lb. maid Grizelda (Jean Hill) after killing Peggy's husband. They hide out in the lawless mythical kingdom of Mortville. But who can forget their naked roll in the hay during a moonlit night? Especially the look of genuine terror on Mink Stole's face as Jean Hill smothers her with her mountainous body.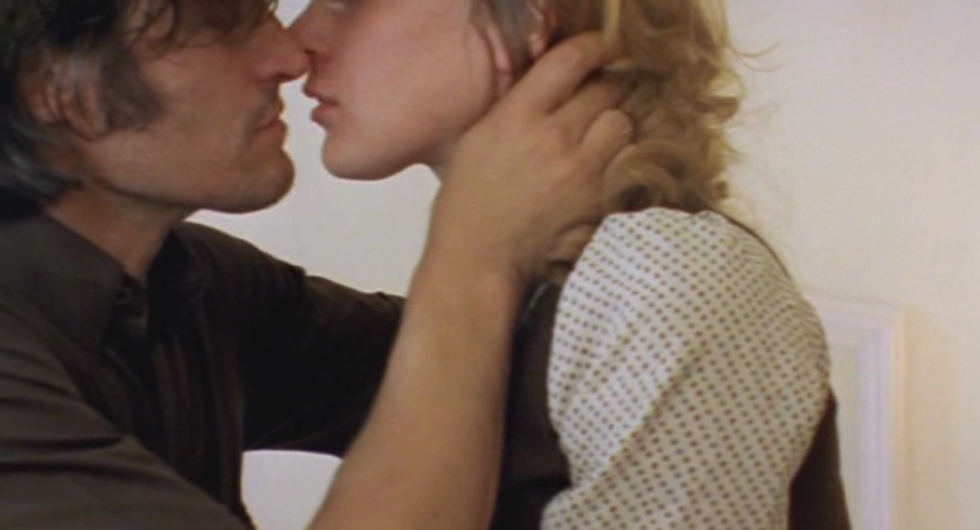 The Brown Bunny
Vincent Gallo wrote, directed and starred in this controversial film about a motorcycle race driver on a cross-country odyssey mooning over his lost love (Chloe Sevigny). The final scene included Sevigny actually fellating the well-endowed Gallo- which caused many critics apoplexy. I was actually surprised at how hauntingly cinematic it was. Watch the scene here.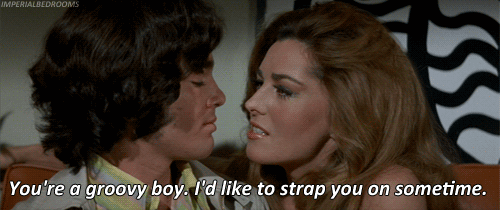 Beyond The Valley Of The Dolls
The late great sexploitation director Russ Meyer's first mainstream film, co-written by Roger Ebert, is a loony masterwork of sex, drugs and rock and roll. It includes tons of great nude love scenes but for my money the best is with the amazing Edy Williams as a lascivious nymphomaniac starlet who seduces the young male lead in her car screaming out: "There's nothing like a Rolls not even a Bentley...Bentley!!!!" Watch the scene here.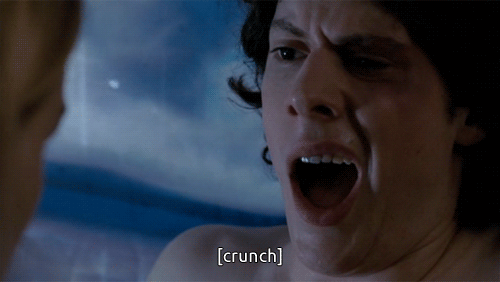 Teeth
The wonderful Jess Weixler stars as sweet Dawn, who loses her virginity with her handsome boyfriend at their favorite swimming hole at the same time she discovers that there are teeth in her vagina. That scene alone has a certain sexy, nasty, sting to it... especially for her unfortunate sweetheart.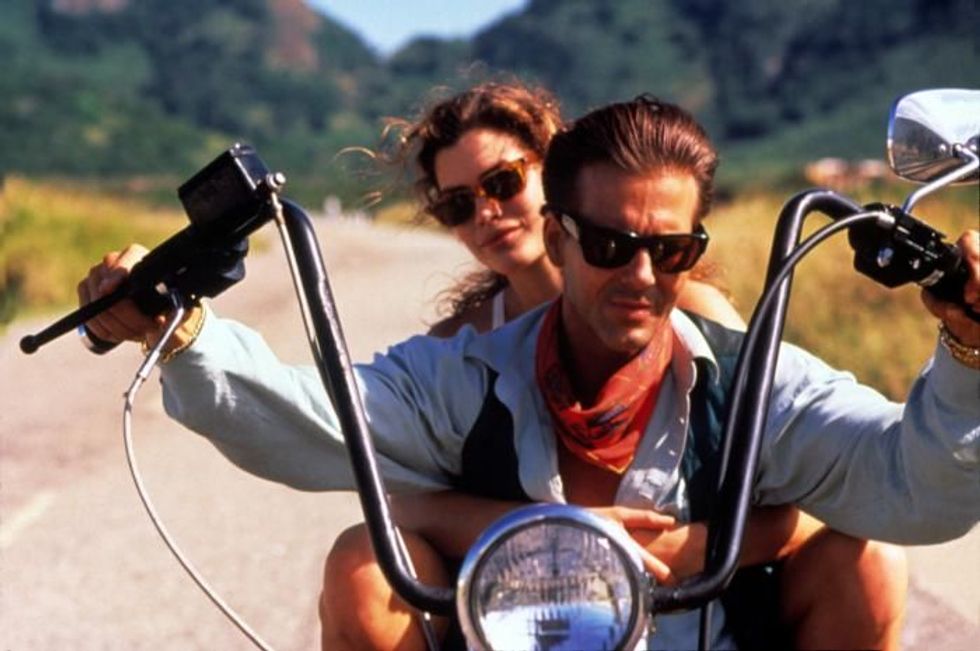 Wild Orchid
Pouty-lipped lawyer Emily (Carrie Otis) heads to Rio to close a major hotel deal when she meets Wheeler (Mickey Roarke) a mysterious Harley-Davidson-riding millionaire who takes her to masked orgies but never lays a hand on her. That is until the end in a steamy sex scene available in R or Unrated versions. Watch the scene here.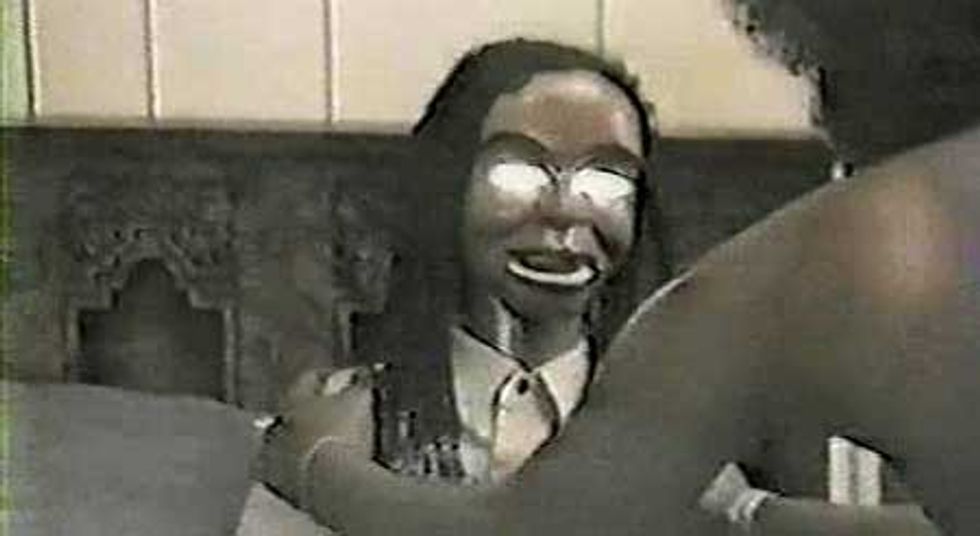 Black Devil Doll From Hell
In this deranged Blaxploitation film a nice church lady buys a corn-row sporting ventriloquist dummy at a local thrift store. It comes to life and ravishes her in her bed in a sex scene that goes on interminably with a soundtrack that sounds like someone is leaning an elbow on a synthesizer.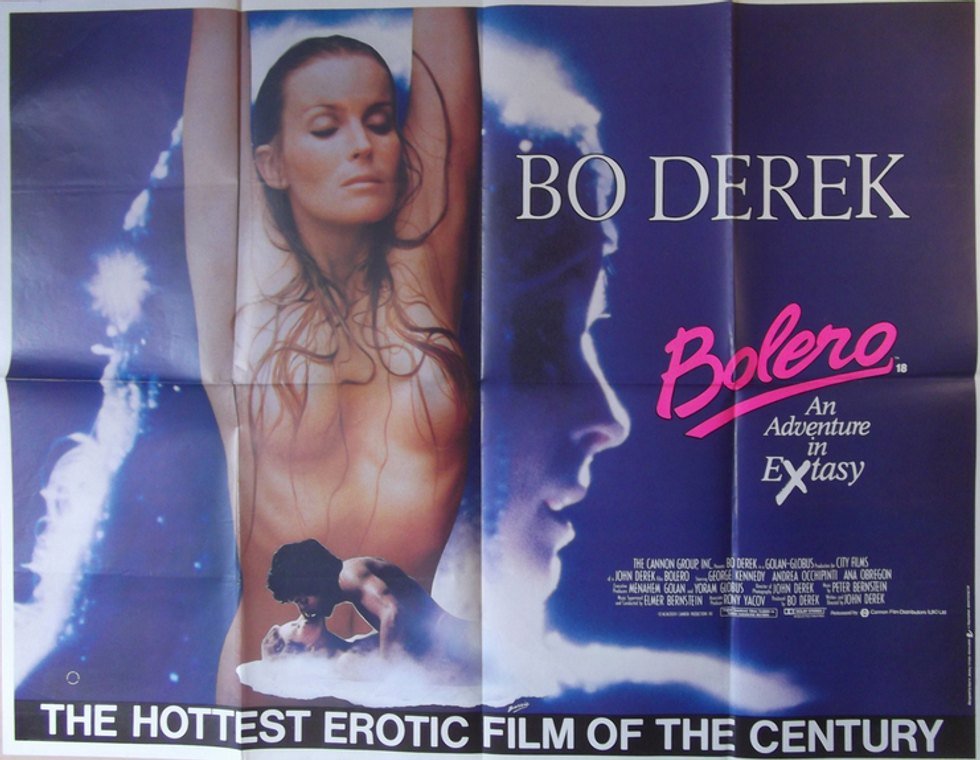 Bolero
John Derek made a career out of casting his wife, statuesque beauty Bo Derek, in a series of lousy films. None were as notorious as this lulu where Bo plays a 20's heiress who heads to Morocco looking for love where she gets a desert sheikh to lick honey off her. Unsatisfied she off to Spain where she finally loses her virginity to a matador. When a bull gets him by the balls, Bo nurses him back to health by riding around on a horse nude and whipping her hair across his naked body screaming: "I want ecstasy!" Watch the scene here.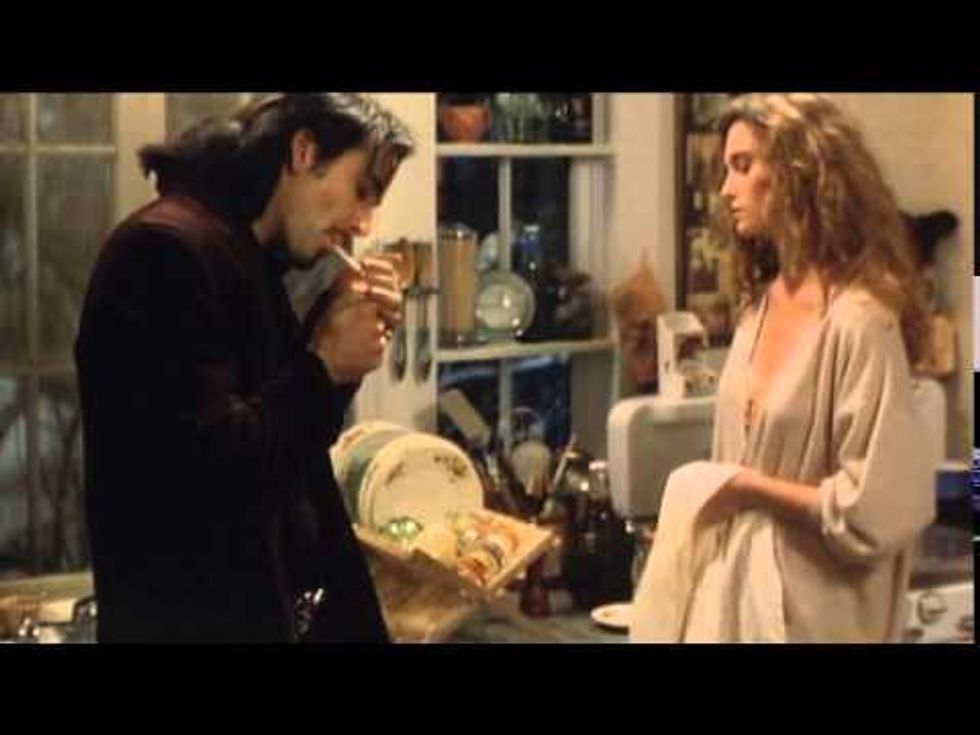 Zandalee
Erika Anderson plays a woman who runs a boutique for cross-dressers with an impotent husband (Judge Reinhold) who falls for a TV repairman (Nicholas Cage) who says: " I want to shake you naked and eat you alive, Zandalee!" They screw on a clothes dryer and in a Catholic church where Cage looks upward and says "Thank you, Father!" Watch the church scene here.

You May Also Like