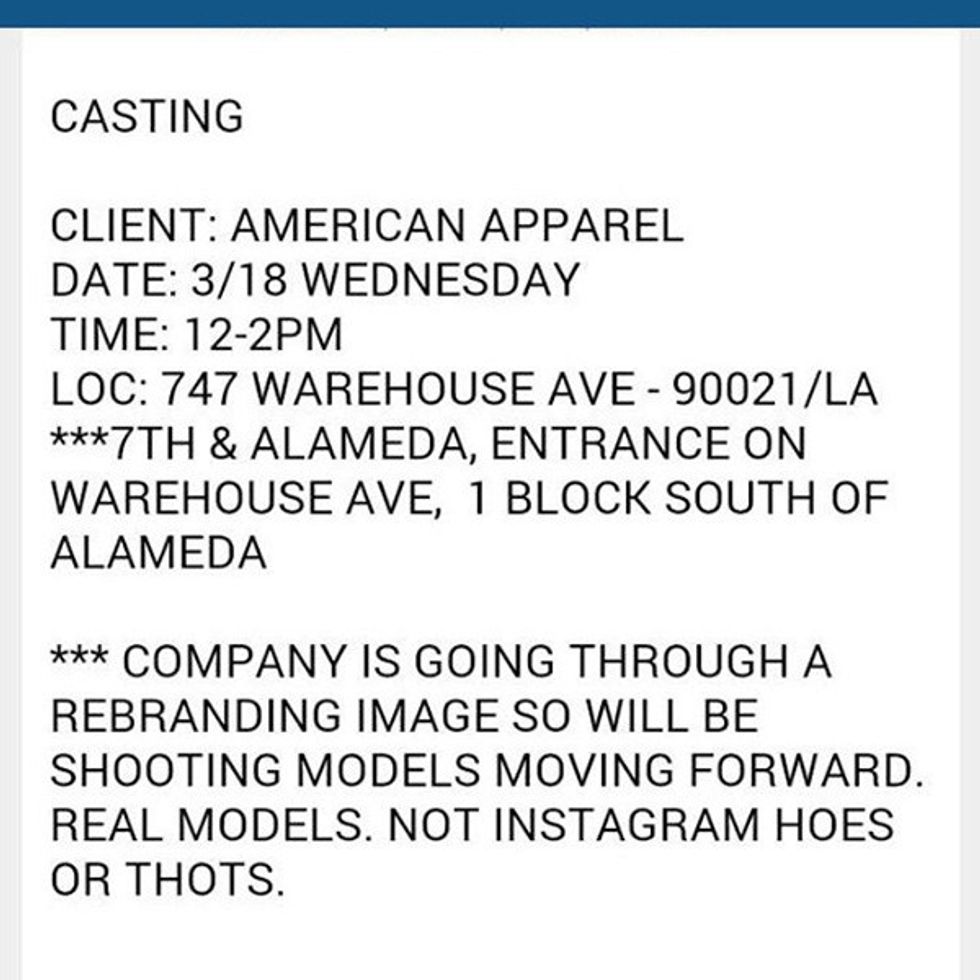 American Apparel is under hot water (again!) after an employee leaked a casting call email asking for "no Instagram hoes or thots" for its ad campaigns moving forward. (For those unaware, THOT is an acronym meaning 'those hoes over there' as defined by
Urban Dictionary
.) The email was sent by Phira Luon who works as the Agency Director for PhotoGenics -- the casting company hired by AA. Luon has since issued a public apology accepting full responsibility for the offensive language used in the email. "The comment made at the end was made in jest with models whom I have a personal relationship with and did not reflect the views, or directives by the client. I apologize to all those who were offended or affected by my comments, as it was not my intention," 
Animal
reports. 
AA is currently rebranding under its newly appointed
CEO Paula Schneider
who is working towards distancing the company from its controversial past while under the helm of
former CEO and founder Dov Charney
. In the past week, the company has initiated a new airbrushing policy, which will alter images featuring exposed nipples and pubic hair from its models. American Apparel Senior Vice President of Marketing Cynthia Erland is responsible for the new policy and is pushing the rebrand for the company to include "real models." But in a completely contradictory move, the employee responsible for the leaked email also alleges that Erland has criticized the models on the company's website as being
too "short" and "round."
The source reveals Erland's plans to cast models "
who look more Eastern European or Russian
," which would completely move away from the company's "regular people" stance.  
What do the current models for AA think about this? Shortly after the story leaked,
Jesse Andrews
, who has been a feature model for the company, released a series of tweets condemning the new CEO and the new direction the company is going. To sum up her feelings (and the rest of America's!) here's a gem from her Twitter rant that we're guessing most people will agree with:
Shout out to @PhotogenicsLA for sending this sick email about AA models. Go fuck yourselves pic.twitter.com/Vp1RKX3Jfy

-- Jessie Andrews (@jessieslife) March 23, 2015
[via
Animal
]