We here at PAPERMAG.com are devoting the final week of our January Health & Wellness month to interviews with awesome plus-sized models who are challenging body norms, one misconception and major campaign at a time. Check back every day this week for more insights on the industry, new burgeoning body-positive movements to check out and more to kickstart your year the right way.
Tess Holliday is the world's first size-22 supermodel, a fashion designer and the fearless leader of the multiplatform #EffYourBeautyStandards movement, and somehow the busy beauty still found the time to answer a few questions over the phone for us. Tackling everything from the lack of racial diversity in plus-size modeling to her own start in the industry (not to mention why she just wouldn't take "no" for an answer), Holliday addresses all the questions, knocks down all the stereotypes and brushes off all the haters below in our exclusive Q&A. Read on for more body-posi realness.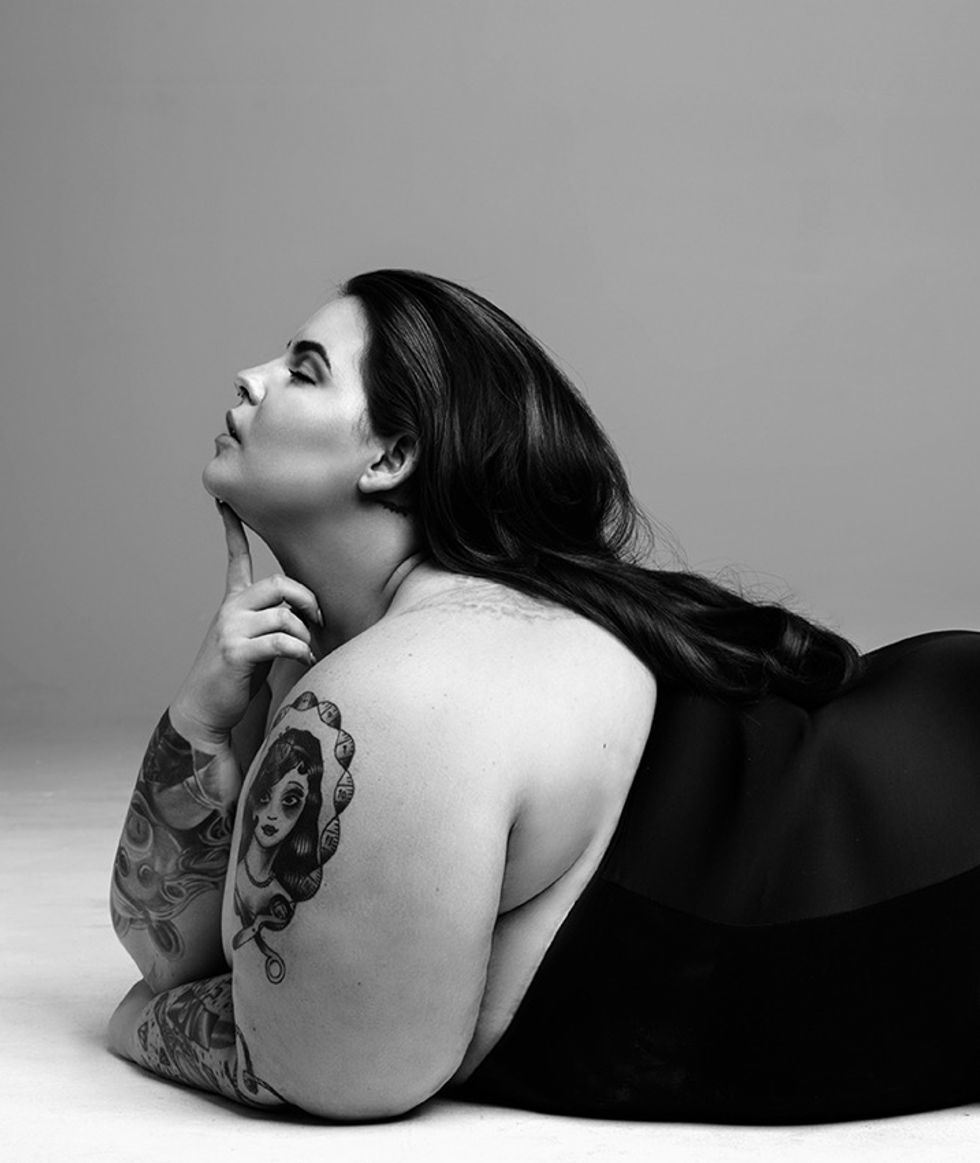 photo by Catherine Harbour
How did you start modeling?
I was kind of scouted. I was dating someone at the time and I had taken photos for him. They were just headshots, they weren't, you know, the proper style...like I was really into the pin-up, rockabilly look at the time -- but I posted the photos on Model Mayhem and a casting director saw them, and asked me to come in for an audition. So I went to the audition, and I ended up getting the job. It was my first casting, and it was a TV show, so I was basically used on all of the print ads and all of the billboards across America, in every major magazine. That was my first job. I had no clue what I was doing.
Were there any particularly experiences or people that prompted you to model, or got you first started thinking about it?
I've wanted to model since I was a kid. And then I saw photos of Mia Tyler and Emme, who was the first plus-size supermodel, when I was about 15. But I actually didn't even know there were plus-size models. I had always been told that I was, you know, pretty, and I didn't do well in school because of bullying, so I thought, 'maybe I'll try modeling.' I was very unsuccessful because of my height and my size, though... no one was really interested in using someone like me. I think what prompted me later in life was the thought that there was no one who looked like me. It all started to take off in 2009 and 2010, though -- I started to see the plus-size models on social media and see that they were real. They were actual people, not just in magazines or whatever, but actual people with personalities. And then I realized there was no one that represented [plus sized women] -- a large majority of women in America and the world.
So you obviously wanted to help fill in that gap.
Yeah, it pushed me even further. I mean, I'm very stubborn -- anyone in my life will tell you that -- and I don't always listen to the people around me, which isn't the best thing, but I think I was really interested in the fact that I "couldn't" and I thought, "Why can't I?"
What have been some of the biggest surprises, good and bad, that you've discovered about the modeling industry and fashion industry since you've started?
I think that some of the biggest surprises I've had early on, actually to this day, are all the misconceptions about my body and my health. There are so many people who think that being a plus-size model, that there's something wrong with it, or that I must be unhealthy or that I'm promoting an unhealthy lifestyle. And at first it was very hard, and I blamed it on myself, and then I thought...my health is none of their business, I'm modeling for this clothing company, so why are people dissecting my body and telling me that I can't wear some things? That I can't look a certain way because of my body? And I did combat that for awhile, and argue with people about that, but ultimately it's kind of like banging your head into a brick wall. If people are committed to that theory, I'm not going to change their mind. But there people who look like me, and feel like me, who feel like they don't have a voice, and that encouraged me to keep going.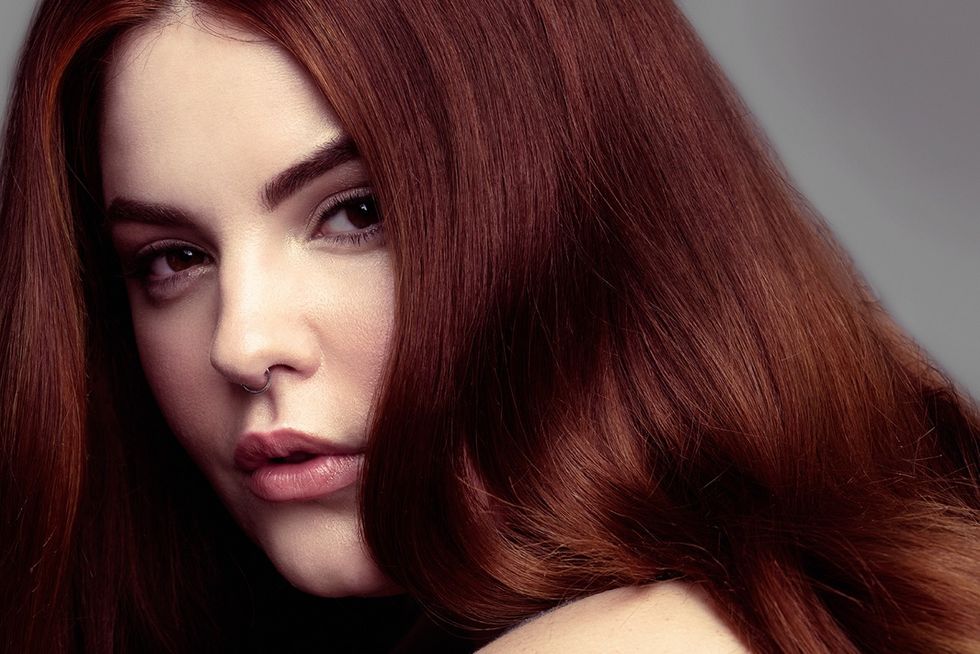 photo by Catherine Harbour
That amazes me, too. That people in 2016 still feel like they own women's bodies and that they have the right to comment on shit that has zero to do with them.
Unfortunately, the Internet's given people, a platform...I mean, I've obviously given myself a platform for myself and my career, and if it wasn't for social media [I wouldn't be where I am], but it's also allowed people say the most terrible things that they would never say to anyone [in person], because of the anonymity. That's the really dangerous part about the internet.
Yeah, for sure. On a more positive note though, it seems that plus-size models have finally been getting the attention they deserve. Have you noticed a real shift in more opportunities, or is it only media attention?
I'm working a lot...and a ton of other people I know work a lot, so I do feel like there are more opportunities and that more companies are taking plus-size models. Or having plus-size lines. And even companies that don't necessarily feature plus-size clothing are using more diverse models in their campaigns. I think the media has had a huge impact on all of our careers. But yeah, I definitely think that there are more opportunities, I just wish that it was more diverse. It would be nice to see different body types, and different genders and races in the plus size industry like we see in the [sample size modeling].
Speaking of which, I know a lot of people obviously don't like the term curvy, or plus-size, but I'm curious to know what you think.
To be honest, myself and several other plus-size models happily embrace the term. It's hard for me when I see people who want to ban it, and they're basically working for plus-size companies and are the face of plus-size brands, yet they don't want to be called plus-size.
What would they prefer to be called, then?
I have no idea...I think the whole thing is actually very silly, because the term has never been used in a negative way. It's never been used as hurtful, it's something that's basically just for women to kind of find where they want to shop, I guess. I do think it's very important, especially for young women who are kind of coming into their bodies, and older women who are becoming more OK with their bodies, to have terms for being bigger. When they look online, or look in magazines, they see that label, or see that term, they feel like they're not alone. They have something to identify with. I'm really a firm believer in calling it what it is. And I don't really see anyone losing sleep over the fact that they're called plus-size.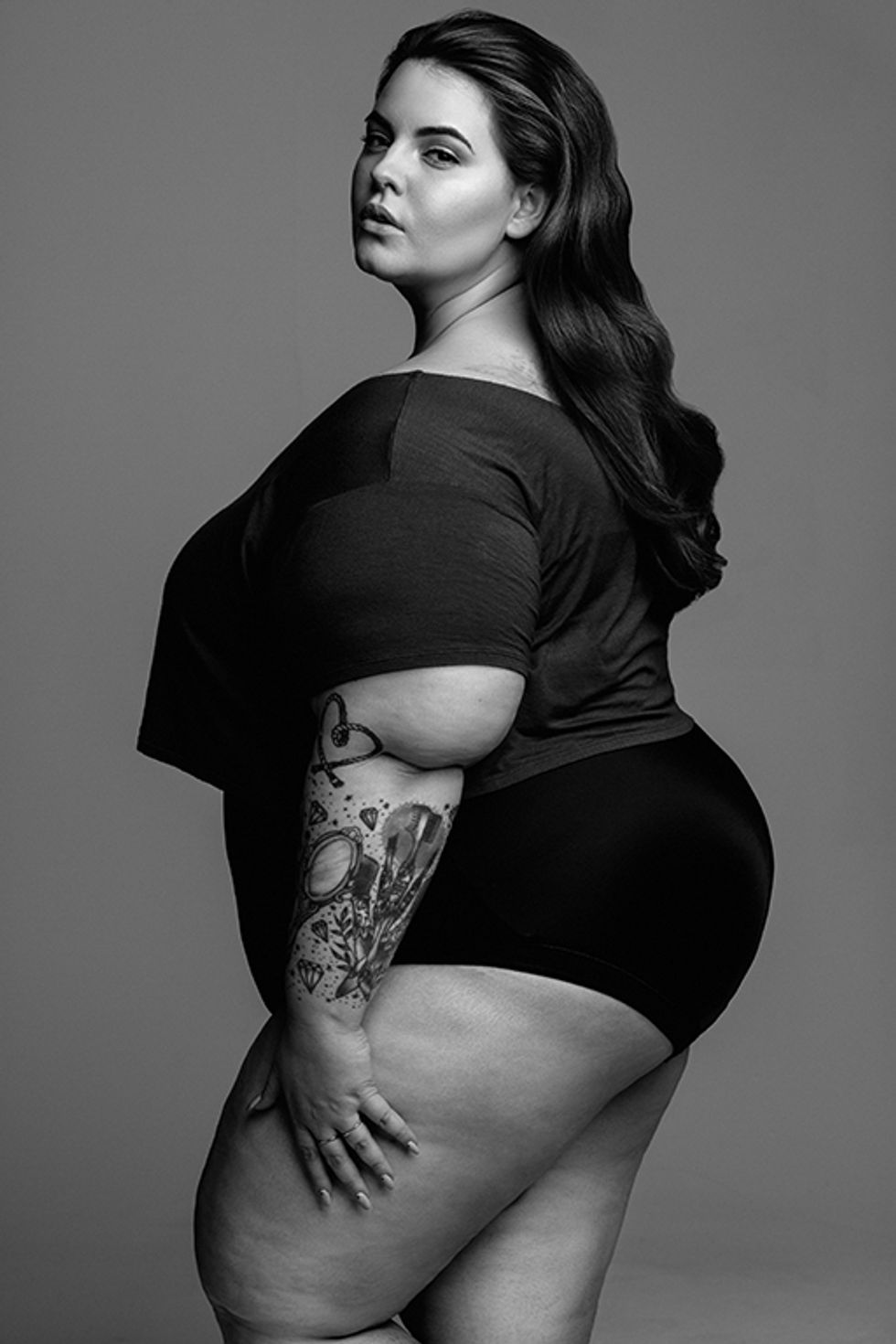 photo by Catherine Harbour