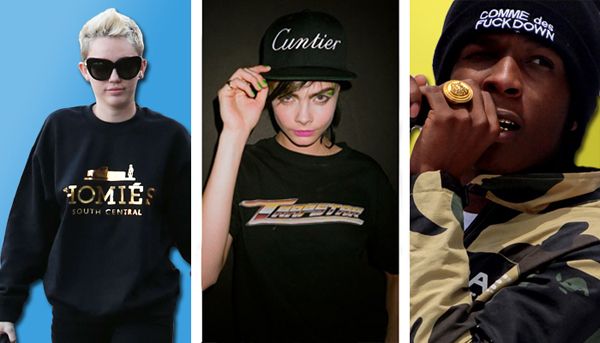 Lately, whether at VFILES Fashion Week ragers, art openings at The Hole or Coachella pool parties at The Ace, you can't help but notice cool kids in t-shirts, hoodies or beanies that riff on high fashion labels. Although logo parodies have always been a big part of the streetwear aesthetic, they seem to have reached a new peak as of late. And, unlike older designs that played around with corporate logos, the more recent crop of parodies have steered away from the mass market in favor of recontextualizing luxury brands, eschewing Tide and Ford in favor of Céline and Chanel. (Though the pendulum may be swinging back again as we speak -- apparently nothing's hotter right now than Home Depot and #Been #Trill's Heron Preston has even designed a racing shirt with the big box store's logo brandished on the back.) In many cases, these newer parodies aren't intended as subversions but rather as a way to pay homage to a certain designer or label (see, for example, House of Ladosha's play on the Versace crest, which accessorizes their Medusa with a bandana and sunglasses). At the same time, these designs allow a wider audience to participate in the fashion conversation. For those obsessed with fashion but who can't afford to shell out thousands for a Céline bag or $700 on one of Riccardo Tisci's coveted Givenchy graphic t-shirts, there's now another way to express your fashion savvy. You can buy a "Tisci" or "Philo" jersey by LPD New York, a "COMME des FUCKDOWN" beanie from SSUR or one of Conflict of Interest's "Giraunchy" tees for a fraction of the price instead. For a certain Le Bain-and-Westway party-hopping crowd, these designs have become pseudo-status symbols much in the same way the original luxury items are.
Below, we chat with the designers behind ten brands making the cleverest high-fashion parodies at the moment. Brands are listed in alphabetical order.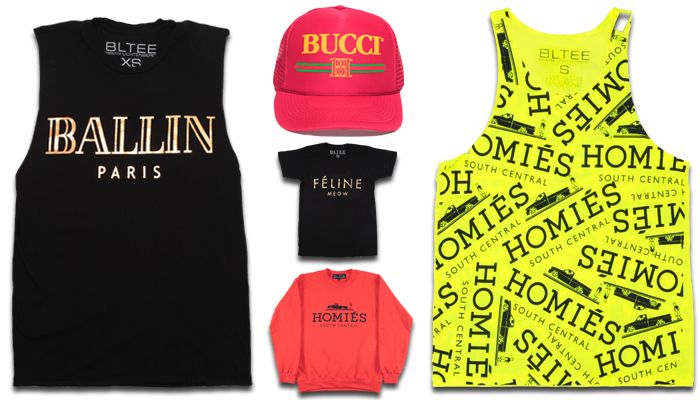 1. Brian Lichtenberg, designed by Brian Lichtenberg
Launched in 2000
Based in L.A.

The [brands I riff on] are all the brands I love, admire, and wear. Especially Celine and Balmain. I wear Balmain jeans every day -- I have over 20 pairs."

What is your design/fashion background?
I've been obsessed with fashion since high school. I took a sewing class when I was 16 to learn the basics [but] other than that, I'm self taught. It's very intuitive for me.
What made you first want to design shirts, hats and sweatshirts that riffed on -- or parodied -- high-fashion logos?
I always loved putting spins on my name -- "Bri-fying" it, if you will. One of my earliest email addresses was 'Brianciaga' a play on Balenciaga. I used to mock up ads as Lichtenberg Apparel based on American Apparel for fun but the first spoof label I actually designed and sold was "No 1 BRIANEL SOUTH CENTRAL" based off of Chanel in 2007.
Have you heard from any of the labels you've riffed on?
None have complained because the [designs] have all been in an uplifting manner and not derogatory. Actually many influential people in the fashion industry -- designers, editors etc. -- have purchased them for themselves. A friend that works at the Céline showroom in Paris just placed an order with me for his whole team.
You can find Brian Lichtenberg designs online.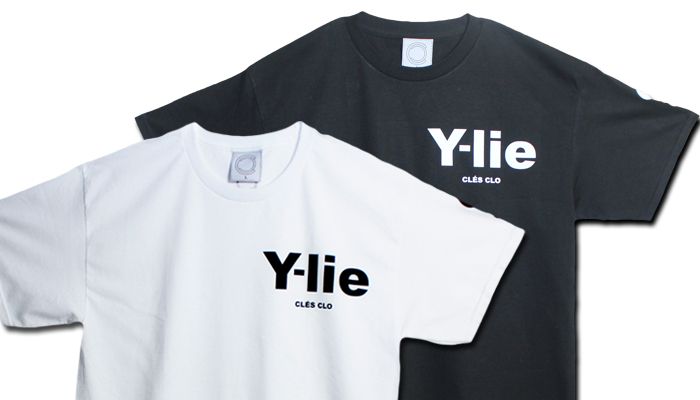 2. Clés Clo, designed by Anwar Keeys
Launched in 2008
Began in L.A. and now based in New York City
"I hope to delve into high fashion/luxury fashion someday."

What made you want to get into streetwear?
Streetwear is what I'm most familiar with. I grew up wearing the "hand-me-downs" from my older brother, who was always up-to-date with the latest trends. Unfortunately, by the time those got to me, I was a couple seasons behind. I find now that I'm always looking for current and future trends in streetwear.
What made you first want to design shirts that riffed on Y-3?
I admire Yoshi Yamamoto and Y-3. My intent in creating the "Y-lie" t-shirt was not to make a parody or riff on his logo -- those two terms can have a negative connotation to them. [Y-3] was an inspiration to portray the ideology behind my brand. I feel like a lot of streetwear fashion has been more conducive to negativity, as opposed to influencing good in the world, so hence, "Y-lie/Keep It 100."
Do you think you'll ever go into high fashion?
I look forward to being in that lane some day, but one step at a time. Streetwear is where I feel comfortable for now.
You can find Clés Clo designs online.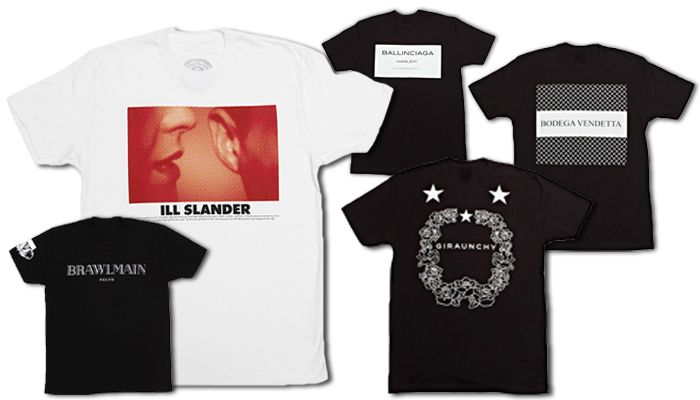 3. C.O.I. (Conflict of Interest), designed by "anonymous agents"
Launched in 2012
Based in New York City
"Our work is not a middle finger to the high fashion world."

How do you choose the brands you parody?
We are definitely fans of the labels that we parody. If we don't love the original house, designer, or logo, we don't touch it. We have also tried to stay away from some fashion houses that we feel are overdone as parodies and to stick to more slightly "insider" brands. We don't mind the word parody but the end result has to be a shirt that has "street-chic" power in its own right.
Have you heard from any of the labels you've riffed on?
The reaction has been for the most part favorable. We heard that Riccardo Tisci had a great laugh when we he saw our "Giraunchy" T-shirt and he has one now. We have also noticed that some of the other brands that we have played with have now started making logo shirts as well in the same straightforward way that we have been doing, so it's another example of the influence of streetwear brands on high fashion labels.
What do you consider C.O.I.'s relationship to be with the high-fashion industry?
We seek to shake things up and add some fun to an industry that has gotten increasingly serious throughout the years. The prices of our tees are in no way related to the price of the original...our "Ballinciaga" tee is in no way a substitute for Balencicaga if you couldn't afford it because at the end of the day, it's not Balenciaga and is not meant to be. Our objective is not to confuse the customer, but rather to create a dialogue on fashion iconography and imagery. Is a Givenchy T-shirt "raunchy?" Is it impossible for a prestigious fashion house to be based in Harlem?
You can find Conflict of Interest designs online.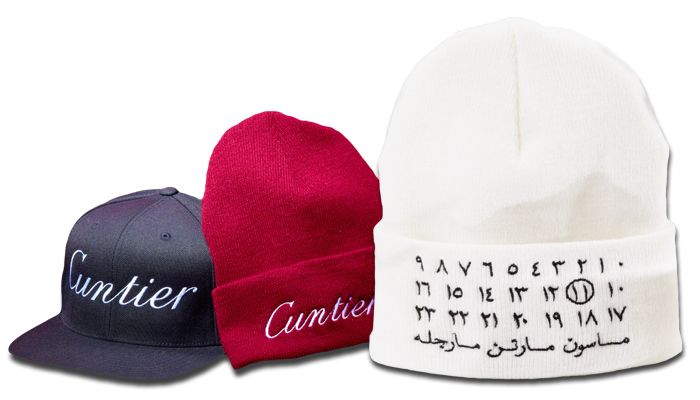 4. KTHANKSBYE, designed by Fahad Al-Hunaif
Launched in 2012
Based in New York City
"I actually never intended to launch a fashion label."

What made you first want to design hats that riffed on -- or parodied -- high-fashion logos?
My CUNTIER hats were inspired by a trip to a Cartier store. A friend of mine had a bad customer experience, and in a pissed off state she said to me "what cunts." And then it just triggered.
Have you heard from Cartier about your designs?
Yes, they were not happy at all. I was told to cease and desist.
How did you come up with your Margiela-inspired beanie?
With Margiela, it's different because I was conscious about creating more than just a "parody." I wanted to see peoples' reactions to a familiar logo that is not in their language. It's crazy how a visual arrangement of words can become so recognizable despite the language change -- I believe my new hats are not necessarily a parody but a compliment to Margiela.
You can find KTHANKSBYE designs at American Two Shot.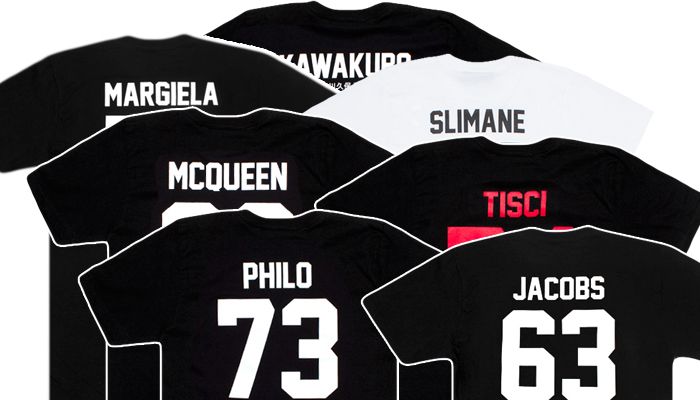 5. LPD New York, designed by Benjamin Sydney Fainlight
Launched in 2012
Based in New York City
"Riccardo Tisci posted a picture of the Team Tisci shirt on his Instagram a few weeks ago, and a bunch of people from the Givenchy Paris office bought them when they first came out."

What is your design/fashion background?
I've worked in fashion for around five years, doing all sorts of jobs. I've done PR, sales, buying, styling and all sorts of stuff for high-fashion companies like Lanvin, Givenchy, Barneys, Alex White, W Magazine, and a few others. I used to make womenswear before all that, but decided I wasn't really into it enough to make it a full-time commitment.
What made you first want to design jerseys and how did you come up with the idea of putting designers' names and birth years on the back?
I had the idea one night last year when I realized there was no way for someone to show they loved a brand like Céline except for spending a couple grand to buy a Luggage bag or a runway jacket. The whole jersey concept seemed to make sense because it's an easy and direct way to show your love for [Céline's] Phoebe Philo, and it implies savviness because only some of the people who see you will know what the shirt means. I also love jerseys because they're something iconically street and American, making the combination with high fashion names and brands a nice collision of worlds.
What's next for you, fashion-wise?
Obviously, I have higher aspirations than making jerseys forever, so this is the first step for me. But I [also] think the whole fashion world can become confusing and overwhelming, with people moving, brands changing, and infinite trends to keep up on, and that's part of the reason I went with the t-shirt idea. It's pretty classic and clean -- there's nothing to show you got one in 2012 as opposed to 2013, so there's no seasonality or hierarchy in that way.
You can find LPD New York designs at VFILES (NYC), Browns (London), Fred Segal Conveyor (L.A.) and more.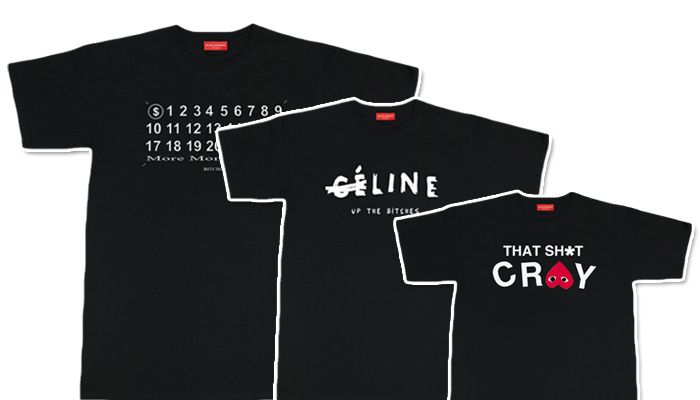 6. Michael Agwunobi, designed by Michael Agwunobi
Launched in 2012
Based in London
"Streetwear is what's in right now -- everywhere you look, it's what people are wearing. Even high end brands are taking inspiration from streetwear."

What made you first want to design shirts that riffed on -- or parodied -- high-fashion logos?
[I was] playing around on Photoshop out of boredom. Everything just started as a hobby -- something I just did for fun.
What was the first brand you riffed on?
It was Comme des Garçons. I first made the "That Sh*t Cray" [shirt] when Jay-Z and Kanye West's Watch the Throne tour was taking place and I wore it to their London show.
Have you been surprised by how popular your designs have become?
Yes very, because this is something I just started designing in my bedroom for fun, thinking that no one would care or take any notice of [my designs]. Now they're getting attention from all corners of the globe, which I am very happy about.
You can find Michael Agwunobi designs online and at The Fancy (NYC).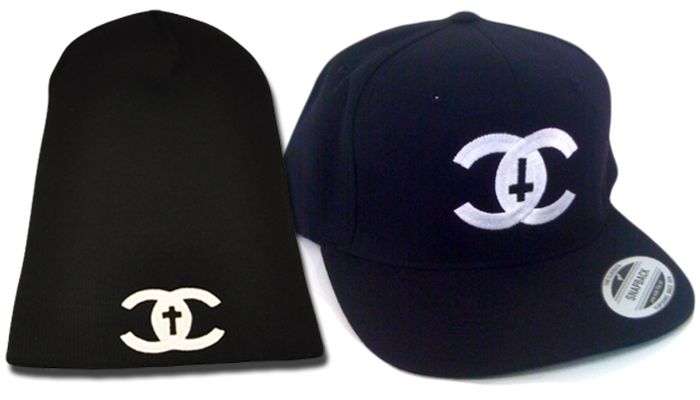 7. Nvr Mnd Us, designed by Trey LaTrash

Launched around 2011
Based in New York City
"I was first drawn to streetwear because it's what me and my friends wore...also I lack the ability to kiss ass so high end fashion was not an option."

What made you choose Chanel to play with their logo?
I wanted to see their logo achieve its true potential of deity status. I felt like the inverted cross was the cherry on top! It gave the logo a pardon for all their war crimes against humanity.
Have you heard from Chanel about your designs?
Yes. I received a letter asking me to stop. They were very nice about it.
What are your thoughts on high-fashion and luxury brands in general?
I love high-end luxury brands [and] their ability to create the illusion of the perfect unattainable lifestyle! They are the masters of the golden carrot, which they dangle in front of consumers, daring them to reach for it. It's diabolical! But I'm definitely inspired by aspects of the luxury market. Things like presentation, design, marketing etc. I both love and hate the fact that a high-end brand can charge $400 for a product that cost $6 to make. But I also think designer goods are a kind of golden calf and that pretense outweighs quality more and more every day.
You can find Nvr Mnd Us designs online.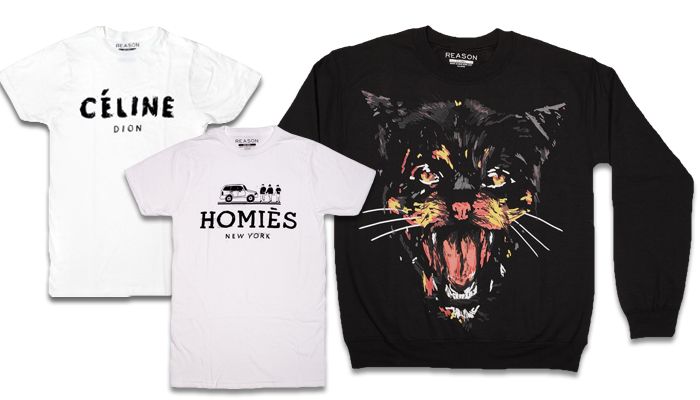 8. Reason, designed by Jon Price Totaro and Phil Bassis
Launched in 2004
Based in New York City
"We don't want to parody anyone who doesn't have a good sense of humor."

What made you first want to design shirts, hats, sweatshirts that riffed on -- or parodied -- high-fashion logos?
We've been making cool, tongue-in-cheek graphics for almost a decade -- the concept of flipping a classic logo into something fun and wearable is nothing new for us. In many ways the trends have caught up to what we've been doing for some time now.
What are your thoughts on high-fashion and luxury brands in general?
We are absolutely fascinated and captivated by high-fashion and luxury. Our Reason Outpost store in NYC carries vintage pieces from many of the brands that we look up to.
Have you ever gotten negative reactions from Hermés, Givenchy or Céline?
We appreciate and respect that these are all brands with amazing histories behind them. If anything, our satirical graphics are probably enhancing their identities. No customer in their right mind is confusing our products with any of the brands that we might riff on.
You can find Reason designs online, at their Outpost store (436 E. 9th St., NYC) and more.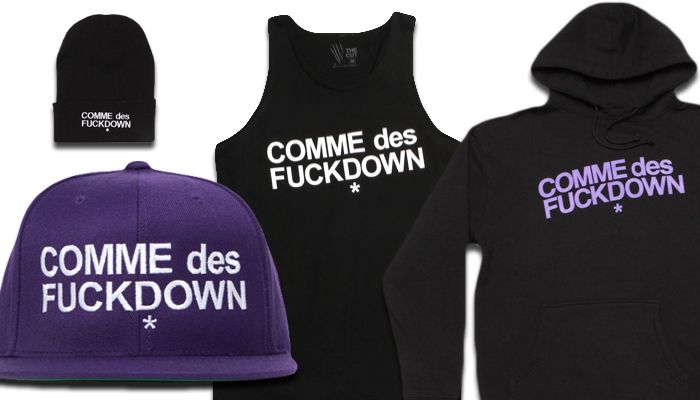 9. SSUR, designed by Russ Karablin
Launched in 1994
Based in New York City
"We were just blessed to be in the right place at the right time."

What is your design/fashion background?
The love of art and the desire to create. Coney Island. Brooklyn. Madhattan. NY. TV. Movies. Kung Fu flicks. Bruce Lee. The mob. Black market luxury. High fashion.
Have you ever heard from Comme des Garçons about your design?
Yes, and from the conversation, they were quite entertained and liked it waaaaay more than I expected. I took the correspondence as a blessing from the source. Though I believe with all the bootlegs and the amount of attention it's gotten, it's probably a bit vexatious at this point.
Were you surprised by how popular "COMME des FUCKDOWN" became?
It was popular at its conception close to a decade ago, but we didn't produce enough for the demand the first time around. The popularity escalated when we re-released it with the hopes of reaching a broader audience. I never expected the amount of attention that particular design gained. The timing was impeccable and in alignment with the now pop icon [A$AP Rocky] who helped it snowball into an avalanche because of his own leap to stardom virtually overnight. This made CdFD* a signature piece of Always $trive And Pro$per.
You can find SSUR designs online.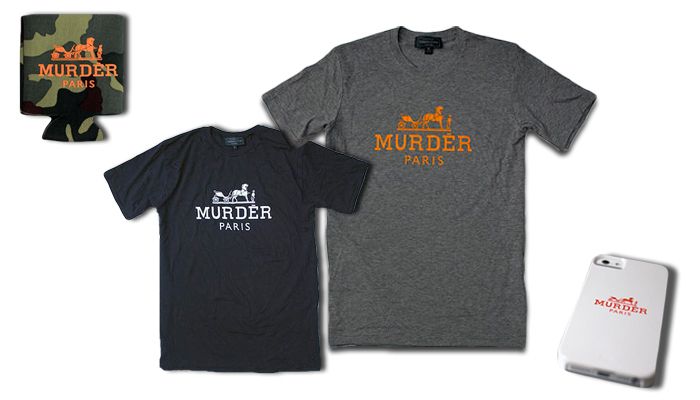 10. This Is Not New, designed by Jack Rael
Launched in 2012
Based in L.A. and Santa Fe, NM
"I have always been critical of bourgeoisie culture and ostentatious symbols of wealth."

What made you choose to get into streetwear?
It is so much more accessible in so many ways. The avenue for getting a message out is wider. From rappers to runway models, you see everyone wearing streetwear staples like t-shirts. In my eyes, it is what graffiti is to art. Streetwear is the democratization of fashion. I love that aspect of the medium.
What are your thoughts on high-fashion and luxury brands in general?
It's a love/hate relationship. I love the well-made things that come from luxury brands and I respect the craftsmanship and humanism behind them. On the flip side, as symbols, they are disgusting. Also, the huge corporate entities and modern day aristocracy that exists at the top of the high fashion world is repulsive to me.
Have there been any other logo riffs besides Hermés?
We also did a Goyard/Godard riff, mostly because I am obsessed with Godard's films and wanted to find a way to subliminally highlight a real French icon worth advertising. Basically the message was, "Fuck buying leather goods, go watch some French New Wave."
You can find This Is Not New designs online.

Photo illustrations by Isabel Alcantara