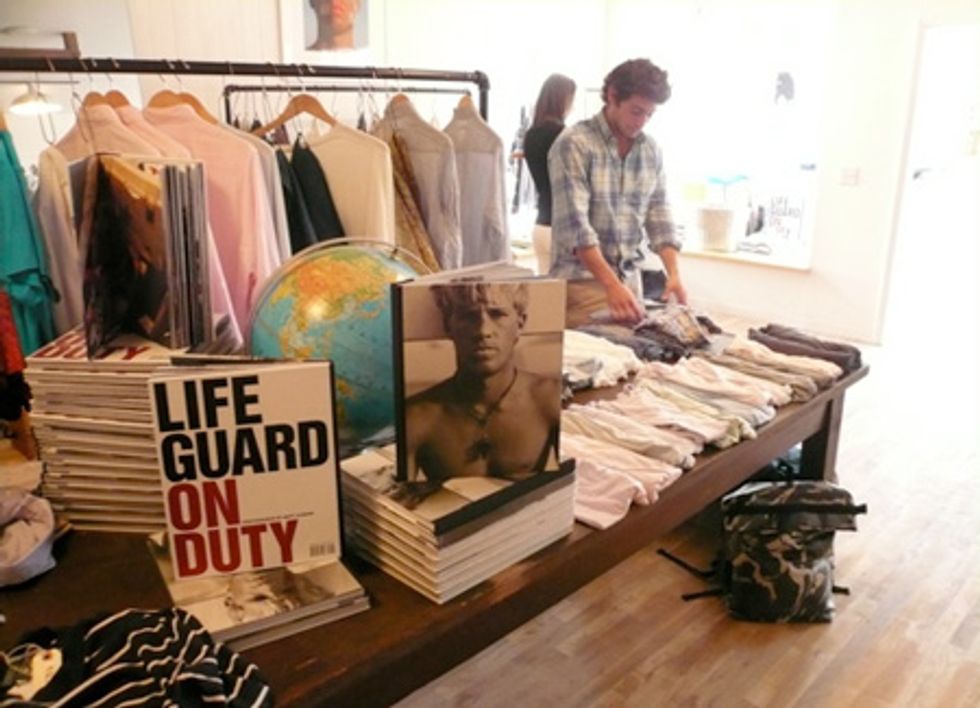 A quick promenade through posh Southampton and any observant style-obsessed gent will notice that there seems to be an unspoken dress code when it comes to putting a look together for a little stroll in the village. The ocean of pastel colored pants, suede driving shoes and fitted gingham shirts will make your head spin and your once seemingly unique attire will blend in as quickly as guzzling down a lobster roll. Shopping in SH has never really been particularly an adventurous experience especially if one is determined to find vacation-gear with a little personality. So it is feverishly exciting that during a cloudy afternoon last weekend I stumbled upon a small boutique that happened to carry an exclusive and well-curated selection of the brightest emerging American labels.
T.B.D opened its doors late June 2009 with the mission of bringing stylish relaxed apparel to an otherwise homogenous fashion habitat. Jesse Warren and Peter Hananel, the young entrepreneurial minds behind the pop-up store, had never really worked in the industry before creating the Job Lanes outpost. The Brown and Emory alumnus grew up together and having worked in the private equity sector for longer then they had hoped decided to get back into the creative realm.
The small but inviting space sells a highly curated selection of items from clothes to hand-made surfboards, art and design pieces, books and magazines. Amongst the fashion labels stocked I found a selection of Rag & Bone button downs, baby blue Unis short shorts, a durable Save Khaki tote, a hip purple plaid Gitman Vintage shirt, a comfortable and fashionably conscious pair of Tom's Shoes and topped it all with some retro shades from SUPER Sunglasses.
If that wasn't enough for the limited square footage, the boys have also partnered with a few designers to decor the place with original industrial furnishings and have cleverly used their store to promote (and sell) the work of young artists. Currently adorning the white walls are the pure-eye and soulful prints of east coast ocean guards clicked by talented fashion photographer Matt Albiani for his first book, Lifeguard on Duty.
T.B.D
67A Jobs Lane
Southampton, New York