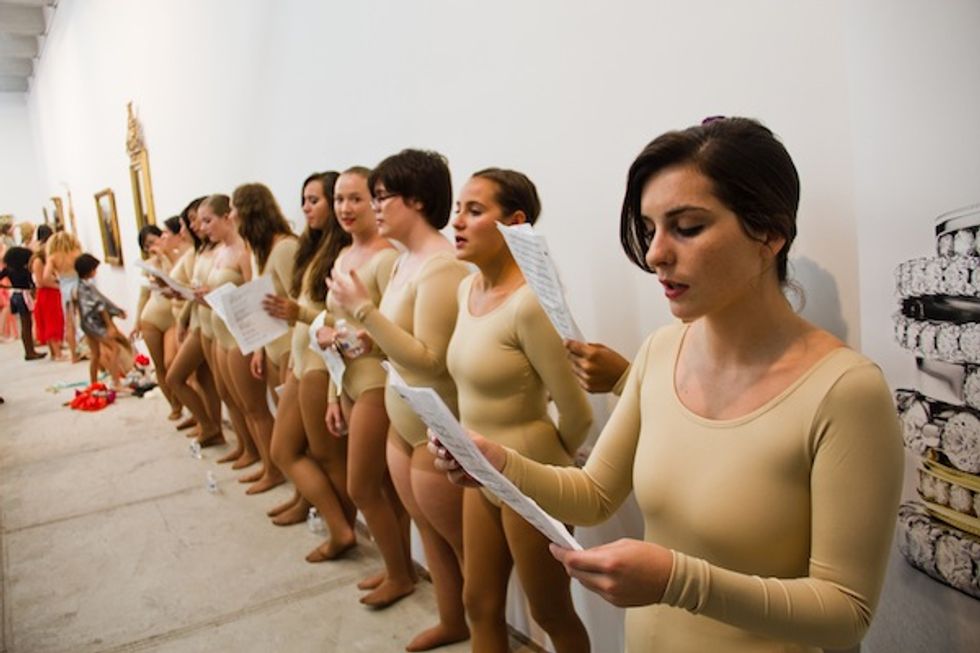 Imitation of Christ designer, actress and multimedia performance artist Tara Subkoff is as much a figure in the art world as she is in the fashion world. Known for her "social experiments," typically held during New York Fashion Week, Subkoff's live performance pieces include themes of celebrity, media sensationalism, dependency on technology and consumerism. Below, Bettina Prentice writes an introduction on Subkoff's most resent Fashion Week performance at Bortolami Gallery followed by a piece written by Melissa Bent for Subkoff.
Tara Subkoff presented her latest work,
This is Not a Fashion Show
, during New York Fashion Week earlier this month at Bortolami Gallery. The performance included sculpture, installation, found objects, and performers aged 8 to 70 dressing and undressing in front of gilt mirrors and fretting over their reflections, one woman riding a stationary bicycle while glaring into a mirror with self loathing. In the adjacent room,
Subkoff
presented two video pieces. One video was an amalgamation of advertisements reflecting the statistic that a woman will subconsciously or consciously see over 3,000 ads every day, many dictating her appearance. The second video featured a pregnant and nude Vanessa Beecroft talking about her body image and her own practice which focuses heavily on the female form, identity politics and voyeurism. In the shadow of both videos semi-nude women posed in glass masks and clothing
Subkoff
created in collaboration with glass artist Ivan Mora

-- Bettina Prentice.


*************
The scene was typical, art fair-esque with wooden crates and chaos before an installation. What was not, were the swarms of women that came and sat quietly awaiting direction. Young. Very young. And old. Very old. Twenty-three antique gilded mirrors were installed in the main gallery. A duel video show and performance was being organized in the smaller room. Bizarre glass props were being unwrapped. Tara Subkoff took charge. Things were coming together.
Opening night was electric. A palpable street energy that snowballed upon entering the gallery. Song. Seasonal song, taken out of its season was sung. Like a blanket on the experience, the whole place was cast under a gentle spell sung by Siren's in nude leotards and tights.
Part 2: The Women.
When I was 17 a small intelligent child asked if I was a teenager or a woman. I was a teenager! A finite capsule for any human, though at 34 I'm still wondering about my limits. The scene at Bortolami was a lens upon how women perceive themselves through all stages of life. The mirror be my guide. Nan's mirrors, Cindy's cameras, Barbara's texts. Subkoff presented her work in real-time flurry. Changing, arranging, applying and denying. It was an incredible spectacle of what could be imagined is taking place in every woman's home as she's preparing to present herself, her own image, to the world at large. Every morning, every evening. You look fat in that.
Part 3: The Reality.
In the smaller room there was the perversity of the images we women are projected upon. The information that is directed at us as real beauty and real allure. The cruel truths. The ugly dysmorphia. Subkoff manages to maintain lightness as she forces profundity upon the viewer. Humor, however dark, is the slight of hand she implores to convey these messages of vanity, fragility and ultimately expiration.
I left in search of a bowl of pasta and a book on the apocalypse.
--Melissa Bent
Below, see photos from
This Is Not a Fashion Show
by photographer Cheryl Dunn and a video from the performance.