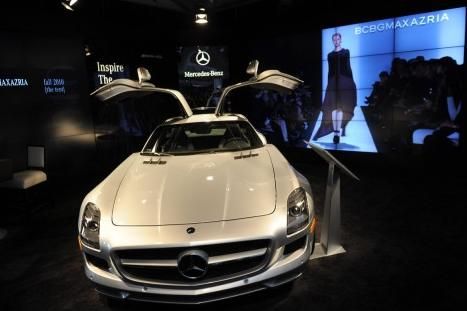 Tamara Warren writes about the automotive industry for her blog GoTryke.com. She'll be blogging about the intersection of cars and culture for PAPERMAG. Her first installment tackles 2010 Mercedes-Benz Fall Fashion Week.

The first brand the fashion industry types come across at Fashion Week is not Halston, Rodarte or Marc Jacobs. That distinction belongs to event's title sponsor, Mercedes-Benz,  whose logo has become synonymous with closeups cutaway shots at Bryant Park. At the overcrowded tents this week, the traffic-stopping Mercedes-Benz SLS AMG and Mercedes-Benz E-Cabriolet (pictured above and below) managed to cut a sharp figure.  Specialists were on hand to deliver the details about the new convertible, which goes on sale later this year, for those who wandered close enough to take a peek while they were waiting to be herded into the show of the hour.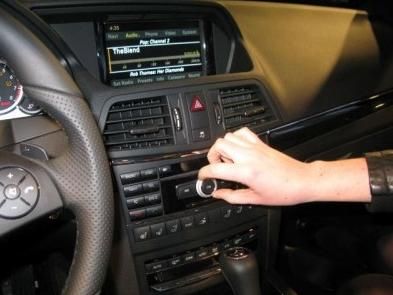 While some would argue that fashionable women and men could care less about cars, the title sponsor adds to the week's glitzy ambiance -- hinting at a world where the finer things in life are indeed still a possibility. As the last of fashion week's shows commenced, details were being finalized for the automaker to move next year's Fashion Week to Lincoln Center. "We're in discussion over a multiple year contract," says Lisa Holladay (pictured below), manager of brand experience marketing at Mercedes-Benz USA, of the new venue. "Lincoln Center will be great because of the fact that we have big sexy cars to move, and it makes it easier for us to actually drive the cars."
Faced with cost-cutting measures, the fashion industry is particularly reliant on the Mercedes-Benz Presents Designer program, which carries a certain amount of cache. (Yigal Azrouël, Chado Ralph Rucci, Badgley Mischka, Diane Von Furstenberg, 3.1 phillip lim, Michael Kors, Tommy Hilfiger and Narciso Rodriguez have participated in the past). This season, the program centered on the pairing of Rodarte and Alexander Wang's collections with photographer Nick Knight's SHOWStudio.

During Fashion Week, Mercedes found clever ways to connect with prospective customers through invite-only online groups like Generation Benz. Select members were invited to Bryant Park to witness the action up-close from the vantage point of the Mercedes-Benz backstage lounge (pictured below). Wedged between the IMG and W Hotel lounges, celebrities, newscasters, fashion editors and a few designers came in ant out of the sleek space for a cocktail and place to plop down. Though there was a bit of tittering when someone new strode through the door, the visitor didn't seem to make a lasting impression. "What show is he on?," someone whispered. "Oh, I don't watch Gossip Girl."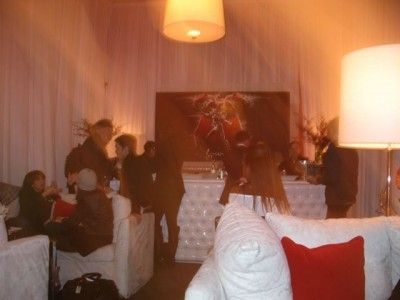 For more of Tamara's cool car-related musings, check out her website, gotryke.com