On Tuesday Bassen's instagram there are cheerful photos of chenille strawberry patches, skater girls wearing rainbow print bikinis, and pins with phrases like "erase you" and "mixed emotions club." The Los Angeles-based designer shares images of her work with over 156,000 followers, who comment with excited, emoji-laden text, eager to buy her pins and patches. In early 2016, after discovering that Zara had copied the majority of the designs in her 2015 line and one-third of her permanent collection, the designer took to social media to speak out against the global fashion retailer's theft, announcing she would be taking legal action against Inditex, their parent company. So far she's spent over $2,000 in legal fees, and her lawyer has sent a cease and desist letter. Zara, along with other fast fashion companies like Forever 21, Brandy Melville and River Island, have long been ripping off indie artists' work; in this case, more than 20 other small businesses have had designs stolen.
Adam J. Kurtz, whose work was also stolen by Zara, recently launched the website shop art theft to document the extent to which this intellectual property theft has impacted the independent artist community. Many of the small-business owners and artists affected, including Bassen, were in San Diego attending Comic-Con when the site launched, so Kurtz became a sort of "media response, mission-command," as he told us over the phone. He created photo comparisons of the original designs, side-by-side with Zara knockoffs, and posted them to the site; since then, these materials have been circulated widely online and will be used to build the case.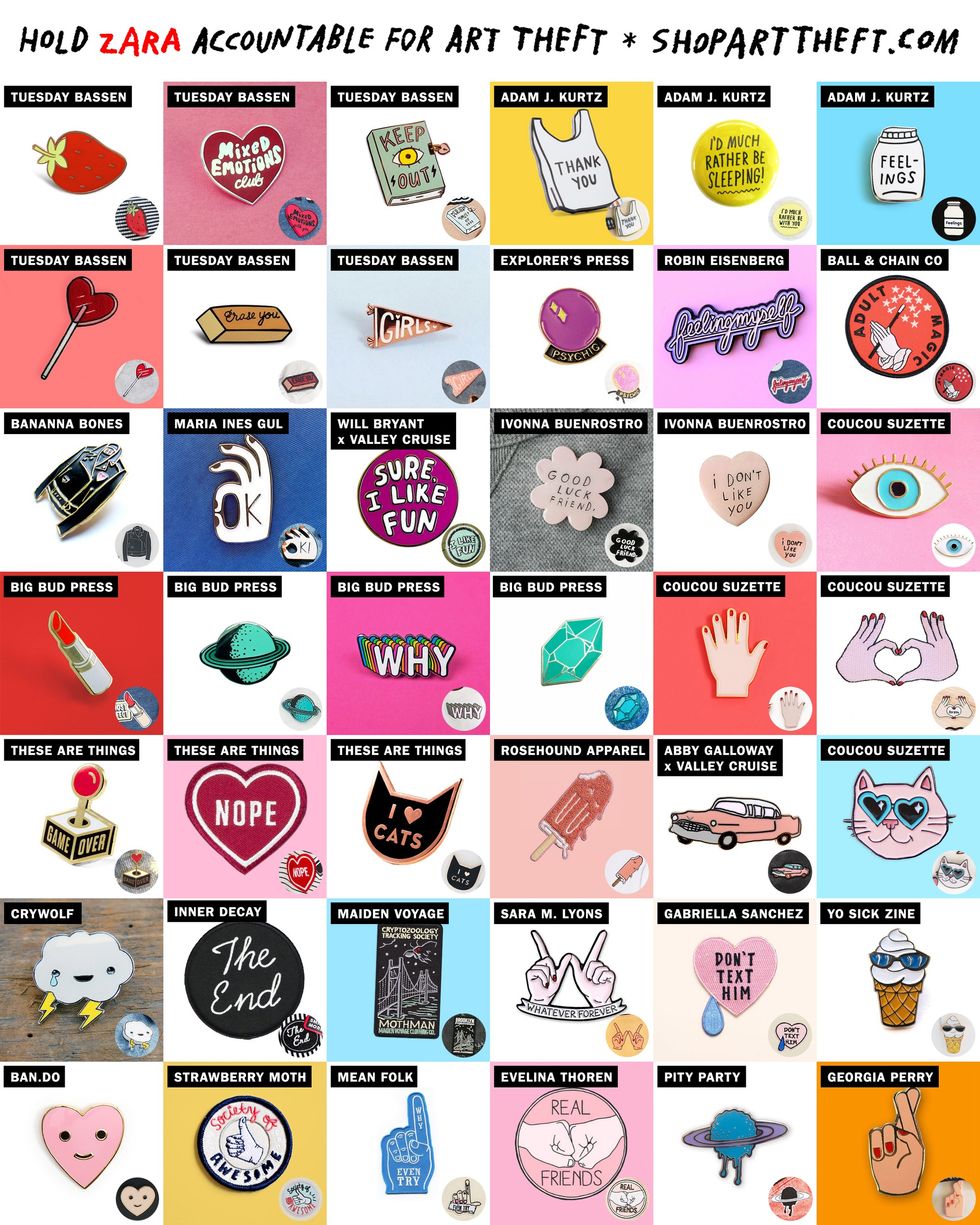 Courtesy of Adam J. Kurtz and shoparttheft.com
When asked where Zara found her designs, Bassen responded over email: "I have absolutely no idea. All of the work that they used is in my store, ShopTuesday.com, so their theft equalled approximately 1/3 of my permanent catalogue." Using Instagram hashtags, old Tumblr posts, and Pinterest search terms as core resources, Zara has been methodically and ruthlessly determined in tracking down these designs. "It's wild, it's intentional, and someone had to put in effort" to steal these designs, said Kurtz, who figured out that Zara stole one of his pin designs from an image that appeared in a small-batch zine distributed in 2012. As the Melbourne-based artist Georgia Perry, who's crossed-finger pin was lifted by Zara, wrote to me over email: "We're all too connected, and the internet is too powerful for this to go under the radar anymore."
When asked whether he thinks the uproarious response on social media platforms and across global news outlets will deter other corporate brands from stealing indie artists' work, Kurtz responded affirmatively: "When we win this case, it will set a precedent." He continued, clarifying that "'indie artist' doesn't mean some 'oh woe is me,' making art in my parents' basement" archetype. These are award-winning authors, freelance illustrators, product designers, and fine artists, many of whom are friends with one another and close collaborators.
As Anaheim-based artist Sara Lyons, who's had designs stolen from Stradivarius and Brandy Melville, in addition to Zara, shared over email, "It's definitely been a relief to have so many other artists involved in this to commiserate with. I've had this happen a zillion times and it feels so much less overwhelming when you're going through it as a group." Perry noticed "a nice and unexpected upside to the whole thing," which is an uptick in her Instagram followers and overall sales.
Some artists have started Go Fund Me accounts, but most decided against that route, because it didn't feel like the most effective or appropriate solution. As Kurtz pointed out, Zara needs to be held accountable, and "this is past the change dot org phase." Bassen urged people who want to take action "to help artists raise awareness by talking about it, tweeting, and posting on Instagram." She continued, "This is a case where the world's largest fashion retailer feels they are entitled to free artwork because they are too big to be challenged. We need to show them that small pushes back just as hard."
To support the artists, visit shoparttheft.com, and follow them on instagram, twitter, and tumblr.
Splash photo courtesy of Adam J. Kurtz