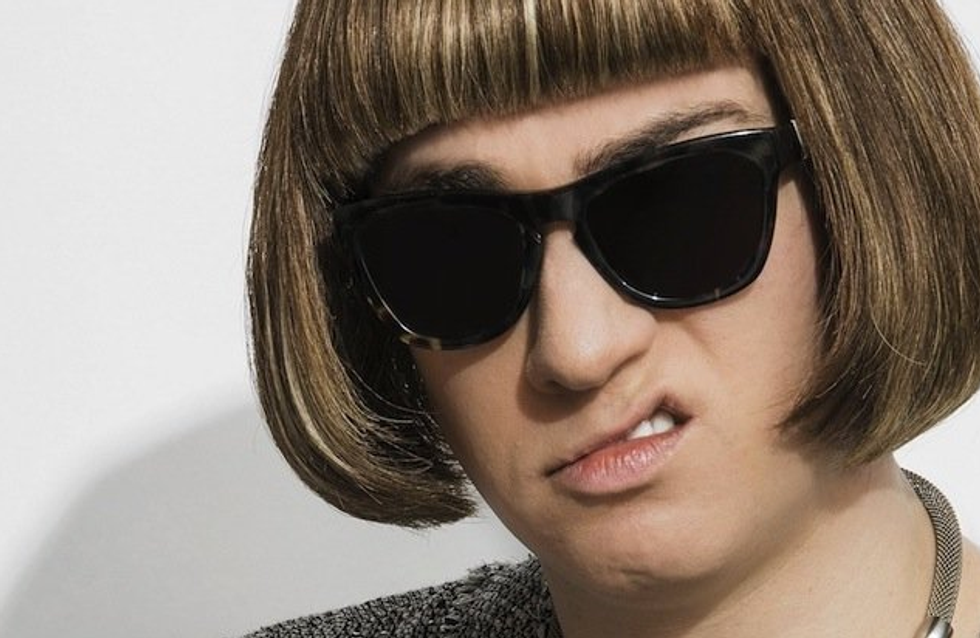 [Photo by Andrew Werner]
Anna Wintour is an untiring powerhouse, seemingly untouched by the mundane realities the rest of us plebians face. Her impassive, shaded eyes and stern expression could kill (or at least destroy careers), but in comedian
Ryan Raftery
's one-man-musical, "Ryan Raftery is the Most Powerful Woman in Fashion," we see a more human side of the icy editor -- one where she fears losing her job, suffers from chronic constipation and hides booze beneath her desk.
Dressed as Wintour in drag, Raftery lampoons the stalwart fashionista, singing and dancing about
Vogue
and what will happen now that she put Kimye on the prestigious magazine's cover last April. We caught up with the comedian ahead of his final show at Joe's Pub tomorrow and heard his thoughts on the show's origins and that time Wintour's daughter came to his performance.
What sparked the idea to create a show centered on Anna Wintour?

I've been doing one show a year for the past six years, and when it came time to think of the next one, I just happened to be in Midtown and was standing on a corner waiting for the lights to change. I looked to my left and Anna Wintour was standing right next to me. It was summer and she had on her usual uniform: the sleeveless dress, a necklace, helmet hair and sunglasses -- it was too much. Instinctively I said, "Good morning, Anna" and even behind her sunglasses, I could tell she was grimacing and she walked away as soon as she was able to realize she didn't know me. She didn't say a word, but it really got me thinking.

Do you have any insider experience with Anna?
I used to work at Coach in the PR department as an Executive Assistant. Anna's name was always being mentioned because we were then just introducing our runway collection; people would say, "Anna won't come to this," or "She'll probably send someone else if we do this." I remember thinking about the way people spoke her name with such reverence. One day, we were bringing the entire collection to
Vogue
for Anna to see and the way she's treated at
Vogue
is like she's the Pope, the way she disturbs the air. I realized that she's Darth Vader -- everything about her: the helmet hair, sunglasses and way people are terrified of her and the huge amount of power she wields.
How'd you develop the show's storyline?
I started writing in December 2013, and Stephen Trask, who wrote the music and lyrics for
Hedwig and the Angry Inch
, told me over dinner to put my own fears into her -- to find some parallels between us or make her be afraid of something I'm afraid of. I don't know anybody who at one point didn't think they were going to get fired from their job, so as soon as Kim and Kanye were put on
Vogue
's cover, I knew I had a framing device for the show because there was huge social media backlash against Anna.
How does your Anna cope with this fear?
My Anna has chronic constipation because of the stress and she gets an attack on stage. I wanted the audience to see her vulnerable, but it also needed to be funny. It was important for me to have someone on stage with Anna that she sees on her level -- someone she can talk to and admit she's afraid she's going to be fired -- so André Leon Talley is in my show. She needed to be humanized, so she's also a secret drinker. In all her real life interviews, she says she doesn't drink, but in my show, she has a bottle of vodka underneath her desk and she downs it whenever she hears negative criticism. She sings, "Drunk in Vogue," instead of Beyoncé's "Drunk in Love."
Anna's daughter, Bee, came to your opening performance. How'd she react?
My opening night was my first time doing the show and I found out three days before the performance that she was going to be there. I normally don't like to know who's in my audience, but this way I was able to control where she sat because I didn't want her too close in case her face registered some kind of disgust. I give her credit because she had no idea what she was walking into, but she came backstage after and we took a thousand photos together holding the Anna wig and sunglasses, like I was holding her mother's head. She said she 'felt like she was at home.' She showed her mother a video of my show and said Anna smiled, but I heard from a source that she also said I 'didn't get the fashion right.' As a result, I upgraded my jacket to a more Chanel look.
How do you think your Anna would wake up and prep for NYFW?
My Anna wakes up at the crack of dawn to the chirps of her pet cockatoo, Manolo. She then dutifully lines his cage with the latest Harper's Bazaar cover, dresses and heads downstairs where she's briefed with her schedule for the day, while enjoying a smart cup of Crystal Light.
Speaking as your Anna, whom would you refuse to sit next to at a runway show?
That fashion designer, her name escapes me -- the fat one that smiles too much. Oh! Victoria Beckham.
Speaking as your Anna, what trends do you anticipate becoming hot this season?
I really see that Kentucky clerk Kim Davis as being the next muse in fashion and beauty. Have you seen that woman's eyebrows? Books could be written on their mystique. 
To get tickets to see
Ryan Raftery Is the Most Powerful Woman In Fashion,
click HERE
You May Also Like