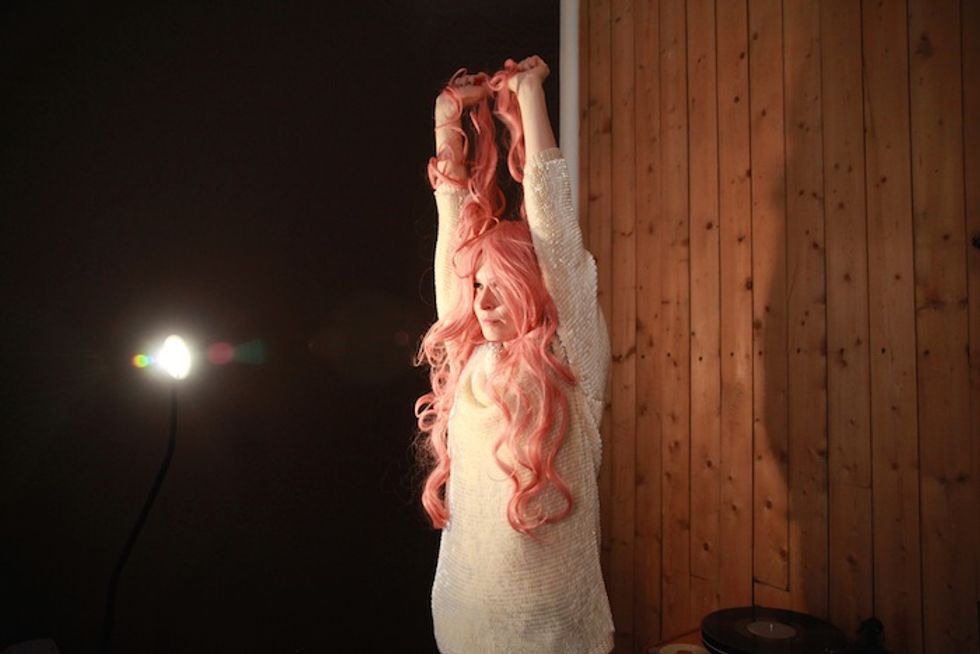 [Photo by Jenny Berger Myhre]
By the end of her set Brooklyn's Rough Trade, Jenny Hval has fallen to the ground, beating her chest with the microphone. Forty minutes earlier, she had emerged onstage in a red wig and pajamas ("Annie in a mental asylum"), and announced her presence: "WHAT IS... SOFT. DICK. ROCK?" To her side were three similarly dressed women alternating between laughing and sobbing, one with a pool of (fake) blood on her torso.   
If this sounds like an experience, it's because it was. Both beautiful and jarring, the show was, for lack of a better word, hypnotizing. Hailing from Norway, Hval conjures music to a similar effect, making use of her wonderfully shrill voice to question everything from gender and sexuality to ideas of health and capitalism. It shouldn't come as a surprise that her live show was as startling as her incongruously-poppy intonation of lines like "I grab my cunt with my hand that isn't clean," but that it surpassed our expectations only illustrates further the power of her performance.   
Though it may be easy to focus on her more confrontational lyrics, behind that shock-value lies deft philosophical and political commentary, and behind every "dick" can be found a damning lyric. On "That Battle Is Over," for example, she croons that "statistics and newspapers tell me I am unhappy and dying, that I need man and child to fulfill me." On "Angels & Anaemia" she declares "self-doubt, it's what I do." We had the chance to sit down with Hval to learn more about her newest album,
Apocalypse, girl
, out now, her youth in Norway's "Bible Belt" and how karaoke has inspired her music.
You've described your hometown of Tvedestrand as part of Norway's "bible belt." How did your upbringing there influence you artistically?
I always thought it didn't, as if I was impenetrable to it. I'm actually from Oslo -- I only partly grew up in the south, which is the "bible belt." So I guess that's why I always felt like I'm from elsewhere -- "this is just a makeshift childhood. That's not anything I want to be influenced by."
It's not something I thought about much until I was writing this new album. Maybe because of traveling it came back to me a little bit. I was very curious to take in elements that had missed out, because I think it influenced me to be near so much gospel music and religious communities.
In the lyrics to your song, "Heaven," it seems like you were almost jealous of your peers' religious devotion. You've said there's a kind of sexual fervor to it.
Absolutely.
Have you found a similar outlet?
I don't think you can find and compare that stuff, and that that's kind of good. I also think that my envy of those peers in "Heaven" kind of morphed into a very dark territory, where that sort of religious devotion is connected. Though I did not grow up in the "bible belt," I went to high school in that region. The south of Norway is a conservative area, and is not very wealthy. All that comes together -- the religious devotion, the drinking and taking of pharmaceuticals, and the people driving around aimlessly with no idea of what they're going to do with their lives. People drowning in the sea. People jumping in front of trains. People doing crazy weird sexual stuff because they feel peer pressure. All that kind of shit. It all comes together. Coming to America a lot, I kind of felt a connection, because this country's so extremely sexualized. Sex, religion, and taboo -- it's tragically hand-in-hand, like a tragic married couple.
You've spoken previously about your interest in karaoke. Did karaoke play a role in the writing of this album?
I'm intrigued by it, but my real interest was in this very conflicted video that I started watching over and over: a microphone demonstration made by a Berkeley student singing one of those really stadium-like Christian pop songs 18 times into 18 different mics. The reason why I loved it was because it was like hearing 18 different karaoke versions of the same song. But the fact that they're all recorded one after the other makes it weird; on the one hand, it's trying to compare something technical, so it's not about the song. But then again, it's a religious song, so it has this conviction in it: "I need to say something about Jesus now."
You can never really leave yourself out in that context. It's like a selfie. A lot of that singing of religious music is selfie culture to the core. It's so self-conscious, because you're projecting your faith, and if you're not projecting it right then you're a traitor: you're... blasphemous. So there's all this confliction in this video. [The singer] gets more and more tired. Her hair gets kind of... not as nice as it was in the beginning. Her voice gets tired. Even Jesus gets really tired. There's this inability to keep up with the ideal of never failing devotion. I love it. I've watched it so much.

On the opening track, "Kingsize", you pose the question "what is soft dick rock?" Would you say this is an attack on conventional masculinity?
Am I attacking it? Or am I attacking a problem with it?
Your music deals so much with physicality/the body and spirituality/the soul. What are your thoughts on where they meet?
When you sing, you're projecting this thing that's not a body, but a voice. This thing that comes from the body and is very visceral, but at the same time is creating something that is outside the body. So at the same time you're singing, you're in a very fascinating in-between state.
People talk about the body a lot, but for me it's actually important that I do place a lot of emphasis on the soul. It's an important part of the body and our existence. I don't care so much if [the body and soul] are one or two. The idea that we have of the body, in contemporary society, is that it's divided from the soul. It's like the body is the soul's enemy. Or the soul doesn't exist anymore, and it's just a body. You have an idea that you're alive and the body is resisting it, or failing you because it's growing older and dying.
The idea that we have of health at the moment is scary and there are a lot of ideas and emotions surrounding that on my albums. I've been trying very hard to work through and find other ways of looking at the combination of body and mind, and finding the mind... not by way of the body. That's very old-fashioned to try and liberate and free your mind by sexual liberation or something. Expression, I guess, is at the center. It's not so much about the body as how the body can express something.
You May Also Like