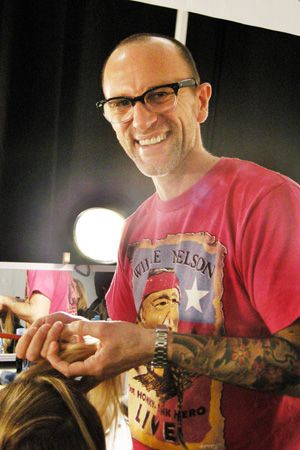 From crafting couture runway looks for Fashion Week to dressing celebrity tresses for cover shoots, Thomas Dunkin stays busy year round. I caught up with him recently during the Charlotte Ronson show where Dunkin was managing a group of stylists from the Sebastian Professional Hair Design Team.

So are you going crazy right now?
Yeah this is going towards the last hour. The adrenaline is beginning to kick in.

You must enjoy this part!
Enjoy...? [laughs] I do. Completely. It's what Fashion Week is all about isn't it. You get stressed and your heart rate goes up and you drink too much coffee and you're running late.

How do you de-stress?
I usually immediately go home and take my dog out, and then go on vacation.

Oooh! Where are you going this year?
Costa Rica. I go there a lot.

What's it like working with Charlotte?
It's really nice being involved from the beginning and growing and working together as a team. It's a great way to discover new looks. You get to know someone and they get to know you and trust you.

Well the models look great. Feel like giving us a hair tip for life off the catwalk?
I'll give you more than one! First get a great hair cut! Second use the right products. I always see people who have a really good hair cut and use the wrong products. And third -- don't overdo it!