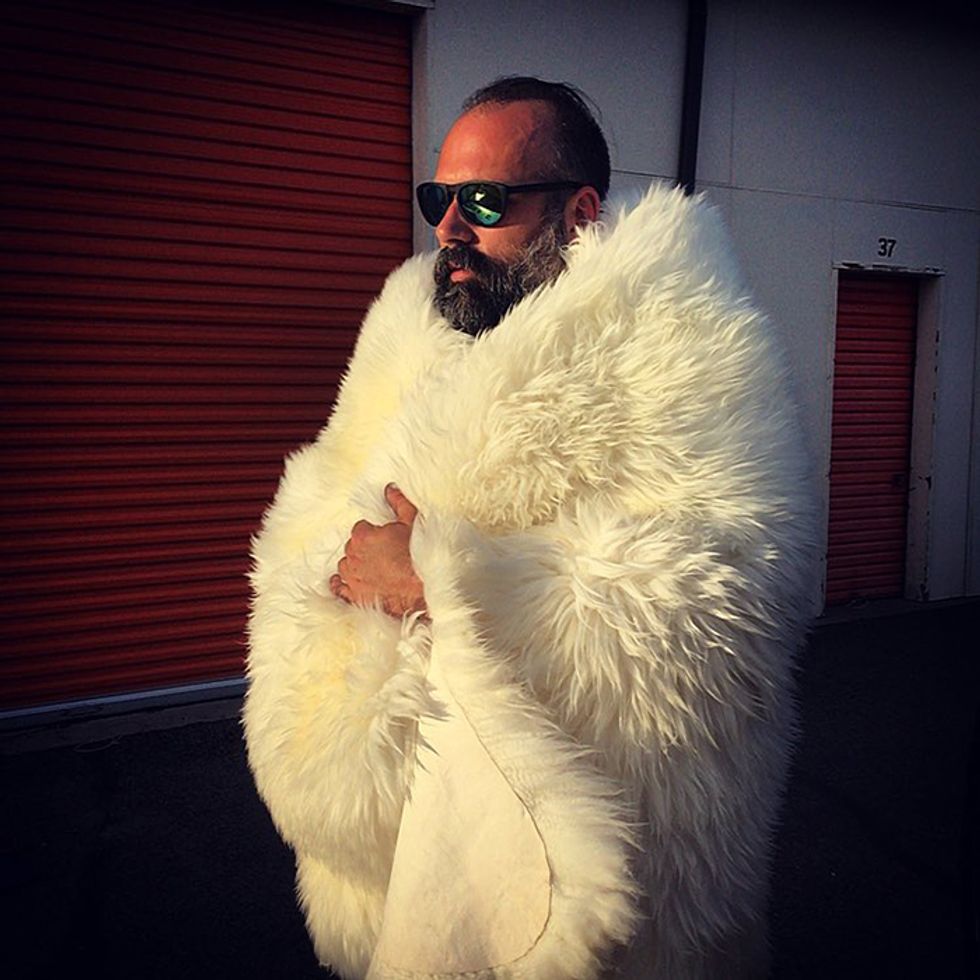 Staking your claim on the Provincetown nightlife is not an easy task. The drag queens that host regular nights are at the top of their form and work for years to craft a unique persona that cements their individuality amongst all the rest. The bartenders have to not only be able to handle the waves of tourists but be the caliber of person suitable for more permanent Provincetown residence: a little weird and very welcoming. One person who's been able to make a mark on the scene is Mark Louque, a local legend whose built up the fringes of Provincetown nightlife for over 8 years. He's the personal gatekeeper to the most memorable events on the Provincetown scene.
Mark's most legendary party, FAGBASH, has been a Wednesday night thrill fest for nearly a decade. The party is a bacchanalian queer rage, a small party riot burning brightly each week amidst the quieter Provincetown landscape. The name refers to an explosive party rather than any violence -- in fact, it's a queer club where any and all on the LGBTQ spectrum can feel like they've been given access to a strange, wonderful world inaccessible to the mainstream. It's an event that alone would earn him star status on the scene, but he's also created a wildly popular calendar of events during one of Provincetown's busiest weeks, Bear Week (mid July annually), called BEARMANIA. It includes alternative discos, bear poolside parties and more. He'll also DJ or promote a cool art gallery reception or work a Carnival week event, if they hit on the right mix of alternative and unforgettable. Part of an underground network of DJs who hit the road for different festivals, parties and woodland raves, Louque has DJ'd in cities like London, Berlin, Paris, Lisbon, Montreal and more. We caught up with him after a Ptown Carnival event just before he jetted off to a gig in Pittsburgh to hear a little insight into his party regimen.
How did FAGBASH come about?
FAGBASH began out of necessity, not just for the local fags and weirdos of Provincetown but because our global community was begging for something new. I had secretly been collecting rare disco records and other aural obscurities for years and decided I should share these sounds with others. I started with a podcast called "The Crave Club" (see if you can spot the
Showgirls
reference), which I broadcast live from the Cape 8 years ago -- this was when I realized I was a DJ. Ok that's a lie....I've know I was a DJ since I was 3 years-old playing the 7" of Cher's "Dark Lady" on my Fisher Price turntable. So anyway... myself and a few locals got together with the intention of creating a safe, creative space with an underground soundtrack -- that's when our party was born.
What should someone expect when they come to the party?
Here you'll find everything from drag terrorists to leather daddies in gowns and wigs. We set a VERY loose theme each week so no one ever really knows what to expect. The idea is to provide a space and vibe then lets attendees be the ones to color the event. What I CAN say is that each week for 8 years I have been blown away. As long as that keeps happening we will keep doing this party. LONG LIVE FAGBASH.   
What's unique about the nightlife in Provincetown?
Provincetown is not reality and no one wants it to be. It's where we go to escape for a moment or in some cases permanently. Overall, the nightlife in Provincetown is what you might call mainstream but historically the freaks and misfits also flock to our little speck of land and that's who we cater to and exist for. We are channeling the 'Gayngels' of generations past (as Leo Herrera would put it). People often leave our event thinking they've gone back in time....this is the highest compliment.
What have been some of the highlights of the party this past summer? What's still to come?
All of this year has been a highlight! Special guests Include (but are not limited to): Bouffant Bouffant, Aaron Clark, NARK (Kevin Kauer) & Ambrosia Salad, Vicki Powell & Sindri, TNX (Bil Todd, Tommy Cornelis, Baronhawk), LeFox, Christeene, The Carry Nation, Sparber, Deejayzero, and Steamy Brown.
Follow Mark Louque and FAGBASH on Facebook for all upcoming events and details, including where and when to go.

Photo from Mark Louque's Facebook
For more on Provincetown, check out PAPERMAG.com/ptown
You May Also Like