Detroit native Todd Sanfield had already made a name for himself as a model in NYC before he decided to launch his own underwear collection in 2010 at the same time that he was accepted into the Doctor of Pharmacy program at Michigan University. Clearly not someone to do anything by halves, Todd has not only managed to create a brand featured in countless editorials over the past few years and worn by your favorite InstaStuds daily, he has also found time to study for his exams, star in two NSFW coffee table books by photographer Kevin McDermott and build a loyal following on social media.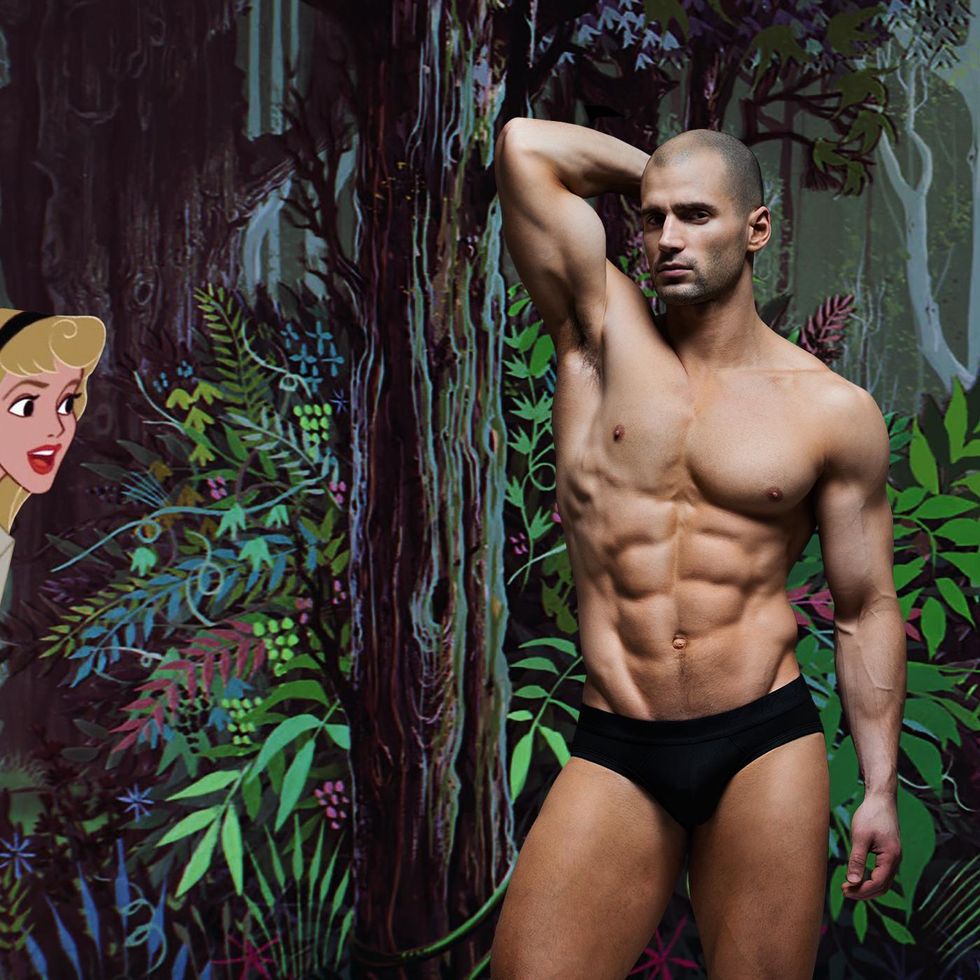 Now six years on, this pharmacist and five-time DNA Magazine cover star is celebrating the release of his new collection dubbed the "Essential Collection." Modeled by Todd himself, this new collection, though more understated than previous collections, offers the same sophisticated look we've come to expect. We caught up with him to talk all things bulge-related.
Hey Todd! What's good?
Everything is all good. I just gripped a newly released pair of core black Adidas NMD_R1 shoes.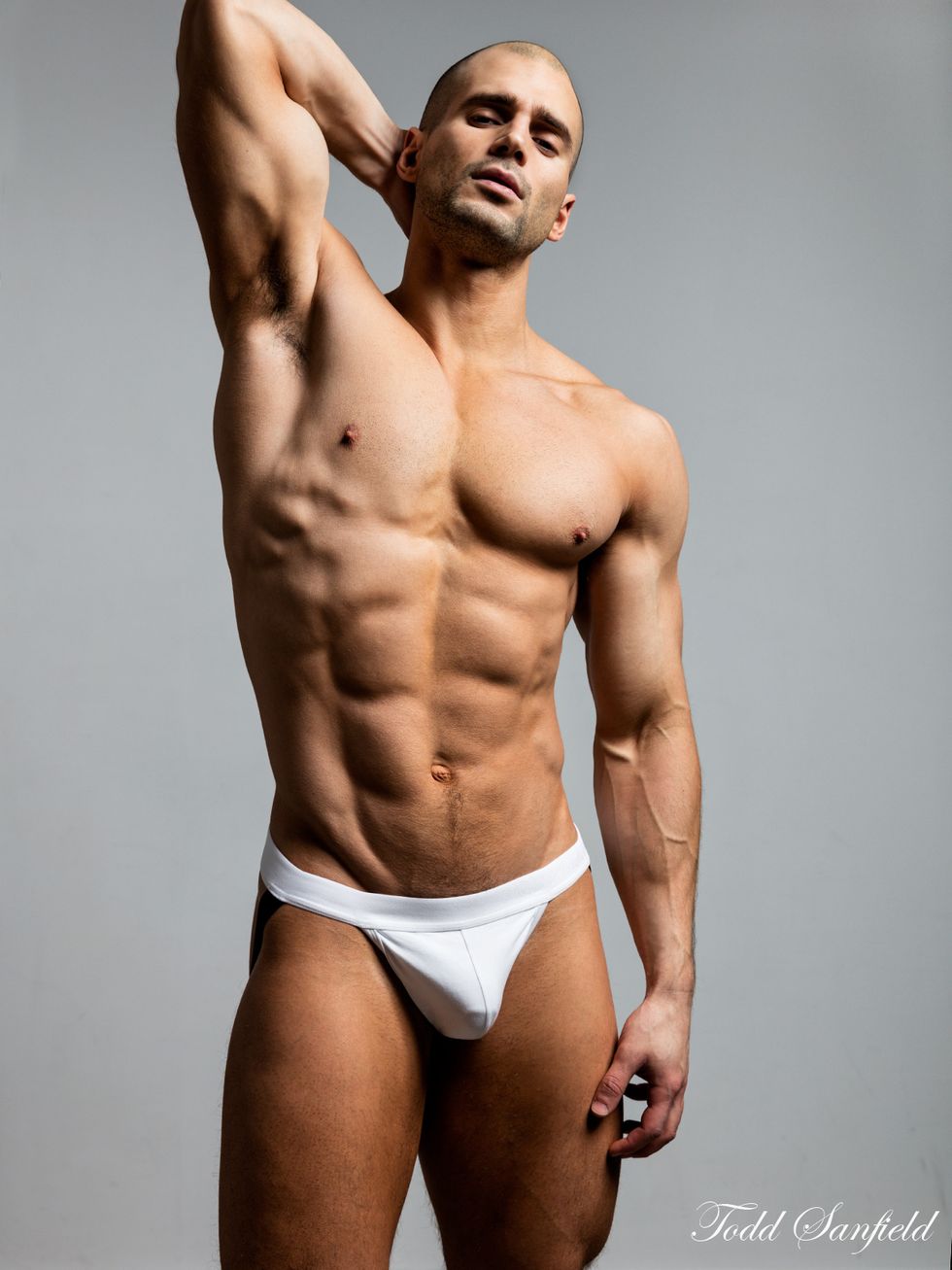 Prepping yourself to run through our minds for the rest of today, I see! What made you decide to start your own underwear brand?
It was a combination of a few different experiences while growing up and others I had later in life. My parents were always independently employed. They made their own schedule and did what they wanted. My mom has always been creative, loving color and design. When I was younger and first starting to be photographed, people only wanted to shoot me in underwear or swimwear. As much as I tried to convince the photographers that I would look best in clothing, they always thought otherwise, so I accepted it. I essentially used the modelling industry as a stepping-stone to be creative and open my own doors. Looking back, it did not matter if I was wearing a fashionable type clothing or underwear. I would have still started my own clothing business.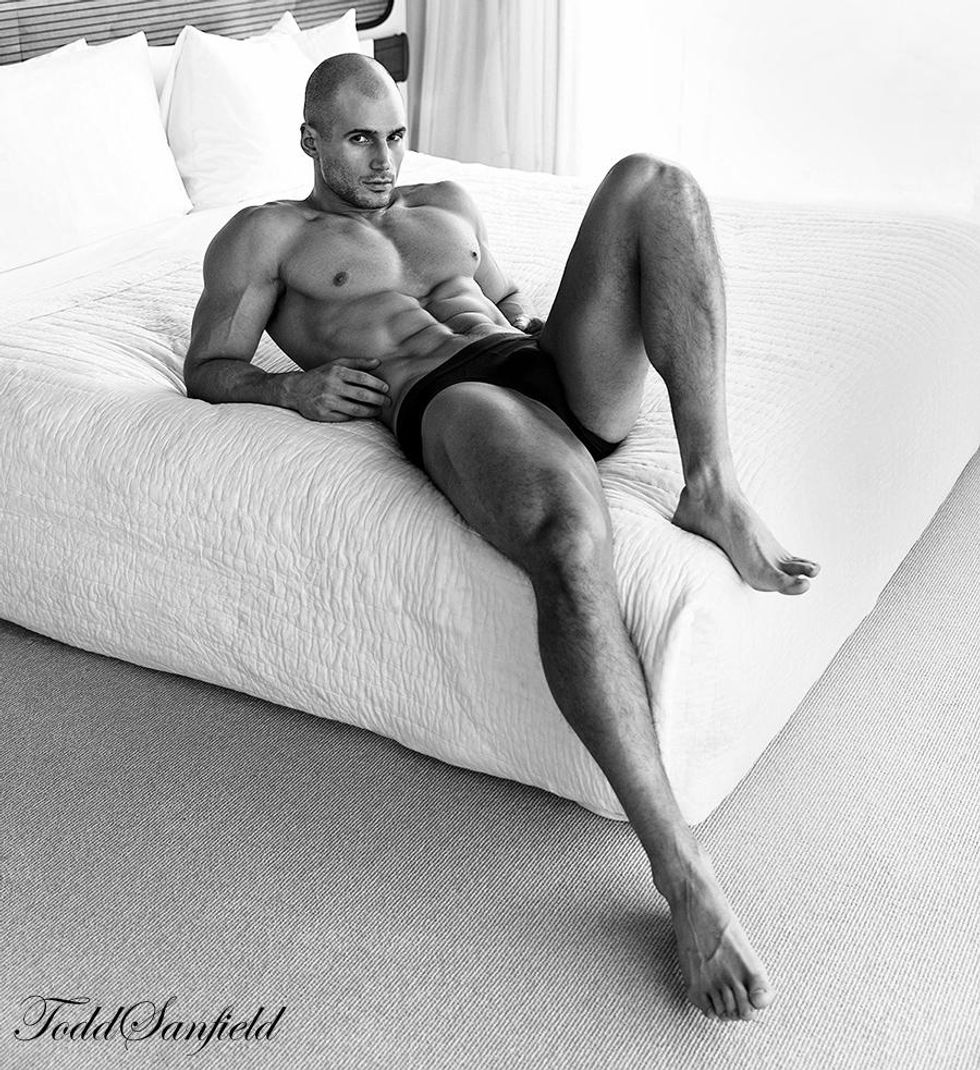 You have been selling your underwear for a few years now. What were you looking to achieve when you first started out?
First, to sell at least one pair of underwear. Something of great value to me is having a job that is constantly evolving and changing day-to-day. My end game was always to be my own boss.
Having seen your underwear appear in countless editorials and on every other muscled guy on social media, you must be super pleased with the response to your past collections?
Of course, I am extremely pleased and appreciative. Those who are using the collection for their projects and shoots could choose any brand. I am humbled they chose mine.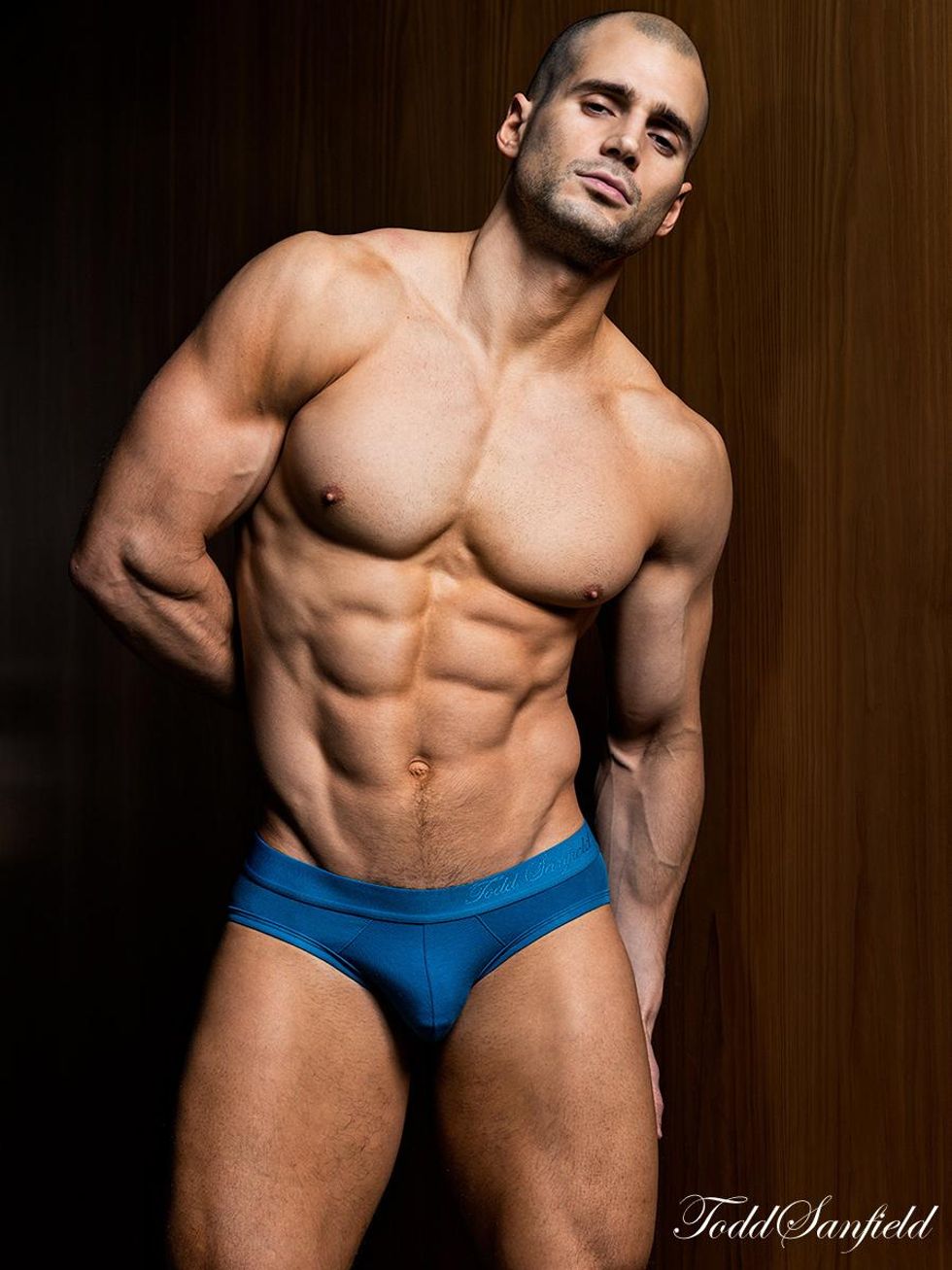 Your collection comprises a wonderful choice of jocks, briefs, trunks, v-neck's and tanks. What would you recommend I purchase from your new collection so I look my best for the following life situations:
A first date: The v-neck. It would be perfect to wear under a blazer for dinner or to grab a quick cup of coffee during the day. Most people are not going to see your underwear on the first date, right?
Hmm, well…
The v-neck has a great fit and really showcases your body. It is extremely comfortable and soft because of the Lenzing Modal® fabric we used. If your date happens to touch you, they will know you are wearing a high-quality shirt. They will be impressed.
A Netflix n' chill night: The trunk and tank. They're so comfortable you will feel like you are sitting there naked. The soft and light feel of the fabric is perfect for those chill situations.
Meeting the in-laws: The Brief. They are form fitting and will keep everything tight in case things get out of hand, haha.
Your underwear is designed in Detroit. What do you love the most about your city?
Everything. I grew up 10 miles outside of the city, but spent a lot of time in the downtown area. I never really appreciated the city until I got a bit older and more interested in design. I love the look of the historic buildings downtown, the feel of Eastern Market, the design of the classic homes. I love Greektown and the childhood memories it brings back. Most people today know of the ruins of Detroit. It is an extremely sad situation, but it's equally impressive. Lastly, Faygo pop, nothing compares to growing up drinking Pineapple Orange, Rock & Rye, and Redpop.
Detroit is also the hometown of RoboCop, right? What do you think he'd make of your underwear?
He would love it. He would probably say, "Dead or alive, it's coming with me!"
How does someone like you, who models, runs a successful underwear brand and works full-time as a pharmacist, also find the time to workout like a beast?
I have been doing it for so long that it is part of my daily routine. Everything in my life has been planned around the gym. I feel like most of my accomplishments are secondary to my dedication to working out. It truly is a drug and I know this because of one specific experience. I hurt myself during my second year of pharmacy school and had to take a break for 3 months. Towards the end of this 3-month period, I had four exams back-to-back and literally almost failed each one. I prepared the same way as always. It was like I could not hold on to material. I immediately started lifting weights again, working around the injury. It was the best thing I could have done. I aced every exam for the rest of the semester and saved my GPA. One of the professors even commented that he has never seen a turn around like that before. This is why I always find time to get a workout in.
Would you say Todd Sanfield underwear is likely to improve performance in the gym? I mean, your abs do look ridiculous!
I would say that it is so comfortable it will make you feel great at the gym, but it's not going to lift the weight for you.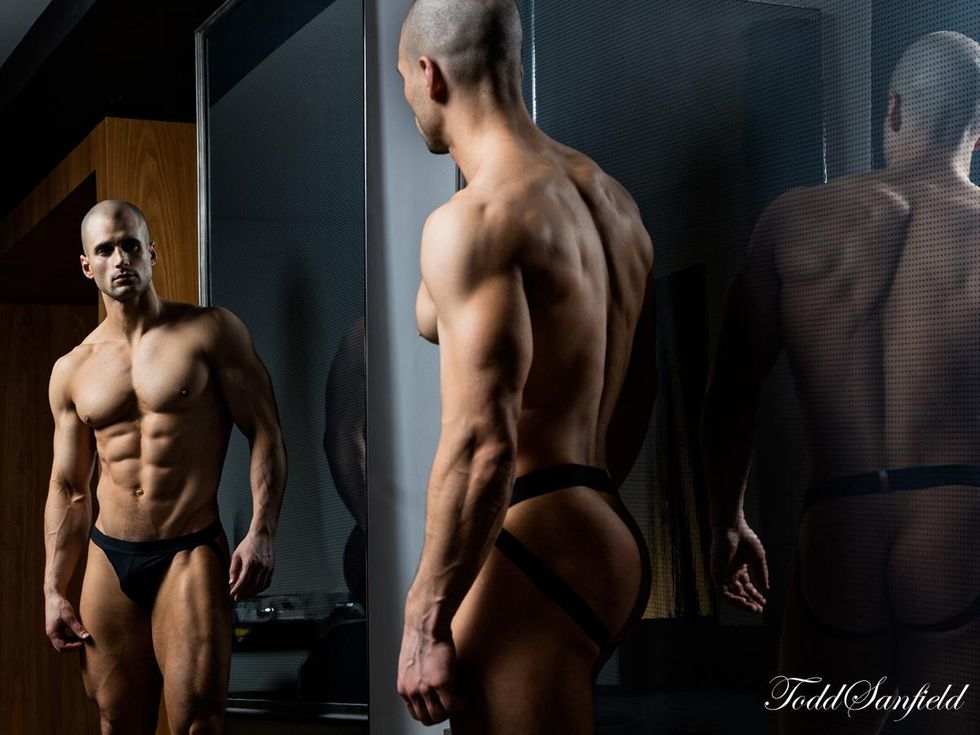 Damnit! Since you're someone who has spent a lot of time in front of the camera wearing next to nothing, what top tips would you give us for posing in our underwear?
When you take care of yourself, you feel confident. This confidence will show in everything you do. The key is to feel good about yourself.
You can shop the Todd Sanfield Essential Collection at toddsanfield.com
Credits:
Photography by Kevin McDermott - www.kevinmcdermott.com
Collage by Portis Wasp -
https://www.instagram.com/portiswasp1/
You May Also Like