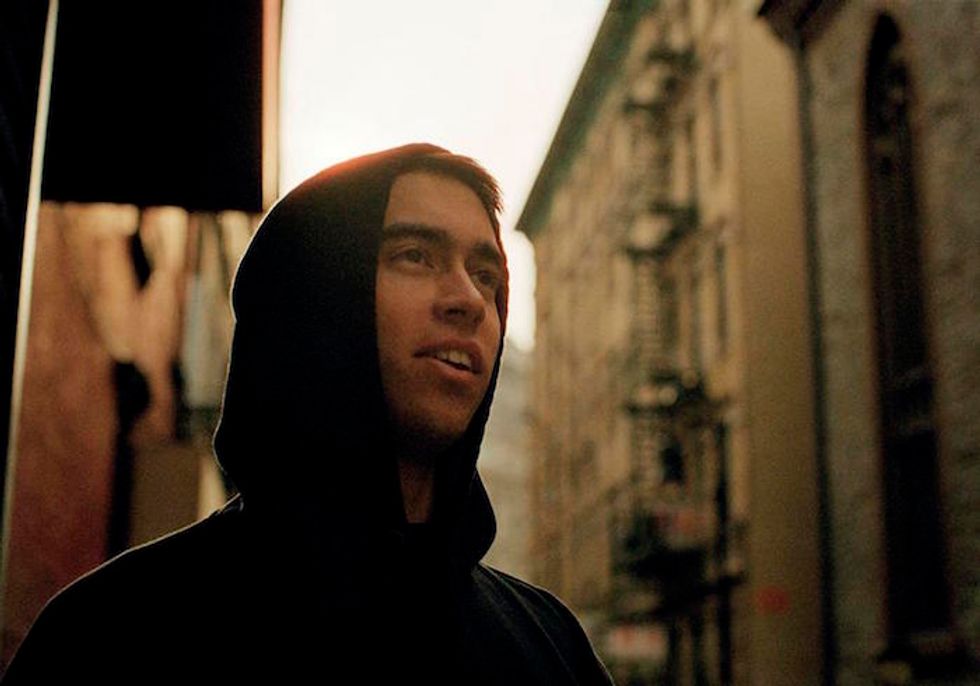 Photo by Jeff Allen
It's hard not to use the word "prodigy" while talking about
Alex G
aka Alex Giannascoli, the 22-year-old singer songwriter who has gained a faithful following through his prolific Bandcamp content, unwavering support from fellow musicians like Mat Cothran and Rivers Cuomo, and a record deal with one of indie's most prestigious labels. 
And though he self-recorded his entire forthcoming album 
Beach Music 
on Garageband (like all his music to date), his deft songwriting abilities and wry, lyrical narratives 
are guaranteed to pull him out of bedroom pop and into the spotlight. 
Read our Q&A with the rising star below.
When talking about recording songs, you've referred to yourself as a "control freak." How has working with Domino Records affected this? 
I had to let someone else [Unknown Mortal Orchestra's Jacob Portrait] take the reigns as far as mixing. It turns out that there's a lot that I don't know how to do as far as mixing goes -- cleaning up tracks and shit like that. It was pretty nice; it made the record sound a lot better. It was something I was really apprehensive about at first, but I still had as much control as I want. 
You now have a Sandy Alex G website, which is an upgrade from the Bandcamp you had been releasing your stuff on. When you scroll down, there are fragments of stories switching from third person to first person. Who are these characters? 
Those are pieces of stories I wrote when I was younger. I figured I should try and make the website interesting somehow. So I added those stories, some pictures I found on my computer. 
Is the picture on the website of your dog, Rosie? 
That's just a dog I drew from a book. Rosie was a wrinkly, smelly dog. That dog is pretty nice looking. Rosie was a smelly, fat dog. 
In your songwriting for Beach Music, it feels like you're moving further away from these fictional characters like Sandy and Harvey. Tracks like "Brite Boy" feel like they're explicitly about you. Was this an organic progress or are you trying to move away from the characters? 
They're all sort of warped personal perspectives. Even the old stuff, when I'm singing as a character or first person, it's storytelling in one way or another. It just depends on whatever means can get across whatever feeling or emotion I'm trying to convey. For "Brite Boy," I was just walking down the block and I was singing that in my head. It didn't really make any sense, but I thought it sounded kind of catchy. It became a weird ballad about a weird person.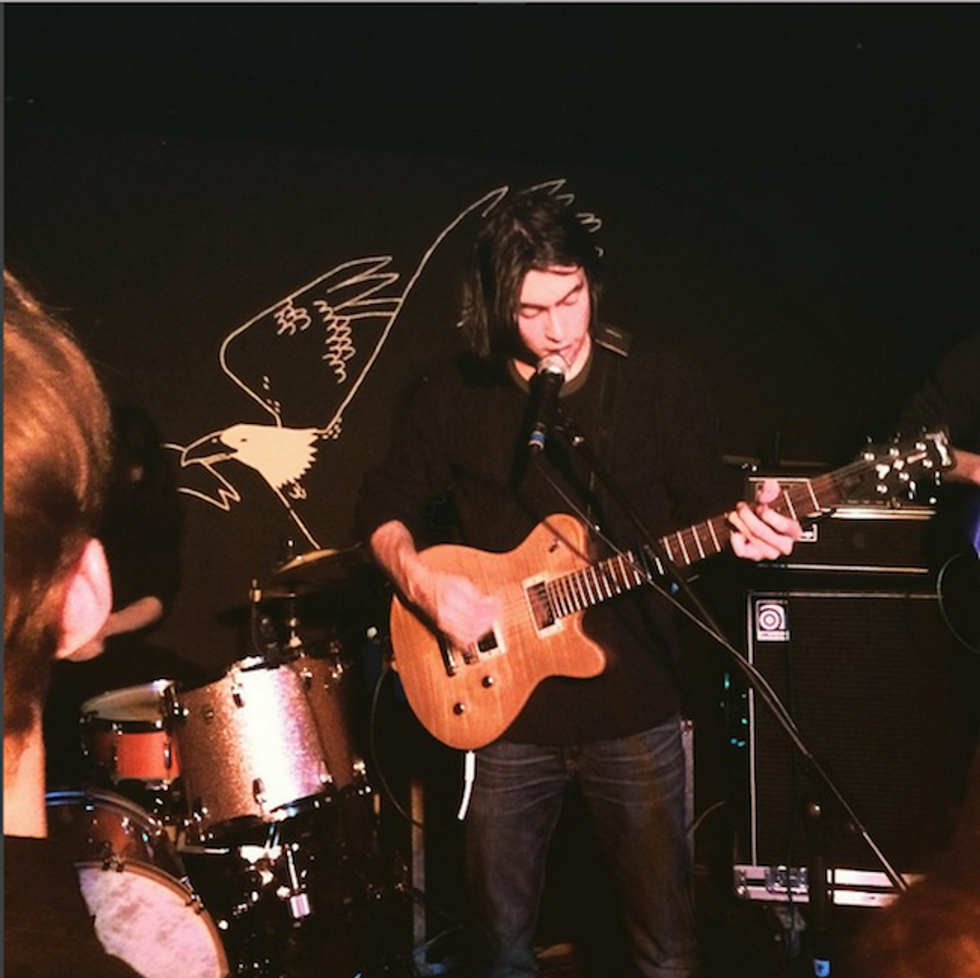 Photo by Braudie Blais-Billie 
There are elements of your music and live performances that you use to make people uncomfortable. Where did the inspiration for this come from?
There are a lot of bands that I really loved as a kid when I was going to shows growing up in Philly, a couple bands that stopped playing. There was Snoozer, who were so fun to see and I loved watching them at their shows. They were such... assholes. They prided themselves on doing wild shit, [but] the feeling I got when I watched that band was really inspiring, so I try and emulate that when I can. And then there was another band called Rasputin's Secret Police...It's just the bands that were around when I was blossoming into a young man. They were acting weird and it made me want to do that too. 
You're compared to a lot of 90s rock bands like Modest Mouse, Built to Spill, and Pavement. Is this something you're trying to move away from with this album? 
I think every artist is frustrated with being compared to other artists. You feel like you're doing some original stuff, but then an outsider can pick out all the places that you were influenced. It frustrated me more in the past, but now I understand it. It's something you can't really avoid, that's the way that I've developed. I listened to a lot of Modest Mouse and the bands that we played with growing up. 
With Beach Music, every track sounds like it's creating something completely different. What was going through your mind when you were creating it? 
I was making these songs in between tours. I hadn't been listening to that much music, so my influences were scattered, so I don't think it was a conscious effort, it sort of just turned out that way.
Alex G's Beach Music is out on October 9th via Domino Records. NYC, catch his record release show on October 8th at Baby's All Right and October 9th at the Silent Barn fundraiser.