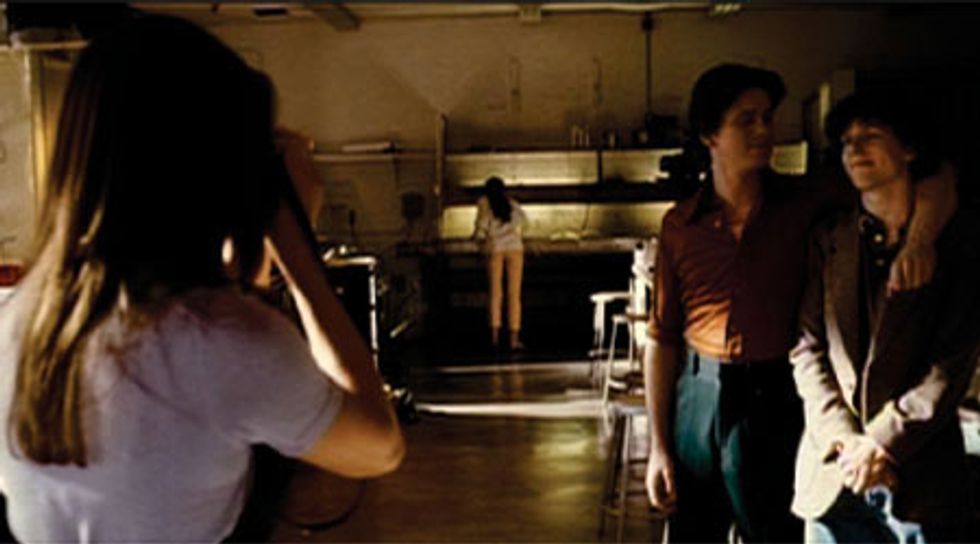 I intended to see a lot more movies this year at the Tribeca Film Festival but got thwarted by Jury Duty... did catch a few good ones, and a few stinkers.
The Education Of Charlie Banks is an exceptional first film by Fred Durst (Limp Bizkit) with an amazing performance by Jason Ritter as Mick, this hot-tempered kid from the old neighborhood (Manhattan), who shows up unexpectedly in the Vassar dorm room of a startled Charlie Banks (Jesse Eisenberg (who's sensational). He doesn't say how long he's staying and charms all of Charlie's friends with his rebel charisma (especially the girl Charlie's smitten with -- played sweetly by Eva Amurri). But Charlie knows how dangerous this kid really is when provoked -- many years ago he witnessed Mick beat two kids to a pulp at a party and nearly leave them for dead. It's really a terrific movie, and Ritter is both heartbreaking and scary at the same time.
Lady Chatterley is a needlessly long French adaptation by director Pascale Ferran of D. H. Lawrence's second version of Lady Chatterley's Lover, John Thomas And Lady Jane. Marina Hands plays the wealthy wife of a wheelchair-bound husband who enters into a lustful affair with the gamekeeper (Jean-Louis Coullo'ch) on her estate. After nearly three hours of endless nature shots and the two of them rolling around nude in the mud you feel like screaming: " We get it -- she's finally come alive -- she's erotically one with the earth!" But where the hell is Ken Russell when you need him?
Mulberry Street takes place during a heat wave in Manhattan when a rash of rat bites transform New Yorkers into mutating zombies. Director Jim Mickle does a lot right with a low budget. The leads are anachronistic and interesting -- an aging Latino ex-boxer, a black gay friend who lives upstairs, a soldier daughter back from Iraq with the facial scars to prove it... but the 28 Days Later herky-jerky camera work sometimes robs scenes of scares, which is a problem with a movie that depends on it. And laying on all these political subtexts like Hurricane Katrina, neighborhood gentrification, etc. eventually bogs the film down in a depressing way.
Unearthed shares the same, unfortunate film-making style. Basically a monster is unearthed by archaeologists in a New Mexican desert town and it's up to an alcoholic female sheriff and Native Americans to do battle with it. Director Matthew Leutwyler neuters the color palate to such a degree that it's a washed out dark mess to watch. When it's a monster movie and it's too dark to see the fucking monster you're in big trouble.
My Best Friend is a cloying French comedy about an art-dealer (Daniel Auteuil) who's bet that he can't produce a best friend in a certain amount of time. He discovers his world is littered with acquaintances but no real friends until he meets a garrulous, know-it-all, taxi cab driver. You can guess how it all plays out... I truly hated it.
You Kill Me is a wickedly funny dark comedy by John Dahl (Red Rock West, The Last Seduction) with a wonderfully deadpan Ben Kingsley as Frank, a Polish hitman from Buffalo, NY, with a drinking problem. He is sent to San Francisco to dry out, gets a job in a funeral parlor where he chances to meet the disarming and pretty relative of a dead man -- Laurel (Tea Leoni). After that he struggles with sobriety, a new gay sponsor (Luke Wilson, who plays a toll-taker on the Golden Gate bridge) and being honest with Laurel about his profession. Dahl keeps knocking you off guard with the humor with wonderful touches -- like Frank bristling with annoyed alarm during his first AA meeting as members testify. Tea Leoni is just sensational, with the tart comic timing of Rosalind Russell and the cool beauty of Jean Arthur. You leave the theater furious that she simply isn't in every movie.