Takashi Murakami never ceases to keep us on our toes with his vibrant creations. The Japanese artist's colorful designs have popped up all over the fashion world, including major collaborations with the likes of Virgil Abloh, Vans, Supreme, and Marc Jacobs for Louis Vuitton (i.e. those iconic colorful monogram bags).
Now, Murakami is channeling his eccentric visuals into a new project for Uniqlo. The line is embedded with deep Japanese culture by using one of the most iconic characters in Japanese Manga history and spreading it across the globe. It is sold exclusively at the NYC flagship on 5th Avenue through May 10th.
PAPER sat down with Murakami to talk about this latest collaboration as well as his artistic transformation and the unexpected embrace of the sneakerhead community:
What inspired you to create this line with Uniqlo?
The Doraemon is a very famous character in the Japanese manga world. It's nationally well-known; maybe people a little bit younger than myself have grown up watching it. It's something that formed their childhood. The creator of this cartoon, Fujiko F. Fujio, is a legend. About 15 years ago, I did a collaboration with my artwork with this character, so that led to recently doing the show in collaboration with the character in Japan, and then this collaboration with Uniqlo.
Why Doraemon over any other manga character?
I think the world of Doraemon reflects the mentality of Japan. Doraemon was a robot from the future sent to help Nobita Nobi, who is the main character that really needs a lot of help as a child. And he's constantly helping in troublesome situations by taking out these tech gadgets from his four-dimensional pocket. Throughout all of these years, they've never grown up, and Nobi is always being helped. So, that set-up really fits the mentality of Japanese people where they can't place themselves in the larger society. They kind of never grow up, and that's why it's such a national character. One of the main things in my artwork is Japan after having lost the World War. That fits very well, and that's why I'm doing this collaboration.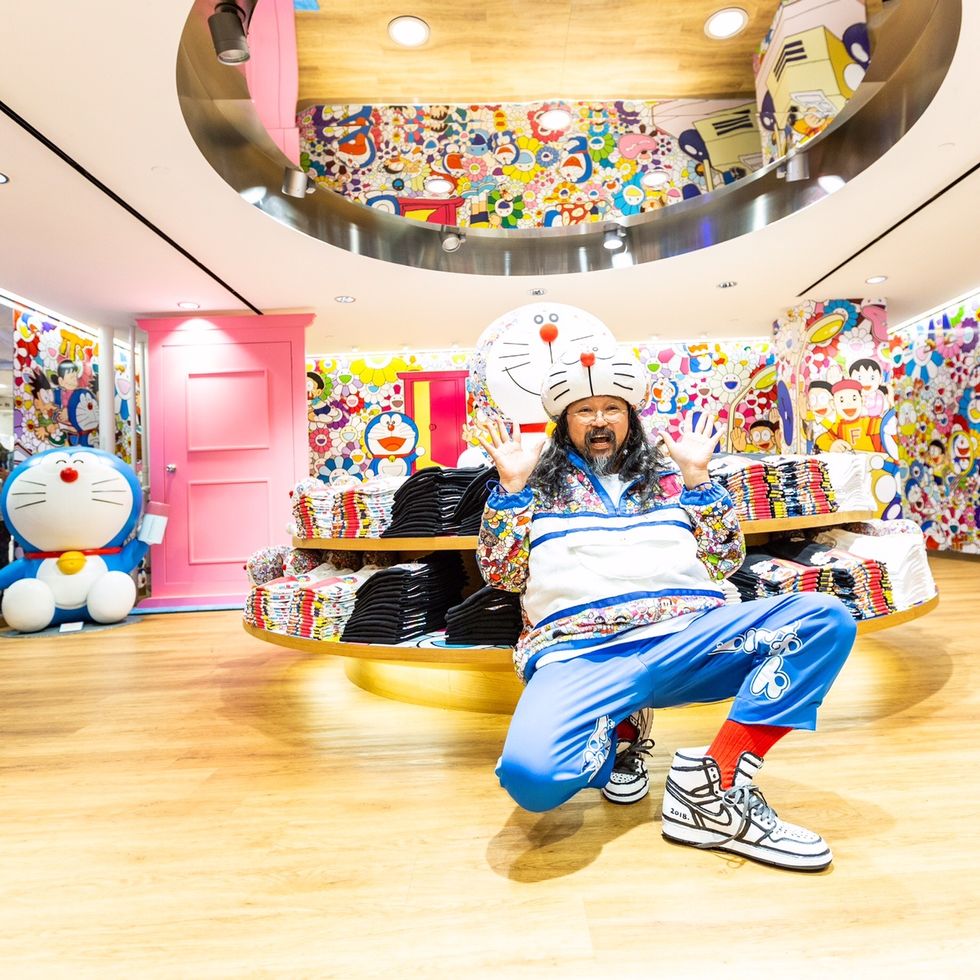 How does this project stand out from other work you've done before?

All of the collaborations I've done before involved a live collaborator. And for this one, the creator has already passed away, so we couldn't talk about the collaboration to come up with something new. Instead I had to accept everything he has created in his lifetime and just digest it myself and then come up with something that is new now. I had to really think of that on my own, and that made a big difference.
Was that a struggle, or were you able to explore more creatively?
Working with someone who's passed away over working with someone who's alive is, for me, ten times more difficult. I had to spend about half a year really intensely researching his work. It's not like I was only working on this project, but I had to really get all of the information I could about the manga he drew and the animation. I had posters plastered all over my studio. And I really tried to think what was most important, what was the message for Fujio.
If he were alive, I could've simply asked, "Is this what you were thinking?" and he would say yes or no, and then move on. For example, my collaboration with Marc Jacobs for Louis Vuitton, it was very smooth communication compared to this one. He said he didn't want any characters for that collaboration, but then he drew a character and said, "You drew something like this before, I want this." And then my collaboration with Virgil was even more back and forth. But, this was very different.
Related | Virgil Abloh's 'Aggressively Creative' Agenda
Your work is popular among the hype beast crowd. How do you think that happened?
Two years ago, I participated in ComplexCon for the first time and I saw a lot of sneakerhead kids, and I realized that they're my fans. I didn't even know they existed, and it looks like these are the similar people that lined up for the product at Uniqlo here. But two years ago, that was my encounter with them. And last year when I was at ComplexCon again, I thought, "Well, maybe they're interested." So I had my own booth, merchandise, and I exhibited artwork from artists I represent, and they were really well received as well.
That led to my collaboration with Virgil Abloh. We did a show in London, and yet again, it was very weird that it was all shaped by this audience at ComplexCon. So, as an artist I really wanted to be accepted by the prestigious hype group in the New York art scene. I was really determined to make it here, so when I was 31 or 32 I did my debut as an artist here. And then I ended up being active in that world and now my work is touring for museums. But, at the same time, I want to communicate with my new audience, so I want to deepen my conversation with the sneakerhead crowd. That's why I want to create more merchandise and maybe even a shop for myself.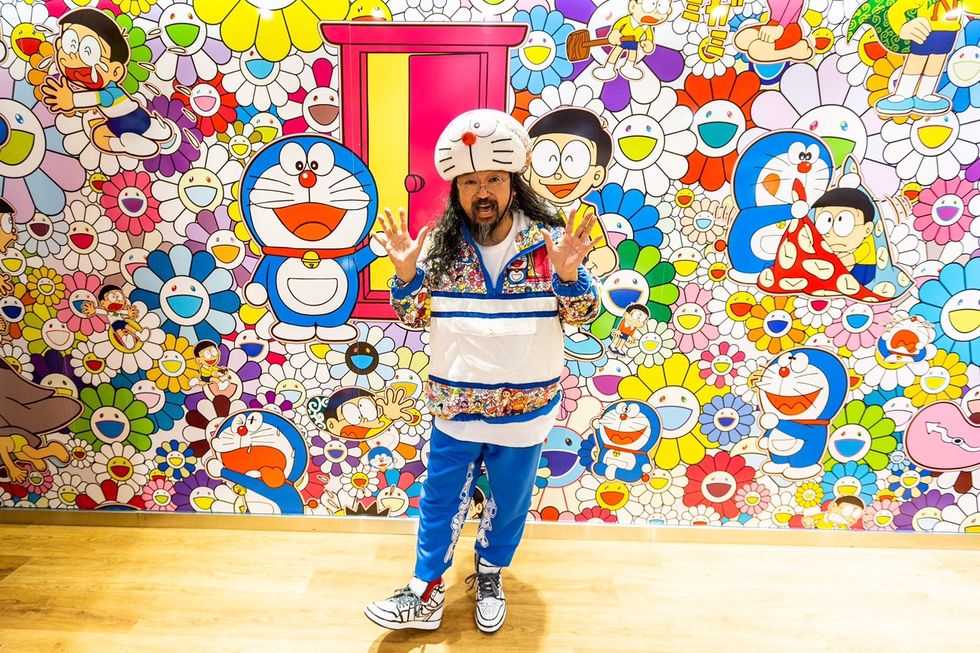 Has that NYC sneakerhead crowd influenced your work?

My Instagram followers are over half from New York. It's true that ComplexCon, which although was in Long Beach and on the West Coast, has had an impact. I feel like that I'm very much influenced and motivated by the New York audience.
How do you think your artwork has transformed from the beginning of your career to now?
At the very beginning when I was making my debut, there was Jeff Koons and Richard Prince, and there was simulationism in New York. Then, third world artists were coming up, and I sort of rode that wave at the tail end. I debuted as one of the third-world artists, and for that reason I was trying to work with the Japanese culture. Later, I did the collaboration with Louis Vuitton, and I did more work that bridged cultures and subcultures.
And then I started to have a city presence in the art world, so I wanted to start tackling the relationship between capitalism and art, the kind of things that Jeff Koons was already exploring back when he was active before me. But, just around that time, there was the financial crisis of 2008 and my company almost went bankrupt, and I barely survived that. After that, I was really determined to work with a new theme, and that was when Japan was hit the the tsunami and earthquake disaster. And from that, I took away a very religious and spiritual perspective that is very unique to Japan, and I realized that where you live and your culture really has to do with where you are and how nature affects it. What happens in your own environment really affects you. And also, as I contemplated spirituality and religion, I became very positive about narrative, which I didn't really work with before. That's why I started making feature-length films and animation. When I started out it was strictly about contemporary art and working with contemporary concepts and themes, but now I'm much more with popular culture.
What's the message you want to send out with this collaboration project, and generally with your artwork?
Specifically speaking, with what's happening in New York, I don't think Doraemon or the author are popular in New York. It's a very locally-themed work, but on the other hand I'm in New York and I'm becoming very popular in contemporary art and sneakerhead culture. That's not really the case at all in Shanghai or Japan, because Doraemon is huge in Japan and I'm not. But, in New York particularly, I think if people start paying attention and get intrigued into the story of not growing up, and become interested enough in reading the manga or seeing the animation, they will start to see the root of the cute emoji culture in Japan. So that is definitely one of the biggest themes for me coming to New York.
Photos Courtesy of Uniqlo
You May Also Like