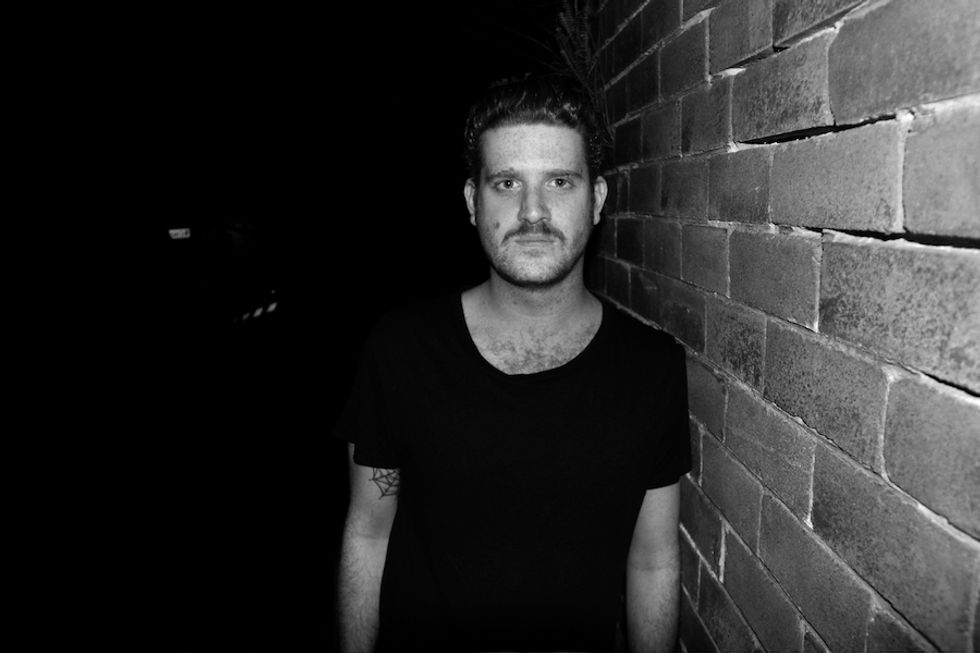 Each week in our brand-new column, "No Sleep Til...," we'll be talking to cool kids around the globe, asking them to fill us in about the bands, DJs, music venues and night spots they and their friends are obsessing over. Next time you visit their home city, leave your Fodor's and Lonely Planet guides behind and go party like a local instead.
Name?
Ash Moses
Age?
26
Where do you live?
Sydney, Australia
What do you do there?
I'm a
graphic designer
by trade but I also produce music,
DJ
and run
Death Strobe Records
with disco pirate Andy Webb.
What Australian bands or DJs are you obsessed with these days?
There are so many -- Australia has a really healthy music scene. I'd say band-wise, I'm loving these guys called
Client Liaison
at the moment.  They're really tongue-in-cheek
'You're The Voice'-era John Farnham-esque
purveyors of daggy Australiana but also great song writers with epic tunes. They are about to be huge -- mark my words. I'm also loving the new Tame Impala album (but who isn't).
Albatross
are another fantastic live electronic act who are about to release an amazing record. There are some really good DJs doing their thing in Sydney at the moment -- people like
Ben Fester
who plays future house and appreciate crate digging.
Graz
is a really good DJ. In Melbourne, two guys signed to our label called
Sleep D
who make beautifully restrained deep techno.
How did you discover all these bands and DJs?
Going out, partying, the Internet, getting sent demos.


Where are the cool places to see live music in Sydney?
For live music, places like Goodgod, The Flinders, Brighton Up Bar, Oxford Art Factory, Club 77, The Annandale are all pretty cool. The Spice Cellar is spot-on for their great food, cocktails and world class DJ policy.

I guess a common theme that runs through these venues is they all cater to a musically diverse and knowledgeable crowd. Goodgod consistently books great local and international artists with a broad music policy that includes everything from indie, house, techno, rap and more. It's located in Sydney's 'Spanish quarter.' Club 77 is a bit of an institution and you can still find some pretty wild parties there and lose your mind in its dark, cavernous belly. Places like Oxford Art Factory are live music joints and you can catch bigger bands and DJs playing there. There is another awesome spot called Tatler in Darlinghurst with great DJs and an intimate feel. Don't be scared to investigate some of the warehouse parties that happen regularly in the cities inner west -- Picnic put on great events. I suppose you could say a lot of these joints attract a pretty 'hipster-y' crowd but don't be surprised to find suits, alcoholics, trannies, bogans, jocks and a colorful cross section of the native party flaura in attendance.

Describe your perfect night out in Sydney.
These days I prefer having people over to my place so I can cook dinner and have drinks as opposed to going out and 'kicking on' but a good night definitely involves cool people, tasty food (at some point), a killer soundtrack and some form of social lubricant. I'm currently pretty partial to wearing these tracksuit pants that are cut like jeans... It's like cheating or something.

What's your favorite bar/nightclub?
There is an amazing bar called Shady Pines on a hidden back alley in Darlinghurst. It's sort of modelled on a Williamsburg dive bar. They have the best cocktails in the world and all-you-can-eat peanuts in a big trough. Ask for Muffin.

In the 1980s [the suburb] Darlinghurst or 'Darlo' and surrounding areas like Surry Hills were considered pretty seedy but have since become gentrified and yuppie-friendly. Oxford St. which runs through the middle of the suburb is Sydney's main LGBT hub and hosts the annual gay and lesbian Mardi Gras parade. Lots of good bars, restaurants and cafes can be found in this area. Take a walk through Sydney's 'hipster-mecca' Crown St. with its endless thrift shops and boutiques. Be sure to check out the iconic Darlinghurst shop 'Route 66' and grab a cold one at The Gaslight across the road.

What's a bar or nightclub you would NEVER go to in Sydney?
Anywhere with working toilets -- thats just so not real man.

Check out Ash's band and DJ recs:


Client Liaison -- "End of the Earth"